Jodi McGeown and her mom were about to set out to play nine holes of golf when McGeown's mobile phone rang.
It was a late summer's day in August 2007. Glancing at the call display, McGeown recognized her friend's number and immediately thought something was wrong. He just didn't call out of the blue like that.
"If someone was to ask you: 'Are you gay?' What would you say?" he asked her.
McGeown, who was 27 at the time, was three days away from going back to Ontario Pioneer Camp (OPC), a Christian camp in the heart of Ontario's Muskoka region, where her friend also worked. She describes it as "everything to me."
She had spent about 10 years there as a camper and as staff. It is where she became a Christian. This would be her first time as a counsellor at OPC since she had come out four years earlier.
"If someone was to ask you: 'Are you gay?' What would you say?"
So, she told him she would say, "Yes."
Her friend then relayed a decision from the camp's general director that she wouldn't be allowed to attend OPC after all because she was living an "out" lifestyle. He felt absolutely horrible, and McGeown felt horrible for him.
They talked for a while longer, and McGeown started crying as the reality set in that the very place where she had felt the most accepted was disowning her. She made her friend tell her exactly why she couldn't go – she wanted to hear the words.
That call set McGeown on a journey that would lead to her joining a group called OnePioneer. It is currently made up of eight camp alumni, who are either gay or "allies" of the gay community. They have a simple motto: "We stand for inclusion of the LGBTQ community at OPC."
A decade after that first phone call, McGeown and OnePioneer are still facing strong opposition from the camp's executives.
The epitome of idyllic, except ...
Ontario Pioneer Camp is one of nine camps run by Intervarsity Christian Fellowship (IVCF) Canada, an evangelical organization, in five provinces. Together, they hosted more than 10,000 campers in 2016.
The majority of staff members, cabin leaders and even the leadership teams are technically volunteers. They're not paid, and receive a weekly stipend of $40. If they're at camp for the entire summer, they can apply for a scholarship to help pay for their post-secondary education. They also have the option of fundraising their salary.
Ontario Pioneer camp in the morning. (Photo: Ontario Pioneer Camp/Facebook)
In exchange, they get room and board at the camp, which stretches over 400 acres of gorgeous Muskoka terrain. It includes three separate sites all nestled on the shores of Clearwater Lake, Ont. Kids under 10 attend Adventure Camp. Eleven to 16-year-olds are split by sex into Boys or Girls Camp.
While the sites are largely run by volunteers, a week at OPC still costs campers $770. If they stay for two weeks, they get a $90 discount and pay $1,450.
It is the epitome of an idyllic sleep-away camp: simple, rustic cabins with built-in bunks, large dining halls, tuck shops and activity cabins all interlinked by well-worn paths of pine needles and wood chips. Being a Christian camp, each site has a chapel.
"You just wouldn't imagine a place of such love and of such understanding," says McGeown of camp culture. "Honest to goodness, it's the happiest place on Earth, and you feel so much yourself."
My husband, Todd Brown, had the same experience as McGeown. He went to OPC every summer, starting at the age of seven, and continued on as staff until he was in his early 20s. Pioneer was basically the best part of his childhood. And for those reasons, we chose to send our kids there.
So we were heartbroken when we heard rumblings via alumni friends of a clause in the Code of Conduct, which all camp staff have to sign, that doesn't mesh with the culture of openness and acceptance.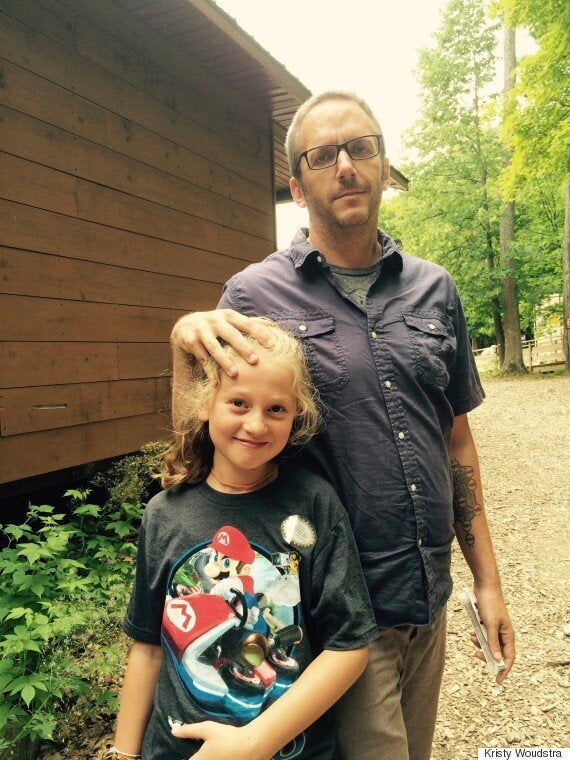 The author's husband, Todd Brown, with their daughter, Rory, at OPC in 2016.
While the code isn't posted on either OPC or IVCF Canada's websites, a former staff member provided me with a recent copy. It includes things you'd expect from any summer camp for kids: no swearing, harassment, drugs, drinking or smoking.
But it also stretches to unexpected areas like "self-abuse" (not allowed), "separation and divorce" (they'll decide on a case-by-case basis) and "sexual expression." This last one is what McGeown was supposedly in violation of – and what shocked our family.
It starts: "Inter-Varsity staff and volunteers are to follow biblical standards of sexual expression. For those married, sexual faithfulness is the standard; for the unmarried, chastity."
And then: "Premarital, extramarital, homosexual and lesbian sexual conducts are not to be practiced. Sexual activity is not to occur outside of a male/female marriage. Teaching and communicating beliefs that are contrary to these stated practices is not tolerated."
Those three sentences are what OnePioneer wants deleted from the code.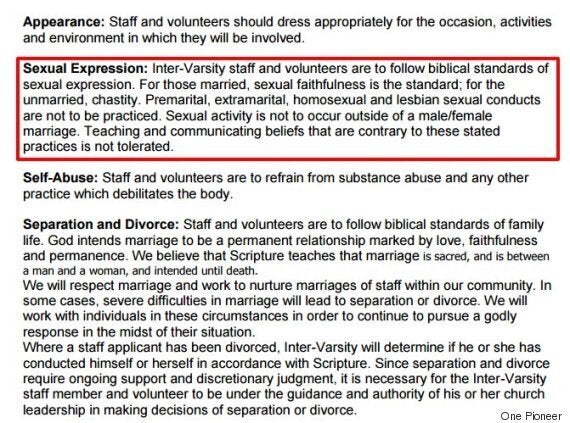 "My dream would be that policy is gone, therefore we're all welcome in the community," says Michelle Dowling, one of the founding members of OnePioneer. "We can disagree and have conversations respectfully. I think it's a process to get there."
She points out the camp allows for discussion on many other divisive topics in the church, such as women in leadership and infant baptism, but not homosexuality or same-sex marriage. To her, this double standard doesn't make sense.
My request to IVCF Canada for an interview was met with a rather long statement. It says, in part:
"We remain committed to what we understand to be the Orthodox and Biblical view of marriage. We are also committed to extending love to all people as Jesus teaches us to do. We don't stop caring for people when we don't agree on everything. Because of this commitment to respect and love one another we believe relationships can be meaningful, even when we have disagreements."
In 2015, Dowling and another OPC alumnus tried to start those respectful conversations. The two had heard Intervarsity Canada was having some meetings about sexuality.
Apparently the American branch of IVCF was also having discussions. Time reported that the organization had conducted a four-year review of Biblical teachings on human sexuality. Then it released a nearly 20-page internal document in March 2015 to staff in the United States.
The position paper stated: "Scripture is very clear that God's intention for sexual expression is to be between a husband and wife in marriage. Every other sexual practice is outside of God's plan and therefore is a distortion of God's loving design for humanity."
Dowling was concerned no one from the gay Christian community was part of the IVCF discussions in Canada, which would ultimately impact OPC.
"I don't think we were really fighting for change at that point. I just felt like people weren't being heard," Dowling, 28, shares at a little coffee shop in Toronto's west end. "This is the exiled community. Because of the policy we're discussing, this community is not at the table."
So she and the other alumnus sent out requests to people, including McGeown, to write letters and anecdotes related to OPC's code of conduct. McGeown immediately agreed to submit her story and join the leadership of this newly formed group, which didn't even have a name yet.
The stories poured in – 45 in total – each one imploring the camp to be inclusive.
One is from an anonymous alumnus who describes what it was like to first read the camp's clause when she or he was signing up to become a leader in training a few summers ago:
"In my mind, Pioneer Camp had been one of the most accepting places I had ever come across. To think that the leaders and other staff members I had looked up to for so long had supposedly agreed to these terms and conditions broke my heart."
"I have had many conversations with homosexual friends who have been deeply hurt and rejected by Christian family or the Christian community in their lives," wrote Ian Galbraith, a long-time camp staffer whose letter was posted by OnePioneer on Facebook. "I know I serve my Lord right every time I tell them that I am a Christian and I believe there is nothing wrong with who they are."
The letters were gathered up and given to IVCF in January of 2016. Five months later, the newly formed advocacy group officially met for the first time as OnePioneer.
Their timing was either perfect or tragically ironic. Just a few days before their meeting, OPC executives had been trying to enforce the Code of Conduct at the Girls Camp site during "pre-camp."
"Pre-camp" is when the leadership team (about 25 staff) receives training on everything from how to teach an activity to abuse reporting. In June, 2016, a training session on sexuality, ambiguously called "Tough Questions," appeared on the schedule.
Ali Imrie, 21, attended and says it started off with a reading of a Bible passage, something with the undertones of a heterosexual relationship. Then they were split into four groups. One to discuss porn, another to discuss masturbation, a third to talk about objectification and the fourth, Imrie's group, was assigned: What do you do if your camper comes out to you?
Their group was the last to present. They said they'd just listen to the camper because, as Imrie points out, "Your opinion really isn't necessary in this kind of conversation." If the camper explicitly asks what the Bible says about homosexuality, they would present various verses representing different people's viewpoints.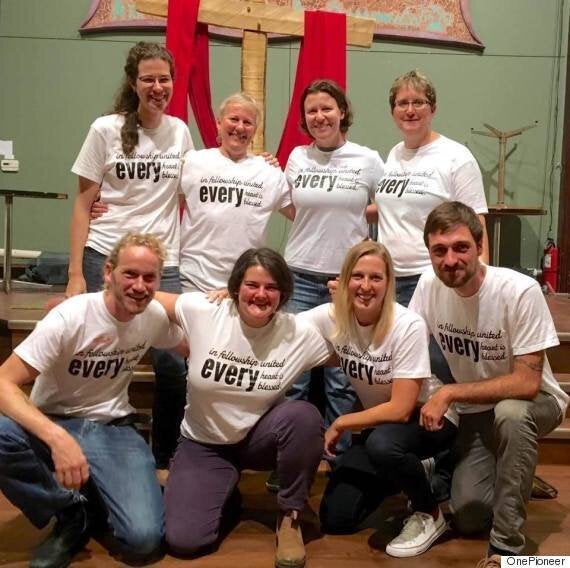 One Pioneer: Back Row (left to right): Michelle Dowling, Christine Hitchon, Jodi McGeown, Laura Tobin. Front Row (left to right): Simon Beairsto, Emma Silverthorne, Rikki-Lee Martin, Tim Martin.
According to the senior staff member running the session, they got the second part wrong.
"We were told pretty much to endorse the Intervarsity position in all our conversations with campers," remembers Imrie, who is finishing up her religious studies degree at McMaster University and preparing for law school in the fall. "We should say that the Bible says it's not permitted or it's wrong or it's sinful. I don't remember what wording was particularly used."
With the session, the camp had pulled the rug back, and everyone was talking in the aftermath. Many of the staff at Girls Camp, including Imrie, didn't agree with the "Sexual Expression" clause in the Code of Conduct and the vast majority didn't like Pioneer's hard-line approach.
So why sign the Code of Conduct?
Sam Goodyear, 18, who was a cabin leader at OPC last summer, had just come out a few months before camp. "It had been hard in years past but it was especially difficult [that year] … I felt like the Girls Camp environment I knew and loved was not reflected the way the contract was, so that's why I felt comfortable just signing it and going."
For Imrie, she wanted to be there for trans and gay campers. "I kept going back because I know this issue; I can try to make positive change from the inside, rather than not going back and just leaving it there. That was probably idealistic of me."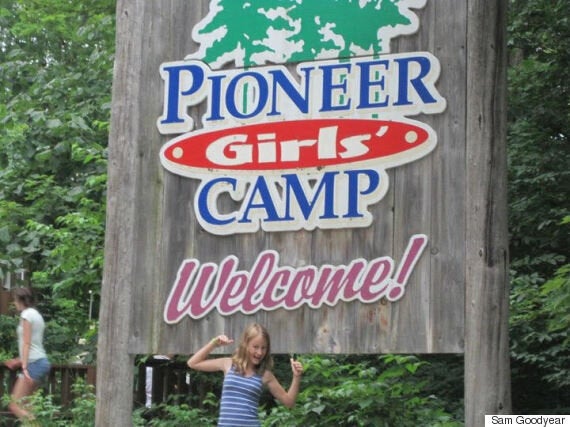 Sam Goodyear when she was a camper in 2011.
What the camp's session may have triggered is the changing attitude among evangelical youth toward homosexuality. According to Pew research, "roughly half (51 per cent) of evangelical protestants in the millennial generation (born between 1981 and 1996) say homosexuality should be accepted by society, compared with a third of evangelical baby boomers."
While this is American research, OnePioneer is seeing the tide changing in Canada, too.
"Some of these counsellors are high schoolers," says Dowling. "So in your high school, there are gay-straight alliances, there are code of conducts for students [that say] you cannot bully, you cannot discriminate … My hunch is that schools and society have more of an influence on thoughts about this than churches, because churches don't do a good job of discussing it either."
After that training session, executive staff members continued their hard-line stance by nearly excommunicating some of the Girls Camp staff. They heard the conversations, knew Goodyear had come out and that some members of the team weren't "compliant" with the code of conduct. So they took further action.
"The senior staff were going to have one-on-one meetings with every staff member at [Girls] Camp and ask them face to face… if they could sign the contract, to restate their compliance with it," says Becca Minielly, 22, who was one of two assistant directors at Girls Camp last summer. And if they didn't agree to the contract, they would be asked to leave.
(Photo: Ontario Pioneer Camp/Facebook)
The program director would conduct the interviews and Minielly was up first.
"I never questioned my own sexuality so I've never had to wrestle with what the Bible says … but I just knew this hard-line position that camp took doesn't make any sense to me," says Minielly, which she shared with the director. "That kind of position doesn't operate with my other beliefs."
After her meeting, Minielly was told she could stay at camp until they found her replacement, but her time was short. The Girls Camp's other assistant director and director weren't so lucky. They had to leave at the end of the camp session.
"After these conversations, camp was not the same place that it had been," Goodyear says quietly. "People were sad and a little angry. That was very clear."
But the executive did an about-face the next morning. The three staff, including Minielly, could stay. Everyone was to get back to running camp, and no one should talk about it anymore.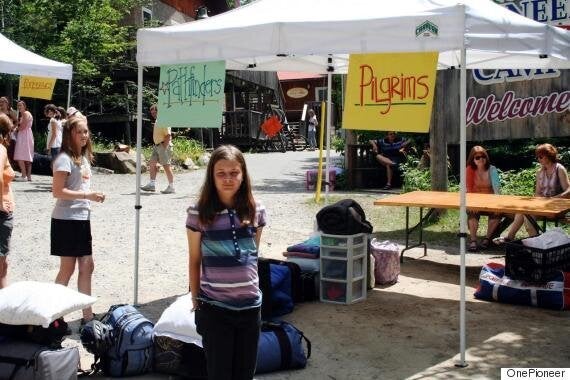 Alison Imrie as a camper at Ontario Pioneer Camp in 2000. (Photo: Alison Imrie)
"There was this moment of jubilee: 'We're allowed to stay!' And then immediately followed by: 'What are we going to do now?'" remembers Minielly. "So much damage had already been done."
In the end, no one left, but neither did the pain and hurt.
"What was said over and over was that we didn't have integrity because we signed this contract, knowing that we didn't agree with it," Imrie remembers hearing from senior staff. "And because we didn't have integrity we weren't fit to lead … Most of us can't hear the word 'integrity' without a visceral reaction."
Minielly, Imrie and Goodyear knew without a doubt this was going to be their last summer, so the three friends decided to focus on their campers and "finding joy in those camp moments," as Imrie says.
"For me, camp has been the most important part of my life for a long time, and it was like: 'I'm not coming back so I need to soak it up, I need to have the best time that I can,'" recalls Sam.
And they weren't alone. Out of the Girls Camp staff last summer, they doubt more than five will return.
Staff code is technically legal: lawyer
Can a camp hire and fire people based on sexual orientation? Can a Christian employer have a clause that excludes the gay community?
Yes, OPC and Intervarsity do have a legal leg to stand on in terms of hiring. But the firing bit is shaky.
Shana French, a partner at Sherrard Kuzz, a Toronto firm specializing in employment and labour law, says that in the Ontario Human Rights Code, employers like IVCF Canada are allowed to follow their "creed" (a system of religious beliefs) when hiring as long as it's "a reasonable and bona fide qualification because of the nature of the employment."
For IVCF, which aims to develop followers of Jesus Christ, French thinks it "could establish that it is a bona fide occupational requirement that people are committed to the tenets of that faith."
But is disagreeing with same-sex relationships fundamental to the Christian faith?
"Absolutely not," French says bluntly. "But in Ontario, when you're looking at the analysis, our human rights code doesn't actually say religion, our human rights code says creed."
In general, Christianity is not defined by a certain view on homosexuality. However, a specific group within Christianity, such as fundamentalist evangelicals, could establish that this view is core to their creed or belief system.
However, French thinks anyone who was fired for being gay, like McGeown, would have grounds to "file a civil claim and also seek damages under the Human Rights Code breach." But that's not on McGeown or OnePioneer's radar.
"In no way do we want, personally or as a OnePioneer team, to take down camp or have anything like that," says McGeown adamantly. "It's just more awareness and understanding and acceptance that we all live in this big, Christian world together."
"Our deep concern has always been, and will always be, to offer support and care for every youth and young adult who chooses to participate in our programs," it reads. "Our Statement of Agreement and Code of Conduct both include a commitment to care for every youth and student we work with, no matter what their background, and we take that very seriously. It is our goal to ensure that everyone who participates in our camp or campus ministries feels welcome, and knows that they are respected, valued, and loved."
As for OnePioneer, IVCF says: "We appreciate the love they have for our ministry. While we realize we hold differing Biblical views, we respect their right to hold these views and would hope they would also respect ours."
That is one thing IVCF and OnePioneer agree on.
"I'm actually OK with people disagreeing with me," explains Dowling. "Because I want people to respect the decision that I've come to, that God does bless same-sex relationships … I feel that I have to respect someone else's decision because what I feel when someone disregards that or insists that they're right, I don't want to be that person insisting that I'm right."
But Dowling doesn't agree that it should be a condition of employment. She and OnePioneer are not willing to walk away until they see that change.
"It's like giving up on my family," says Dowling. "If my family wasn't accepting then I wouldn't just leave and go find another family. There's huge attachment there."
So Dowling, McGeown and the others continue their work. Most recently, they hosted a panel discussion ("Not a debate," Dowling clarifies) in January in Toronto about different Christian perspectives on homosexuality. Nearly 200 people showed up.
They are gathering more stories for a second volume, too. And they continue to ask to meet with all of the camp staff to discuss their concerns. So far, they've only been allowed to meet with Al Anderson, IVCF Canada's VP of camp and campus ministry, and Lynda MacGibbon, associate VP of communications.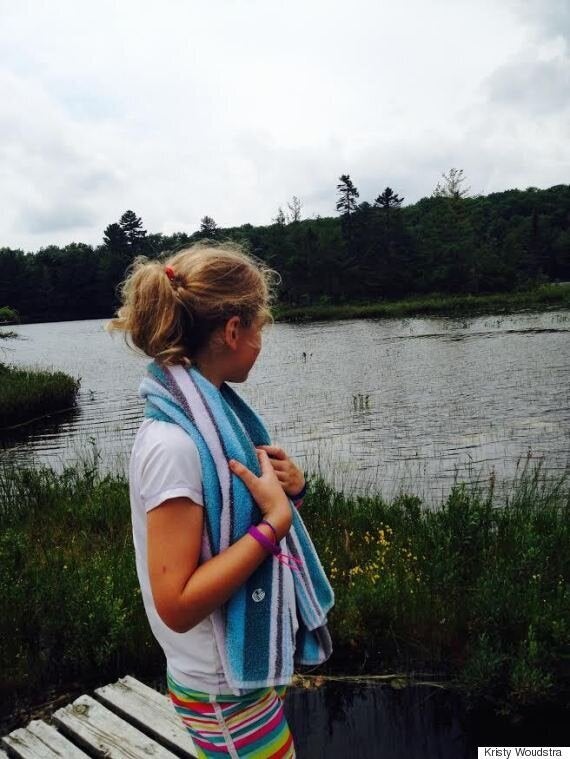 The author's daughter at Ontario Pioneer Camp in 2013. (Photo: Kristy Woudstra)
"Are we doing everything we can to create a safe place for our trans and questioning and LGBT campers and staff?" asks Dowling, referring to OPC. "I'd say definitely not."
OnePioneer also wants "to support this exiled group of Pioneer people, which has been really cool because I feel a stronger sense of community with this group than I did for many years working at camp," says Dowling. "I'd like to see us have a community dinner. We've talked about a vigil for, it's not a death, but it's grieving a loss for people who can't return to camp."
For McGeown, the change can't happen fast enough. She doesn't want anyone to experience what she did 10 years ago; a pain she still carries with her. Miraculously, it hasn't overshadowed her happy memories of camp. And she is hopeful of being accepted there again.
"I've travelled and worked and volunteered all over the world to be an advocate for anybody," she says thoughtfully. "I think we all should be an advocate for somebody, including ourselves.
"There's just no way I'd give up."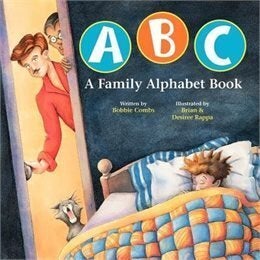 Gorgeous Kids' Books About Same-Sex Families
Popular in the Community