The Canadian government continues to strike a friendly tone amid renewed threats by United States president-elect Donald Trump to invoke protectionist measures.
Trump criticized General Motors on Tuesday for producing a model of a Chevrolet Cruze in Mexico, claiming the automaker sells the cars in the U.S., skipping paying import tariffs.
He threatened to make the automaker pay a "big border tax" if it continues to produce vehicles outside the country for sale in the states.
General Motors issued a statement after Trump's threat, saying all its Chevrolet Cruze sedans are made in Ohio. The model the president-elect refers to is its hatchback, which is produced for international markets.
Only a "small number" of these models — approximately 4,500 — are sold in the U.S, according to CBNC.
During the election campaign, Trump repeatedly pledged to force Canada and Mexico to renegotiate or scrap the North American Free Trade Agreement as a means of protecting and creating U.S. jobs.
The threat stoked some concerns in Canada that U.S. protectionist measures will play an important role in helping Trump rehaul trade policy once he assumes office later this month.
Major American carmakers, including Ford and General Motors, have assembly plants in Canada.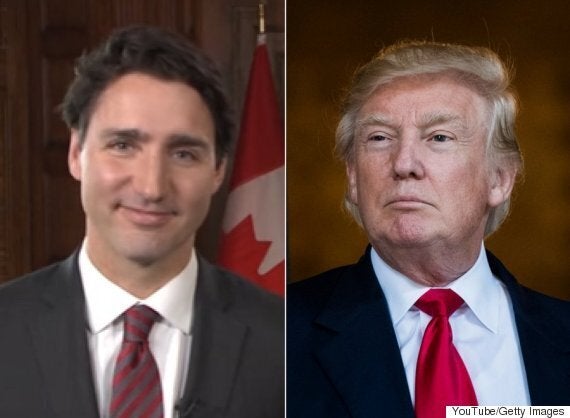 The federal department of innovation, science and economic development declined to comment on the latest in Trump's trade rhetoric.
Citing $2.4 billion in trade the two countries do every day, spokeswoman Diana Khaddaj told The Huffington Post Canada the country has "no closer friend, partner, and ally than the United States."
Khaddaj added officials are looking forward to "working very closely" with the new Trump administration as well as U.S. Congress on matters related to trade and investment.
"The relationship between our two countries serves as a model for the world."
Members of the 115th U.S. Congress sworn in Tuesday were also greeted with a video message from Trudeau and David MacNaughton, Canada's ambassador to Washington.
The message was congenial, the pair stressing how intertwined the two countries' economies are.
MacNaughton said: "We know that we're better off when we tackle challenges together. That's why Canada stands beside you — ready to work with you to make all of our citizens' lives better, safer, and more prosperous."
The prime minister stressed the continuation of an "economic relationship that supports jobs in every Congressional district."
"We are the largest international customer for goods and services made in the USA," Trudeau said.