Uber has joined the likes of Facebook and Google in releasing a transparency report, breaking down how it shares customers' data with authorities.
The company seems uncomfortable with the amount of information it has been asked to share.
The inaugural report released Tuesday found the ride service had shared data on at least 13 million riders and drivers between July and December of last year — most of it at the request of U.S. transportation regulators such as the California Public Utilities Commission.
The data was shared in response to 33 regulatory requests, affecting 11.6 million passengers and 583,000 drivers; and 34 airport reporting requests, affecting 1.6 million passengers and 156,000 drivers.
"In many cases they send blanket requests without explaining why the information is needed, or how it will be used."

— Uber, in a news release
In law enforcement investigations, Uber received 408 requests for rider accounts, and 205 for driver information. The company complied at least partly with those requests 84.8 per cent of the time.
The transparency report looked only at U.S. data. An Uber spokesperson said the company hopes to prepare transparency reports on Canada in the future, but has no concrete plans at the moment to do so.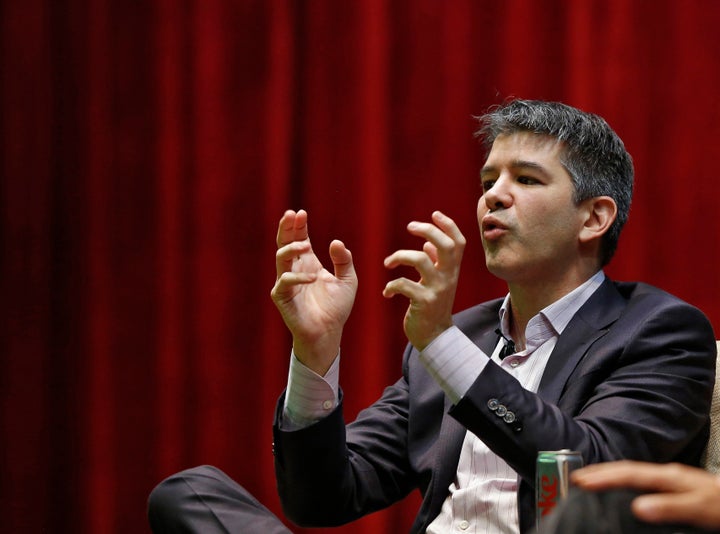 Uber CEO Travis Kalanick speaks to students during an interaction at the Indian Institute of Technology (IIT) campus in Mumbai, India on Jan. 19, 2016.
Uber thinks this amount of data-sharing is overkill.
"Regulators will always need some amount of data to be effective, just like law enforcement. But in many cases they send blanket requests without explaining why the information is needed, or how it will be used," Uber said in a news release.
"And while this kind of trip data doesn't include personal information, it can reveal patterns of behavior—and is more than regulators need to do their jobs."
Uber says regulators are asking more of digital corporations than of older companies, like taxi services. A taxi might be asked to provide rough pick-up and drop-off data on passengers, but Uber is asked for GPS coordinates.
"We hope our Transparency Report will lead to a public debate about the types and amounts of information regulated services should be required to provide to their regulators, and under what circumstances," the company said.