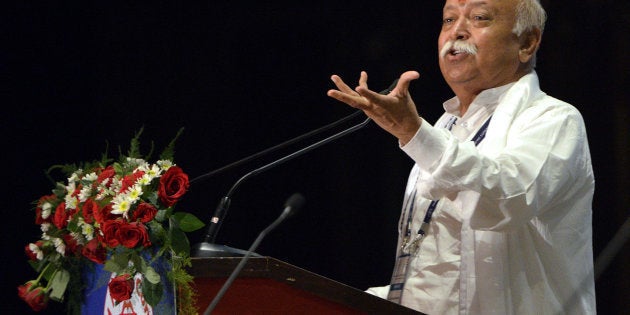 A group of South Asian students has accused members and guests at an event organised by the World Hindu Congress (WHC) of manhandling them when they protested at a speech by Rashtriya Swayamsevak Sangh (RSS) chief Mohan Bhagwat.
The World Hindu Congress, headquartered in Gurugram, identifies itself as "a global platform for Hindus to connect, share ideas, inspire one another, and impact the common good". The organisation held a series of events over two days in Chicago from September 7-9.
According to an article in The Telegraph, a group of six students — five of them women — turned up at the hall where Bhagwat was supposed to speak. They had expected to meet with some resistance, but a 21-year-old student told the paper that they were taken aback by the intensity of violence. They had planned to shout 'We don't want you in our town' and 'RSS go back' when Bhagwat got on to the podium to speak. No sooner than they uttered their first slogan, the students told The Telegraph, that dozens of people descended them.
"I heard people calling me 'bitch, bitch, bitch....' One man said my mother should have been killed so I would not have been born; another called me a 'dirty Muslim'," a 26-year-old student said. They also alleged they were choked and spat upon and the police later detained them briefly.
Bhagwat's remarks at the conference on how "wild dogs" can destroy a "lone lion"—ostensibly referring to Hindus—has been criticised by opposition parties.
In a statement issued later, the coalition—who call themselves Chicago South Asians for Justice—said, "Photos and videos do not capture the ferocity of violence we experienced. The crowd's reaction tore the mask off the fascism underlying the (World Hindu Congress) and the Hindutva ideology."
The protesters chose to withhold their names in the statement out of fear of backlash and threats.
"We demand that US Representative Raja Krishnamoorthi, who attended and spoke at the WHC, issue a statement denouncing the event and the violence that took place," the statement said.
"We demand that World Hindu Congress organizers, sponsors, attendees, and speakers denounce the past and present violence of Hindutva organizations," they added.
One of the protesters recounted in the statement how they have been feeling less safe in the United States with the Donald Trump administration's blatant attacks on minorities.
"I see the same violence occurring in India. As a religious and racial minority in the United States, I stand with Dalits, Muslims, and other marginalized communities abroad. I believe Indian and Hindu Americans, who experience white supremacy, are obligated to stand against the hate of Hindu Supremacy. The violence we experienced last night only reinforced that the World Hindu Congress represents fascist ideology that needs to be challenged by a global leftist movement," the person wrote.
A group called Alliance for Justice and Accountability posted a video of the protest on Facebook: