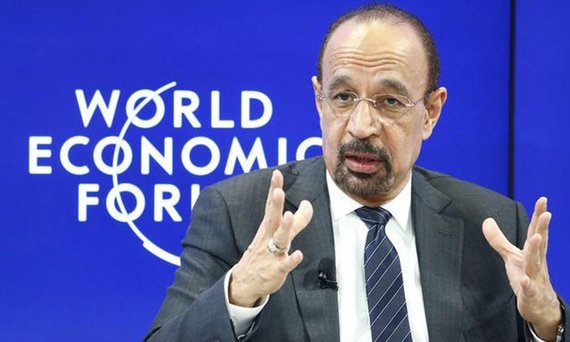 Saudi Energy Minister Khalid Al-Falih attends the World Economic Forum in Davos, Thursday. (Reuters)DAVOS, Switzerland: Saudi Arabia aims to become a "major exporter" of renewable energy, its energy minister has revealed.
Khalid Al-Falih said there are plans to allow for the export of cleanly produced electricity to Europe.
"If the region gets connected to Europe for example, then solar (power) that is produced in Saudi Arabia can be exported all the way to Europe through a network," he told Arab News on the sidelines of the World Economic Forum meeting in Davos.
"When it's sunny in the region, it's dark and cloudy sometimes in Europe... So we can be a major exporter."
Such an electricity supply could be routed through Egypt, and there were "projects underway" to support this, Al-Falih said.
Al-Falih said on Monday that Saudi Arabia is to launch a renewable energy program that is expected to involve investment of between $30 billion and $50 billion by 2023.
Riyadh plans to start the first round of bidding for projects under the program, which would produce 10 gigawatts of power.
Aside from the domestic consumption of electricity, Al-Falih said there was an opportunity to sell both power derived from "green" methods and the materials used to produce renewable energy, like solar panels or wind turbines.
"We will export the power itself, we will export the components and services," he said.
Saudi Arabia is attempting to diversify its economy after it was hit hard by the oil-price crash.
An OPEC deal saw an oil production cut come into force at the beginning of this year, something Al-Falih indicated was being adhered to.
"Everybody I talk to is not only committing, some of them have actually told me that they have exceeded their commitments," he said.
He would not speculate on how the oil price would look later this year, but said the current figure includes "an element of uncertainty" about compliance with the Opec production cut deal.
"I tend to think that uncertainty is misplaced," Al-Falih said. "Once you remove that, with data coming in the weeks to come, you can only imagine where the price will go."
*This blog was originally published in Arab News.
Related
Popular in the Community