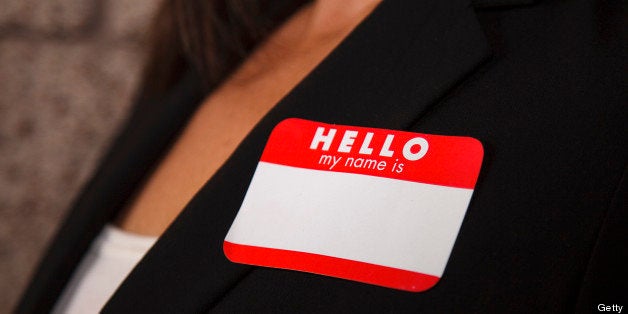 I consider myself a feminist. And yet, I took my husband's name when I got married over twenty years ago. Looking back, I was conflicted about the strong, independent woman image: I had my career and was never going to give that up to be a stay-at-home mom and yet I thought I wanted a traditional marriage. I didn't need persuading to take my husband's name. I did it willingly.
I'm not sure that I knew anyone who hadn't adopted her husband's name at that time. But, as I started to meet female colleagues who'd kept their maiden names, I was envious.
My ex-husband is of Eastern-European heritage and little did I know that taking his name would mean that I would always have to say it and then spell it for anyone writing it down. For anyone who would have to say it, I also had to give them the phonetic pronunciation. Otherwise, they would inevitably say it wrong. I remember my daughter's ballet recital when she was a pre-schooler. She was getting an award and the ballet teacher called her name out incorrectly three times before another child nudged my daughter to say, "That's you."
Then, there were always the people who asked the origins of the name. I'm English and despite having lived in the United States for over 20 years, I still have an instantly recognizable English accent. My married name never seemed to fit.
When we were getting divorced, I knew without a doubt I wanted to change my name back to my maiden name. I didn't ask my ex for his opinion and to this day, it isn't something we've discussed.
I did ask my children -- then, ages 14 and 11 --how they felt about having a last name that was different from theirs, but they just shrugged and said, "OK." They both had friends whose mothers were married and had kept their maiden names so luckily, it didn't seem that odd to them.
Then, I asked them whether they would like to hyphenate their last name to have my maiden name also. We were in the car on the way to piano lessons, and it was one of those classic sibling moments when they were both in agreement and just melted into fits of laughter. "What would happen if we married someone who had a hyphenated name?" they giggled. "Would we have four last names?" They then jokingly matched themselves with kids who had a hyphenated name. I took that to mean they were just fine with me changing my name.
Changing my name legally was easy -- it was simply the addition of a one line sentence in our divorce decree. The logistics, however, were much harder and more tedious. The sheer number of accounts that had to be changed was overwhelming. Completing the paperwork was time-consuming and then tracking what requests were pending and which ones still needed to be done called for a spreadsheet. Even now, some six years later, there's one account where my married name still pops up on some correspondence. I've given up trying to get it corrected.
Some of my children's friends are unsure how to address me. I know they're trying to be polite when they call me "Mrs." and use my married name. I guess that's maybe a common problem for women who don't adopt their husband's name. I let it go. I don't want to embarrass them for using the wrong name but all the same, it's a name that doesn't fit. It's a name I don't associate with myself.
In contrast, my name, the one that I grew up with, is an integral part of my identity. It's part of me and I won't ever be changing it again.
Mandy Walker is a divorce coach and founder of the popular divorce support blog, Since My Divorce. Download her Visioning Your Life After Divorce workbook free.
Following her own divorce in 2007 and with her background in journalism Mandy began talking to other people about divorce. Mandy has now interviewed over ninety people and it is their stories she shares on her website. Through these intimate conversations Mandy has come to understand that divorce is a deeply-personal and uniquely individual experience. The sharing of these stories allows people facing the end of their marriage to find comfort, strength and understanding and their own path to contentment. Find out if divorce coaching would help you with a free 30-minute New Beginnings coaching session
More Stories On YourTango: