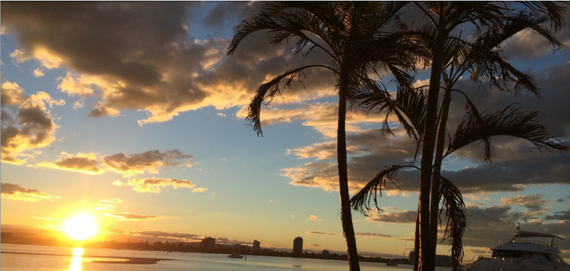 By College Tourist; Author: Rachel Jenkins, Susquehanna University
A guide to getting the most out of living in Australia's own vacation destination.
If you're lucky enough to study abroad in Australia, there's no better place to find yourself living in than Surfer's Paradise, a small town in Gold Coast, Queensland. As the name suggests, this piece of Paradise provides the perfect backdrop for all your Australian adventures.
Located in the center of Gold Coast, Surfer's Paradise has shopping centers, an array of restaurants and bars to suit any budget and a beach worth spending the day on. With an abundance of resorts, hotels and hostels along the coast, there' s no excuse not to spend time in this Gold Coast gem. So get ready to grab your budgy smuggler and sunnies and get your tan on in Australia's playground. Here are the 10 best things about waking up in Surfer's Paradise.
You become a local in a tourist town
Surfer's Paradise is a small tourist town in the heart of Gold Coast and serves as a hot vacation spot for Australians, and it's no surprise why. With its breathtaking beach and plethora of nightlife options, Surfer's has it all. Living in this tourist town gives you the best advantages. You're the pro of public transportation. You secretly smile to yourself when someone asks you for directions. You know when Waxy's Irish Pub has $2 steak night or $3 Budweiser and you absolutely never get near anyone trying to sell nightclub passes and you'll know the best beach spots.
Sunrise
Whether you're getting up early or ending a night out, catching the sunrise in Surfer's Paradise is an absolute must. For the best view, grab a jumper, blanket and your camera and head straight for the beach. If you're lucky you might be able to catch some surfers testing the early morning waters as well.Sunset Surfer's Paradise image
... And sunset
Likewise, sunset in Surfer's is something you can't miss. For the best view, head to the top of Q1, the tallest building in Gold Coast, and watch the sky change colors from the SkyPoint Observation Deck and bar. With huge windows all the way around, you'll see Gold Coast from every possible angle.
Easily make your way around the coast
For the avid traveler, Surfer's Paradise is located in a prime location on the east coast of Australia. Car rentals are available from companies including Europcar, Jucy and Wicked Campers. For a cheaper way to travel and see more of the coast, rent a van or camper and road trip! There's so much to see wherever you're headed to, which makes this a popular option among backpackers and students studying abroad. If flying is more your speed, the Gold Coast Airport is just a bus ride away. From there, you can be in Sydney with a quick hour and a half flight, or Cairns to see the Great Barrier Reef in two and a half hours. Get to Brisbane on the train for a weekend trip or Byron Bay for a couple days of fun activities. For the cheapest flights, sign up to receive email subscriptions from budget airlines including Tigerair and Jetstar Airways. An average flight from Gold Coast to Sydney through one of these costs around $90, but finding last minute flights can save you even more. If you're looking for somewhere different, the Whitsundays region boasts breathtaking white sandy beaches and crystal blue waters. Flights to this region leave daily from Brisbane.
The party comes to you
Living in Australia's own vacation destination has its perks. There's always something to do and new people to meet. Tourists from all over the country - and world - come to play in your own backyard. Hang out with some Aussies at a local bar like Waxy's or The Avenue, enjoy the street entertainment on Cavill Avenue or explore the beachfront night market every Wednesday, Friday and Sunday night. If you're looking for more of an upscale feel during your night out, grab the tram to Broadbeach and head toward the main streets to find more sophisticated bars and clubs. Don't be surprised, however, if you find an older crowd enjoying these spots, and be prepared for a higher bill at the end of the night.
Teach yourself how to surf
If you live in a town called Surfer's Paradise, you better grab a surfboard and hit the waves. Get a cheap practice board off Gumtree, Australia's Craiglist, and don't take yourself too seriously. For those interested in learning from an instructor, there are several surf schools along the coast perfect for beginners. One two hour lesson with Go Ride a Wave will be $65 and includes training from a professional surfer, a surfboard to use as well as a wetsuit and rash vest to wear. Or, learn to surf with the Cheyne Horan School of Surf for $59, which includes free hotel pick up. If you have a GoPro, clip it on the end of your board and impress everyone in the States with your new moves.
The beach is your backyard
The beach along Surfer's Paradise stretches nearly two miles and continues on down through the Gold Coast. The warm, fine sand is the perfect place to sit and enjoy the sun or watch surfers ride the waves. When you're ready to enjoy the warm, blue waters, make sure you stay between the yellow flags. These are set up every morning by lifeguards indicating where it's safe to swim.
Australia's best amusement parks
Gold Coast is home to Australia's largest theme park, Dreamworld. Other fun places to visit include Sea World, Wet'n'Wild and Warner Bros. Movie World. Do yourself a favor and get a season pass to visit your favorites anytime. Heading to Surfer's in October? Don't miss out on Movie World's Fright Night, full of, you guessed it, frightfully scary haunted houses and themed rides.
You can hold a koala
Queensland is the only state in Australia that allows visitors at zoos and wildlife sanctuaries to hold a koala. Take advantage of this! Currumbin Wildlife Sanctuary is a bus ride away and for an extra (but well worth it) fee, you can get some awesome photos with a cuddly koala. Amazingly, koala's typically eat upwards of half a kilogram of eucalyptus. As a result, they tend to smell like eucalyptus with a strong musky scent developing as they get older. A word of advice: koalas are adorable, but because of this they're smell tends to rub off. Don't wear your favorite outfit, or be prepared with a back up change of clothes.
$5 daiquiris at O'Malley's
End a day of surf and sun at O'Malley's on Surfer's Cavill Avenue. Grab some friends, a $5 daiquiri and make your way to the enclosed porch out the back for the best view of the beach and famous Surfer's Paradise sign. If you're lucky, you'll find some friendly locals to share chips and tomato sauce with, or hear the live music from inside as you enjoy the view.