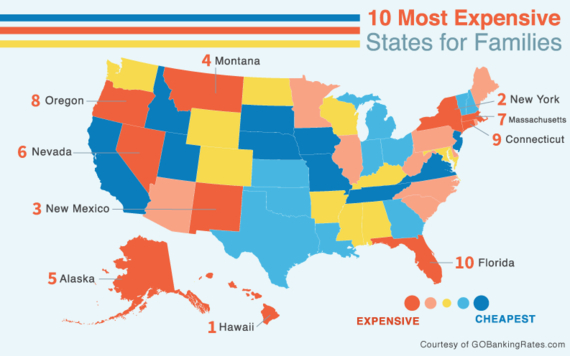 By Elyssa Kirkham, GBR Staff Writer
Raising a family isn't cheap. In fact, the U.S. Department of Agriculture estimates that the average cost of raising a child. But that number is just an average. For many Americans, raising a family will actually cost much more, especially if they live in a state where the cost of living and other expenses are high.
In these states, family budgets are quickly eaten up by high costs of housing, food and child care, and many don't have high wages to help families offset high costs. Notably, many of these states also lack adequate family leave policies -- or have no parental leave laws at all -- which can quickly turn a new family addition, job loss or family member's health scare into a financial emergency.
GOBankingRates looked at the major financial factors that affect families, including paid family leave, median state incomes, and housing and food costs, ranking all 50 states on their affordability for families. Click through to see the top 10 states where raising a family costs the most money.
10. Florida
Florida has one of the lowest median incomes in the nation at just $47,106. That's about $412 a month less than a family earning the national median of $52,047. The state also has no family leave policies to help parents who are welcoming a new child to the family or trying to take time off work to care for a sick family member.
Despite a lower median income, however, Florida families pay higher-than-average food and housing costs. The median monthly rent of $1,460, for example, is equal to 37 percent of their monthly income -- well over the 30 percent of income that's recommended as a limit by rental housing programs and personal finance experts. While the state does have lower child care costs than most, it still is among the most expensive states to raise a family.
9. Connecticut
Connecticut has a 16-week family leave policy, though it does not offer any paid time off. The state offers the third-highest median income in the nation at $67,807 a year. Higher incomes in the state, however, are matched by higher living costs, including the second-highest food costs in the nation. The state also has housing costs that put it among 10 most expensive housing markets in the country for both purchasing and renting a home.
The cost that might set Connecticut families back the most, however, is the high child care prices in the state. Full-time child care will set a family back $13,241 a year for an infant or $11,006 a year for a 4-year-old, which are some of the highest rates in the nation. A family with a child of each age in full-time care would spend more than a third of the median income, 35.8 percent, on child care alone.
8. Oregon
Oregon offers its residents 12 weeks a year of family leave, the same amount of leave provided by federal law. The state offers no paid leave, even though its families face living expenses well above national averages.
Oregon's food costs, for example, are the fifth highest in the nation -- 17.6 percent higher than the national average. It also has higher housing costs than most states, making it harder for Oregon families to get by even with a state median income of $54,066, which is just above the national median. Child care is also pricier in Oregon, at $11,078 per year for full-time infant care and $8,615 per year for full-time care of a 4-year-old child.
7. Massachusetts
With the sixth-highest median income in the nation, Massachusetts is another state that has high incomes matched by high costs for families. While the median income in the state is $64,555, both house listings and monthly rents in Massachusetts are the third highest in the nation. The median monthly rent of $2,071 eats up 38.5 percent of the Massachusetts median monthly income of $5,380.
The real pain point for families' budgets, however, might come with the state's high child care costs. Massachusetts offers 24 hours of unpaid leave each year for parental activities but has the highest prices for full-time care for infants and 4-year-olds, at $16,549 and $12,320, respectively. A family paying for care for an infant and 4-year-old would be putting a staggering 44.7 percent of their income just toward child care.
6. Nevada
Nevada's high costs are made more difficult to manage because of the $49,204 median income in the state, which is lower than the national median. With many of the state's residents concentrated in the desert city of Las Vegas, food prices are 14.9 percent higher in Nevada than the national average.
Child care costs are also above average in this state, at $10,095 per year for full-time infant care and $8,208 for 4-year-olds. Nevada offers no family leave policy to help parents and families, which is another factor that pushed it down in this ranking.
5. Alaska
Alaska has a high median income of $61,749 that works in families' favor. This income is matched with high food and housing costs, however. Alaskans' groceries cost 26.8 percent more than the national average. Only Hawaii and Connecticut have higher food costs.
The state's monthly rent prices are among the 10 most expensive in the nation, with a median rent of $1,837 a month, and the median listing price is $250,000. Parents in the state also pay more for child care than the average American family -- spending $10,280 a year for infant care and $8,283 for a 4-year-old -- and the state has no parental leave policy.
4. Montana
Montana has the ninth-lowest median income in the nation, with the typical household in this state bringing home just $43,924 a year. Yet the state's costs are closer to the middle of the pack than the low end, meaning Montana families are often paying more for food and housing than they can afford.
Child care rates are also well above average, costing families $8,858 a year for an infant and $7,805 for a 4-year-old. With no parental leave policies helping parents out, Montana's low incomes and higher costs cause it to rank No. 4 among the most expensive places to raise a family in the U.S.
3. New Mexico
Like Montana, New Mexico families face lower incomes and higher costs. A typical New Mexico family earns just $44,472 -- $7,500 less than the national median -- yet faces housing costs that are close to the national average. While New Mexico has lower child care costs than many states, a family with two children under 5 and earning a median income would still pay about a third of their take-home income for full-time child care. With these costs and the state's lack of parental leave policies, New Mexico earns its place as the third-worst state to raise a family on a budget.
2. New York
New York has no parental leave policy, but that's just the beginning of the bad news for families in this state. It has the overall highest child care costs in the nation, with families paying the following amounts on average each year: $14,508 for infant care, $12,280 for a 4-year-old and $11,352 for care for a school-age child. Care for a school-age child is especially high, costing 22 percent more than the next-highest state median price for this age group.
"If you are a family living in New York, you are likely to pay twice or three times as much for child care than, say, a family living in Mississippi," said Summer Blackhurst, a child care researcher with Go Au Pair. For families living in New York, particularly the ever-pricey New York City, alternative child care options like a live-in nanny or au pair can make more financial sense, Blackhurst said.
New York families also face some of the highest housing costs in the nation, paying an average of $1,990 per month for rent. They also pay 13 percent more for food than the national average, despite a $51,962 median income that's on par with the national median.
1. Hawaii
Raising a family in the Aloha State comes at a high price. Hawaii takes the No.1 spot as the most expensive state for families due to its notoriously high costs of living. Hawaii had the highest costs of any state for both food and housing. Food costs a whopping 58.2 percent more in this state than the national average, and the median listing price in Hawaii is $539,000. The state also has the sixth-highest child care costs in the nation.
While these high prices are offset somewhat by a higher median income of $60,814 in the state, Hawaii families will still find it harder to balance their budgets than most other Americans. The state has a parental leave policy, but its four weeks of unpaid leave does little to help families who are welcoming a baby or caring for an ailing family member.
Full Ranking: The Best and Worst States for Families on a Budget
GOBankingRates surveyed the costs and factors that affect family finances in all 50 states. Here is the full ranking of the best and worst states for families on a budget, with the No. 1 least expensive state listed first and the most expensive state listed last at No. 50.
Methodology: GOBankingRates surveyed costs of parenting and family living as well as median income in all 50 states to generate this ranking. GOBankingRates scored each state for the following five factors: (1) median income, (2) state family leave policies, (3) food costs, (4) housing costs and (5) child care costs. Each category was weighted equally and used to generate a family affordability score for each state.
Food cost data was unavailable for New Mexico, as were school-age child care costs for Minnesota and North Dakota. Rankings were controlled for missing data.
More from GOBankingRates:
Related
Popular in the Community