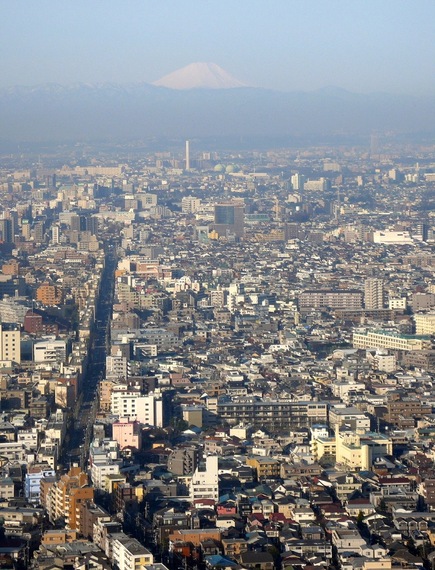 At once surprisingly familiar and unbelievably exotic, Japan is, quite simply, one of the best places you will ever travel. It all starts with Tokyo, a city that's equal parts perplexing and alluring, a place built to thrill even the most jaded traveler. If you've never been, you're missing out and now is the time to go. Spring is here, the exchange rate is pretty great and flights are typically some of the best value to Asia. So what are you waiting for?
Flights really are a good deal, more often than not
International travel can often be ridiculously expensive, but Japan seems to remain relatively steady -- it's often possible to find a round-trip fare from major United States gateways for under $1,000, including tax. That's just a rule of thumb, though -- sale fares under $700, sometimes much lower, are not out of the question from New York or Los Angeles, with other major hubs following close behind. You can barely get to London for that, anymore.
Hotels tend to be very reasonably priced
The struggling yen helps, but beyond that, an explosion of development and improvements on the local hotel scene over the past decade or so have resulted in a wide-open market that means great deals everywhere you look. There's really no reason to spend more than $150 a night on a room, unless you want to -- Tokyo certainly does have some impressive five-star hotels, much cheaper than you'd expect -- on a handful of sample dates in April, more than a few top picks popped up for less than $250.
It's one of the world's most interesting cities
Tokyo is the kind of town that makes even the most dynamic North American metropolis seem slightly more exciting than Saskatoon. Sorry, but that's just the way it is. New York has Times Square. Tokyo has, what, five of them? Maybe more? Washington, DC has subways, sure, but the ones in Tokyo don't break down (or catch fire) every three stations. San Francisco might have a restaurant scene, Tokyo has more Michelin stars than Paris. You get the point. For sheer energy, scope and constant sensory overload, you cannot compete with Tokyo. Don't even try.
Tokyo is opening up, big time
Espresso bars, world-class patisseries, microbreweries, barbecue joints, even a Shake Shack, now -- if you start to feel like you're back in Portland, or Oakland, or New York or Paris or London, it's not just you. It's Tokyo, too. Japan may remain mostly disinterested in importing people, but they sure do like to import our stuff. Beyond all these familiar accoutrements, however, Tokyo really does feel more open to the world these days, less insular, more like a global city, if that's possible in a metropolis of more than 30 million people, most of whom are Japanese.

You can ride the best trains in the world
If you want to see what public transportation should look like, come here. From clean-as-a-whistle subways to the circular Yamanote rail line that connects most of central Tokyo's must-see districts in a never-ending loop, the city is a transit lover's dream, to the point where it hardly matters where you're going; just riding the trains, getting to know the various systems (and watching how Tokyoites cope with rush hour) can provide days of entertainment.
The food is so, so good
There's no such thing as a bad restaurant in Tokyo. There's only good, better and best. Sure, locals may disagree, but they're spoiled. Japan is nothing if not attentive to the details, which is why, no matter what you're in the mood for, you're often going to find it better than you could anywhere else. From croissants to Italian food to steaks to pancakes to donuts to pizza, you can eat your way around the world in Tokyo, never mind the incredible and multi-faceted Japanese cooking culture. But isn't that what being a great city is all about? Having choices?
You really don't need to speak the language
It helps to know how to say please (kudasai) and thank you (arigato). It also helps to know how to say sorry, or excuse me (sumimasen) -- the Japanese tend to say that a lot. Don't be too nervous, though -- the Japanese not only don't expect you to be able to communicate with them in their native tongue, it actually annoys some people when you try and fail to do it perfectly. A smile, a little patience and the words "Do you have an English menu?" go a long way.
This is one of the safest cities, anywhere
Tokyo is insane, but it can also be pretty relaxing, mostly because the typical visitor will never encounter anything close to danger. Walk around the back streets of Shinjuku with your map at ten o'clock at night -- no big deal. There are touts, sure, and various pitfalls in certain types of bars and clubs, ahem, but scamming tourists in the street isn't high on the typical Tokyoites list of things to do. In fact, if you're ever at a loss, go stand near a train station ticket machine and stare blankly at the fare maps posted above and watch the English-speaking students magically materialize with offers of help. (This tends to work better in younger, trendier areas, like Harajuku, but it can happen in other places, too.)
Just being here is enough
There are plenty of cities where you want to have a whole list of things to do before you go -- Tokyo is absolutely not one of them. While it does boast exhaustive shopping, dining, nightlife and cultural scenes, it doesn't really matter how much or how little you do -- just being in Tokyo is enough for most people, the first time out. Or the tenth. Grab a coffee, ride the trains, gawk at the lights, get lost in a department store food hall, grab a cheap curry (perhaps the ultimate Japanese comfort food), go for a walk in the park -- it's all good.
Getting there is faster and easier
For years, travelers from the United States were forced to fly into the remote Narita airport, over an hour from the city -- somewhat of a slog after a 12-plus hour flight. With the retooling and rebranding of the super-central Haneda Airport -- close to everything and with multiple trains coming right into the terminals -- you can get there and get going much faster. It's Tokyo -- you don't have a second to waste.
For a look at current deals to Narita (NRT) and Haneda (HND), click here.
More stories you might like: