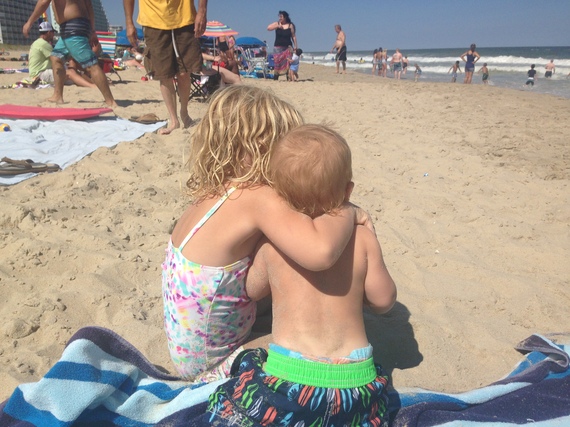 When you're a first-time mother, everything feels huge and important. It's difficult to know what advice to follow or what timelines to pay attention to. Having a new baby is difficult enough without worrying about all the endless obligations and deadlines you (or your baby) are supposed to be meeting. That's why one of the perks of being a second-time mom is knowing what really matters in the long run. You've been through the circus that is baby-rearing once before and you know that it's 95 percent about going with the flow, 5 percent sticking to the rules. Here are 10 things second-time moms couldn't care less about.
Unless you happen to be my mother, you probably forgot to put a baby book together for your second kid. Maybe you saved their hospital ankle bracelet or a couple of their first onesies (that look so itty bitty now you can't believe they ever fit in there), but the pages of the baby book are relatively untouched. Oh well. There are probably enough pictures on your phone to slap it together eventually.
2. Stressing about milestones
Moms who've been around the block know that babies crawl, stand, walk and talk on their own timeline. There's no sense in worrying about what every other kid at story time is doing. They are all different and unique. Before you know it they're all running around, shouting expletives and you're wishing they weren't quite so fiercely verbal and quick on their feet. Just kidding...kind of.
6:45am: Wake up. 7:15am: Breakfast. 8:05am: Walk. 8:45am: Playtime. 9:30am: Nap.11:30am: Wake-up. Noon: Lunch. No way, dude. Just, no way. With other kids to tame, places to go and things to do, second baby has to learn to go with the flow.
4. The baby eating something off the floor
Again, unless you are my mother, you probably aren't worried if Cheerios touched the carpet before they made it into Junior's mouth. You're just glad he's eating something and if that something is food, even better.
5. Keeping your baby properly entertained
Books! Baby toys! Stackers! Oh my! The first time around, you made sure your kid had every top-rated toy imaginable. Then you realized that he just wanted to bang tupperware together, pull books off of the shelves and smash blueberries on his head. Second baby's favorite toy is most likely an empty water bottle.
6. Endless worry about milk/formula intake
Since feeding your baby is pretty darn important, worries over nutritional intake can drive a first-time mom to the brink of insanity. First-time mom is near-certain her baby is not getting enough to eat, even if he is 25 pounds of squishiness. Second-time mom knows that as long as a baby is gaining weight, all is well.
7. Putting them to sleep at their exact bedtime
Getting home at 6:45pm to make sure the baby is sound asleep by 7:18pm on the dot is not always possible with older kids commitments, making dinner and bedtime routines. Also, sometimes fun events that your family wants to attend happen past 6:30 in the evenings (imagine that!). As long as nobody's screaming their head off, the mother of two is a little more laid back about when everyone gets to sleep.
With other kids in the mix, minor injuries are bound to happen. The seasoned mother knows that in order to save herself from several heart attacks a day, she has to be easy going about the small stuff. Knees get scraped and heads get bumped, but usually the tears are short lived. Ice packs and colorful band-aids go a long way.
Nope. It's just not happening. Ain't nobody got time for that.
10. Cherishing every moment
Second-time mom knows better than to attempt to cherish every single moment of infancy, or parenthood for that matter. In trying to do so, new moms often find themselves overwhelmed and wondering why they aren't blissful every second. The knowledge that not every minute of motherhood can or should be magical can make room for a lot more ease and enjoyment overall.
Photo courtesy of Sarah Bregel