Our global population is expected to grow by around 83 million people a year over the next 10 years. We have to figure out how to feed ourselves while repairing our environment and enabling strong communities. Here are 10 things we must keep in mind when discussing ending hunger and poverty by empowering the world's smallholder farmers.
Right now, food supply is not actually the cause of global hunger. But if we do not get on top of the root causes -- poverty, access and waste -- food supply could become an insurmountable problem.
Demand for food will grow, obviously, which will lead to an increase in food prices, which will be good for farmers; but only if they, too, are able to afford what food they do not grow themselves.
Young people are leaving farms just as their aging parents become less able to manage the farmland. We must make smallholder agriculture an attractive way to lead a dignified life.
Demand for diverse and quality foods, like animal protein, is growing, which is good for farmers; but we must be cautious so that meeting this demand does not come at the expense of a healthy planet.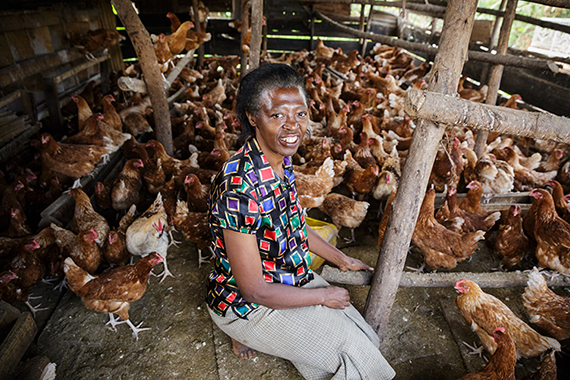 Evalyn Serwadda sits next to some of her laying hens in Nansana, Central Region, Uganda. Photo by Olivier Asselin, courtesy of Heifer International.
Human-induced climate change is real and accelerating. It will continue to reduce arable land, and land prices will keep rising. This is bad for farmers.
Planetary limits have been reached. We are at the crisis point in many areas -- water is one example. Feeding the growing population while repairing damage to the planet and not inflicting more harm is the only way forward.
Dramatic and highly visible crises -- climatic, pestilence, military and political -- will become more frequent, and the need for food aid will continue to grow.
On farms, huge investments (hundreds of billions of dollars) will be required to eliminate food loss caused by a lack of storage (about 30-40 percent of global food waste happens on the farm). Appropriate storage technologies offer effective solutions, and aggregation through farmer-owned organizations will aid cost effectiveness.
Refrigeration will be key for animal protein supply, safety and waste reduction. This will require huge capital investment and, unless renewable energy can be mastered and cheap, it will have a huge climatic impact. Advances in refrigeration technology will also be necessary.
Smallholder farmers will largely remain the underlying solution. There are hundreds of millions of them, but they need to be mobilized into higher productivity. They will need huge working capital for managing and buying better quality inputs and small technology such as irrigation. These trillions of dollars needed may not be available through governments or philanthropy, but they may be self-generated if we can connect them to markets.
We are at a tipping point right now. The decisions and investments we make today will shape humanity's ability to thrive over the next 10 years and beyond.
This post is part of a series commemorating The Huffington Post's 10 Year Anniversary through expert opinions looking forward to the next decade in their respective fields. To see all of the posts in the series, read here.
Calling all HuffPost superfans!
Sign up for membership to become a founding member and help shape HuffPost's next chapter