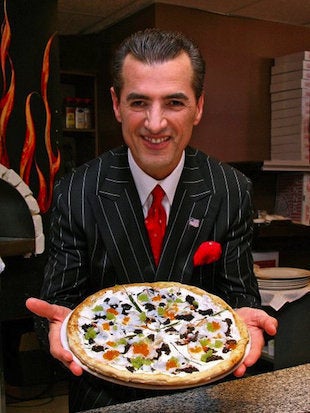 With wild disregard for the "pizza principle," Nino's Bellisima Pizzeria in New York City has crafted a pricey new pie that may as well be called "The One Percenter."
Priced at $1,000, the Bellisima Pizza features $820 worth of six different types of caviar. The remaining $180 covers the costs of the rest of the pie, and of course, the Maine lobster that they sprinkle on top. No. Big. Deal.
You see, owner Nino Selimaj-- who says he started off as a dishwasher in 1958-- caters to some classy clientele at his five New York City restaurants. According to his site, recent guests have included, "Hilary Duff, Carol Burnett, Tony Bennett, Clint Eastwood, Angela Lansbury, Regis Philbin, Chelsea Clinton, and members of "The Sopranos"….James Gandolfini, Tony Sirico, Vince Pastore and Dominic Chianese."
Now, you would think Nino's pizza would have to be the world's most expensive pizza, right? Wrong.
The Guinness world record for the Most Expensive Pizza in The World used to be Chef Gordon Ramsay's Italian white truffle pizza that sold for 100 GBP in the U.K. ($150 approx.), but Margo's recipe includes up to 100 grams of 6,500 EUR per kilo ($3,950 lb. approx.) white truffles along with the gold leaf, pushing it well over the top in terms of costly ingredients. The resulting $2,400 pizza will not make its creators rich though, as the tiny pizzeria claims it will not make a profit from the record-setting pie and instead, will give the profits way because "We get enough return from making that pizza through the exposure we get" the management stated.
This is unacceptable, of course. New York, not Malta-- also NOT Chicago-- is the pizza capital of the world. We must have the world's most expensive pizza. It's a matter of pride. It's your move Nino. Maybe add some gold flakes? Soak it in a nice 18-year scotch? The sky's the limit.
Popular in the Community