Despite significant cost-cutting measures taken in recent years, Illinois school districts are having to tap into their reserves and borrow more as state and federal funding dries up, according to a new report by the Illinois State Board of Education.
The ISBE's 2015 Financial Profile analyzes Fiscal Year 2014 Annual Financial Reports submitted by the state's school districts to identify which districts require the most and least fiscal oversight. Calculations are determined using five indicators:
Fund balance to revenue ratio
Expenditure to revenue ratio
Days cash on hand
Percentage of remaining short-term borrowing ability
Percentage of remaining long-term borrowing ability
School districts are placed into one of four categories based on their financial health: Financial Recognition (best), Financial Review, Financial Early Warning and Financial Watch (worst).
The 2015 Financial Profile data shows seven fewer districts earned Financial Recognition this year than in 2014. Overall, districts' Financial Profile scores are shifting toward the mid-range of Financial Review and Financial Early Warning.

The City of Chicago School District 299's financial score declined this year, landing the state's largest district in the lowest designation of Financial Watch for the first time in the state's 12-year history of providing this analysis. As of June 30, 2014, the district has been deficit spending for the last two fiscal years and had only eight days' cash on hand. If this trend continues without additional revenue or reduced expenditures, Chicago is projected to have a negative fund balance for its operational fund in FY 2015, with a deficit of $862.3 million.
A total of 38 school districts are on this year's Financial Watch list, which accounts for 22 percent of all the public school children in Illinois, according to ISBE.
Here are 15 of the Illinois school districts on this year's Financial Watch list:
11. City of Chicago SD 299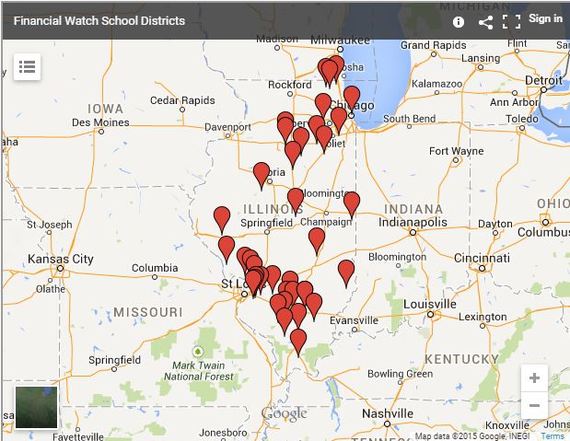 Sign up for our daily email to stay up to date with Illinois politics.
RELATED: