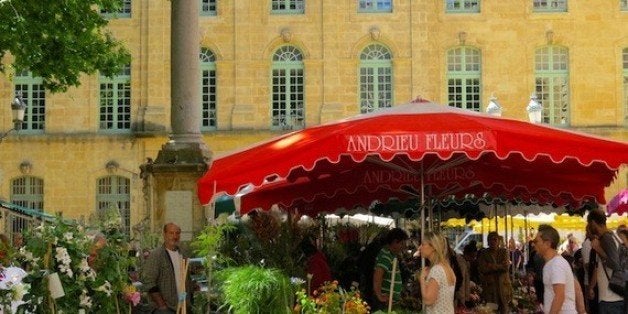 Visiting Aix-en-Provence, France, for a few days? A few weeks? Longer?
My wife, Kathy, and I have spent the first five months of 2014 in the city, trying our hand at slow lane travel before we leave on a month-long journey around eastern France. Here are our favorite places in Aix, by category:
Great French-Canadian-born baker. Buy his L'Olympique. A most crunchy crust.
We're partial to the whip-cream-filled cream puffs with raspberries.
You'll see the lines out the door every market day. This is an old-fashioned place. It closes at 1 p.m. on Monday, Wednesday and Saturday, and closes from 1 to 4 for lunch on Tuesday, Thursday and Friday.
Best Market Cheese, Ham & Sausage
This business, run by a couple, sells delicious cheese, ham and sausage. Laurent and Anne-Marie also are delightful people. You'll find them in Place des Precheurs on Tuesday and Saturday; Place Richelme on Wednesday, Friday and Saturday (laurentpoitelon@gmail.com)
Best Market Chicken & Eggs
Karine & Daniel, Volailles Cuites Et Crues
Both the most reasonably priced and the best-tasting cooked chicken in the market -- and there are lots of choices. Terrific farm eggs, too. Like Laurent and Anne-Marie, Karine and Daniel are warm, friendly and engaging. You'll find them (and the truck with the Karine & Daniel sign) in the back row in Place des Precheurs directly in front of the Church of the Madeleine every Tuesday, Thursday and Saturday.
The food comes straight from Fanny's kitchen. Warm ambiance, flavorful home cooking. And don't leave without trying le fondant au chocolat for dessert.
The formula -- main dish, dessert and a glass of wine -- is a good value at $22. The food is consistently tasty and well-prepared, too.
Big tapas portions. Started by a 20-something guy. His restaurant draws a young, lively crowd. Good buzz. Great people watching by the fountain.
Best Dinner for two under $100
NOTE: We traveled long-term on a budget. So you won't see Aix's fanciest restaurants here. No list would be complete without mentioning Le Formal, 32 Rue Espariat, where we ate twice seven years ago. We've heard it's still outstanding. But dinner for two will approach $150.
Want to eat very well but for somewhat less? Then try:
The slow-cooked leg of lamb is divine. We went here on Kathy's birthday, and she loved it. Cozy feel of a Paris bistro inside. Frequented by locals.
Much here is cooked on the wood-fired grill. We found the magret de canard delicious. Reasonable red wines under the restaurant's label.
A kir runs $2.80, a glass of wine 50 cents less between 6 and 8 p.m. on Sundays through Thursdays. And this is a perfect place to sit and relax. (Keep an eye out for the nearby statue of the wild boar.)
Ask for the owner, Gilles, a talented and gracious man. Kathy swears by him and has gotten her hair cut here during visits over seven years.
The Jean Planque Collection in the new (XXth Century) Granet Annex, Place Jean-Boyer
Housed in the restored White Penitents' Chapel (1654), this personal collection of a Swiss dealer and curator includes Picassos, a Van Gogh, a Monet, a Renoir and more. The space houses the art perfectly. We've come here three times. It's by far Aix's best museum.
Pavillon Vendome, 13 rue de la Molle
We're biased. We've lived three blocks away. But this park, facing a 17th century mansion, fills each day with children, dreamers, painters and lovers. Its gardens are impeccable; its fish pond a draw for the little ones. Visiting the mansion is an option. The park, which is free, is a must.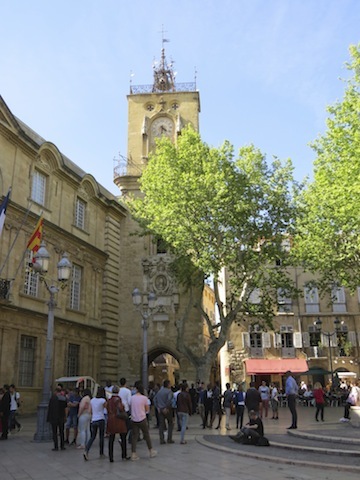 Visit here and enjoy the ever-changing afternoon light. This is where you'll find Aix's City Hall and the city's clock tower. Older locals congregate around the fountain in the afternoon sun.
Aix-en-Provence is the city of markets. Some kind of market -- for fish, flowers, clothes, pottery, spices, jewelry, vegetables, cheese, fruit and more -- is open seven mornings a week. The squares are like living organisms, growing into market stalls in the hours before noon and changing into cafe clusters within minutes thereafter. The biggest market day is Saturday. But if you're not here on a Saturday, worry not. Vegetable and fruit markets happen every morning at Place Richelme. Clothes and sometimes jewelry and artwork stretch out on Cours Mirabeau on many Sundays and some weekdays. Place des Precheurs fills with all kinds of things Tuesday, Thursday and Saturday. Don't come to Aix without spending time in the markets. They define the city.
Above the studio of Paul Cezanne, tucked into a residential community, is a site from which the artist painted many of his dozens of canvases of the magnificent Mont Sainte-Victoire. This site, a small park today, doesn't appear in guidebooks or tourist information materials. It's a 30-minute walk from the city center. Stop at the studio (L'atelier Cezanne), whether you pay to go in or not, and ask directions.
We don't mean to be rude, but Aix's Tourist Office isn't the most responsive in France. At times, there are gaps in the information it provides. Unless you ask precisely the right question, you often don't get a complete answer. In any case, events crop up all the time. Walk a lot and look out for posters.