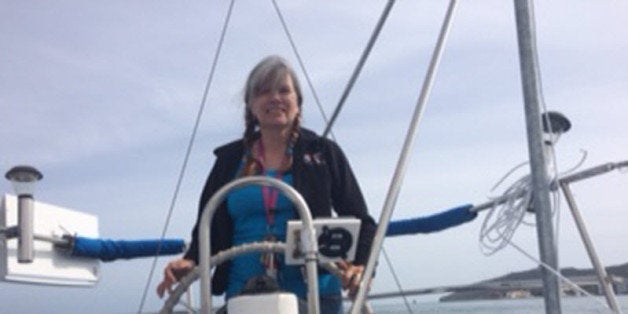 This is one story from Huff/Post50's new series "This Will Be Our Year: 15 Women Over 50 Shaking Things Up In 2015." We'll be following 15 remarkable ladies throughout the year as they make a radical change in their lives, whether it's embarking on a 500-mile hike, starting a new career or attempting to find love on the Internet. Start from the beginning here.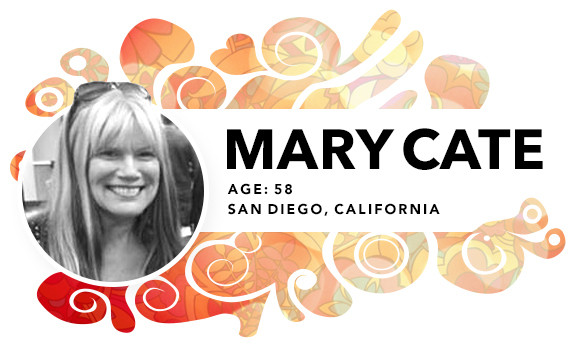 Mary Cate O'Malley, 58, is learning to sail and plans to sail from San Diego to Catalina Island.
"The liveaboard lifestyle has been completely transformational, much more than I expected. I told myself, if it proved a bad idea, I would just move back to land. But I can't imagine ever doing that. My humble 30-foot Catalina is all the home I need and a great starter boat. Working toward my goal of sailing to Catalina alone has become a normal part of everyday life. Single-handed sailing is what I am going to do.

Something switched on after my first trip out with Captain Mike, a salty-dog expert I hired to help me get to know the boat. I succeeded in stowing all movable objects in 30 minutes prior to the sail, but could not bring myself to return them to their places after getting back to the slip. I kept a small box of things for when I have company and want to spruce the cabin up, but the rest was taken off the boat. I want to be ready to sail at a moment's whim.

I just got my ASA101 Certification and feel like a kid reading through the log they gave me to track my progress on the water. I joined a sailing Meetup to make new sailing friends. It is giving me experience on all kinds of sailboats, and I meet more great people to invite onto my boat with every trip.

There are two main challenges. First, I was hoping to have my 103-104 by now. (There is no 102). My 101 training came on probably San Diego's only rainy day this year and the second day was cancelled. I could not complete the course until late April, but they did allow me to repeat the entire course and this time I got a lot of time at the helm. So it turned out for the best, but I am behind in my training. I was not aware that the requisite for the next course is 40 hours logged in my ASA Log. I have about 25 hours to log before qualifying to take the 103-104 certification. I am logging 10+ a week.

Second, I still care give for my son, a C-5 quadriplegic, every other 24 hours. Reducing my caregiving hours is probably my biggest challenge with the transition, as I need to convert that (modest, but necessary) income. He is all for it and ready. We just need his roommate to receive his final paperwork.

I am able to expand my marketing consulting work from the boat, so that is gradually increasing, but my heart, now, is more with learning the craft of boat canvas and using my industrial sewing machine and serger to do that, as well as interior items. It is incredible what is being paid for those, so I know I can be competitive. I want my income to be part of this lifestyle that I love.

Despite these so-called challenges, I don't feel behind at all. This lifestyle has flooded -- no pun intended -- me with tranquility, so each day is amazing -- no time for expectations or "shoulds".
Captain Mike is confident, that if I get regular time on the water, he can have me soloing to Catalina by mid-summer and feels Hawaii is not out of the question by the end of the year. Not sure my son and daughter will agree. My son said he can see it now, a capsized boat and thousands of books and a cat floating on the Pacific Garbage Patch. Because I do not have long stretches of free time yet, Hawaii will have to wait. I am scheduling a Catalina trip (or two) with the Meetup group as soon as one is available, then one alone on my boat in November. Maybe I'll do Hawaii with a crew next spring.
The only one that matters is getting as much time on the water as possible. I am going out two to three times a week on my boat and other boats. Taking my boat out alone is going to be my first big psychological step. So far, I have manned it alone out for an afternoon and once to the fueling doc, both with Captain Mike on board for backup.

Another step is making sure I have the systems ready for cruising. I am learning everything I can about the systems on my boat. A water heater and ice box I thought were broken were just disconnected when electrical work was done and a new engine was installed. I have a wind generator and battery system. I need a better GPS and a new mainsail. Prioritizing and budgeting for what I need, as well as knowing where to get the deals, is another important step.

Whatever comes, I have not a care in the world and could not possibly have regrets. With each trip up and down the dock of the marina, I marvel at the scene and laugh to myself in happiness."
Mary's meetup group.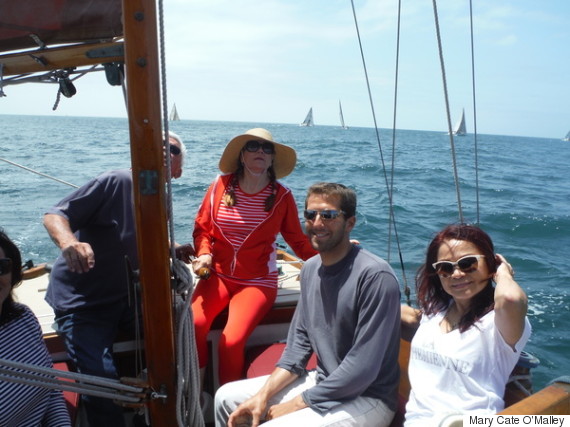 REAL LIFE. REAL NEWS. REAL VOICES.
Help us tell more of the stories that matter from voices that too often remain unheard.
BEFORE YOU GO
PHOTO GALLERY
This Will Be Our Year: 15 Women Over 50 Shaking Things Up In 2015