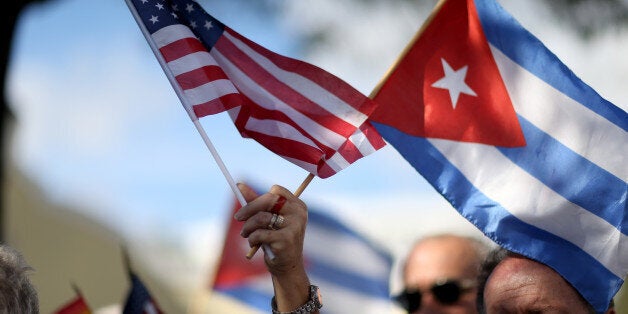 History unfolds in often mundane, apparently disconnected micro-moments. But sometimes we are lucky enough to be present when history hits us with Hollywood-scale drama. That is what we experienced two weeks ago when Barack Obama and Raul Castro made almost simultaneous live broadcasts of their decision to normalize diplomatic relations between the United States and Cuba. This was legacy-making history for both presidents, and, frankly, for all of us in the Americas.
We have been living as adversaries for 56 years. Embassies and ambassadors can't possibly undo the political culture, bad habits, and mutual distrust of half a century. After so much time and with so much asymmetry, what is a "normal" relationship? I like to think of the two countries moving toward a more natural, albeit 21st-century, dynamic, one befitting the geographic, family, economic and cultural ties that now and in the future are likely to offset the political/diplomatic growing pains.
Predictions for what the US-Cuba relationship might look like 56 years from now are beyond this observer's horizon. But I can hazard an educated guess about what to expect over the next five to 10 -- a blink of an eye in historical terms.
The wave of American business interest in Cuba will grow and eventually drown out whatever vestiges of the anti-Castro "Cuban lobby" that remain in the U.S. Congress. (There is no Cuban lobby, actually, just a few members of Congress whose own constituents now send two billion a year in remittances to Cuba and clog the 50-plus weekly flights from Miami to Havana)
Cuba will help this process by selecting a few high profile American businesses to invest in a couple of key sectors on the island.
Cuban-American cash -- from family remittances to large-scale capital -- will flow through the doors Obama and Castro are opening -- and the South Florida economy will likewise benefit from the increase in two-way business from construction to tourism. That means that perhaps as soon as the 2016 presidential elections, it will be tough even for the Republican candidate to count on the old rhetoric to win Florida's electoral votes. Hillary Clinton has already made the shift.
Latin American representatives at the IDB, IMF and World Bank will lobby for Cuba's return to those institutions, and the financing they can offer.
Cuba's already significant blogosphere will morph into an independent media, a dynamic that is well underway -- and I am not talking just about Yoani Sanchez. Transparency and accountability of public figures and their budgets today, loyal opposition tomorrow.
If you are a hedge fund manager with an eye on Putin's devaluation or another Euro-crisis or the collapse in the price of oil, this giant step in our region's history may not mean much to you. But think again.
REAL LIFE. REAL NEWS. REAL VOICES.
Help us tell more of the stories that matter from voices that too often remain unheard.