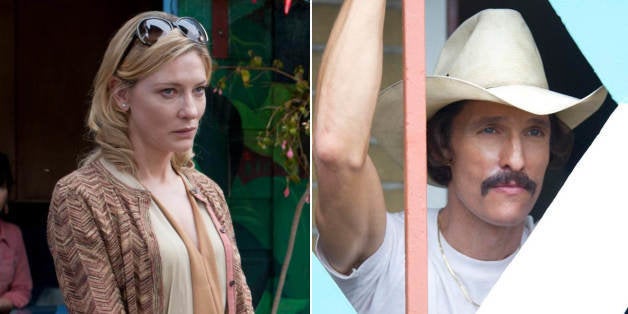 Oscar voting closes on Tuesday, Feb. 25, which means our debates about the morality of "The Wolf of Wall Street" and the quality of Meryl Streep's "August: Osage County" performance are officially rendered moot. That won't stop the prognostications from rolling in. With just days until the Academy Awards, here's a primer to study before casting a ballot in your office pool. Where does this year's race fit into the historic Oscar landscape? Will the nominees make awards history? Take a look as we pore over this year's contenders, who introduce a variety of new frontiers.
We zeroed in on the top six awards. Underneath each category header, you'll see the nominees' odds of winning based solely on the following precursor awards:
Golden Globes, Screen Actors Guild Awards, Producers Guild of America, Writers Guild of America, Directors Guild of America, Critics' Choice Awards, AFI Top 10, BAFTA Awards, New York Film Critics Circle Awards, Los Angeles Film Critics Awards, Chicago Film Critics Awards and National Society of Film Critics Awards
Each nominee list is ranked in descending order of previous wins. It should be noted, however, that certain awards provide added boosts not indicated by numbers alone. For example, the voting bodies that comprise the Screen Actors Guild and the Academy of Motion Picture Arts and Sciences' acting branch boast a massive correlation, which means the SAG Awards are the likeliest predictor of the Oscars' acting honors, independent of overall numbers. Still, it's interesting to see how the precursor awards as a whole shape the race, so read on for a bare-bones statistical guidebook.
The categories also feature five facts about their nominees. Use them to become the smartest person at your Oscar party.
BEST PICTURE 1. "12 Years a Slave" (6)
2. "Gravity" (5)
2. "American Hustle" / "Her" (4)
3. "Captain Phillips" / "Nebraska" / "The Wolf of Wall Street" (1)
4. "Dallas Buyers Club" / "Philomena" (0)
• It's commonly said that Best Film Editing has a direct correlation to Best Picture, meaning it's statistically improbable for a film to win Picture without a Film Editing nomination. In the last 20 years, every Best Picture winner also earned a Best Film Editing nod, and 11 of them won. That means "12 Years a Slave," "American Hustle," "Captain Phillips," "Dallas Buyers Club" and "Gravity" have an automatic leg up on this category.
• "American Hustle" marks the 14th Best Picture nominee to collect acting recognition in all four categories. (It's the 15th movie to do so overall, as 1936's "My Man Godfrey" racked up all the acting nods but was shut out for Best Picture.) The other movies to achieve the honor are "Mrs. Miniver," "For Whom the Bell Tolls," "Johnny Belinda," "Sunset Boulevard," "A Streetcar Named Desire," "From Here to Eternity," "Bonnie and Clyde," "Network," "Coming Home," "Reds," "Silver Linings Playbook" and "Who's Afraid of Virginia Wolf?"
• Much fuss has been made over the vulgarities in "The Wolf of Wall Street" and the visceral nature of "12 Years a Slave," but this year's crop of Best Picture nominees isn't all that more graphic than recent groups. Six of the nominated films are rated R, while the other three are PG-13 -- but those numbers were replicated in 2011 and 2010, with one qualification: Both of those years had a G-rated release ("Toy Story 3" and "Up," respectively) to balance out all the R-rated raunchiness.
• According to data crunched by FiveThirtyEight's Nate Silver and Walter Hickey in this month's Hollywood Issue of Vanity Fair, 11.3 percent of all Best Picture nominees are set is the 1930s -- more than any other decade. None of this year's movies follow suit. In fact, none of them are set in the other four most commonly featured decades either -- the 1940s, 1920s, 1910s and 1960s.
• That same data indicates that 54.7 percent of Best Picture nominees can be considered blockbusters. Only two of this year's bunch cracked the Top 20 on the list of 2013's highest-grossing films: "Gravity," at No. 7, and "American Hustle," at No. 18. Three of them weren't even in the Top 100 ("Dallas Buyers Club," "Her" and "Nebraska").
BEST ACTOR 1. Matthew McConaughey, "Dallas Buyers Club" (3)
2. Bruce Dern, "Nebraska" / Chiwetel Ejiofor, "12 Years a Slave" (2)
3. Leonardo DiCaprio, "The Wolf of Wall Street" (1)
4. Christian Bale, "American Hustle" (0)
• Unlike Best Actress, this is one of 2014's shiftiest categories, as the aforementioned numbers imply. Tom Hanks ("Captain Phillips") and Robert Redford ("All Is Lost") were both once favored to win, but the elder gentlemen were cast aside in favor of Bale and McConaughey. Nearly every pundit is predicting a McConaughey surge, but a few lone rangers are still holding out hope for DiCaprio's and Ejiofor's odds.
• Dern, 77, would be the oldest winner in the category if he's victorious. Henry Fonda won at age 76 in 1981 for "On Golden Pond."
• This year's Best Actor race offers a rare assortment of men who've all never won the award before. The last time it happened, in 2007, Leonardo DiCaprio, Ryan Gosling, Peter O'Toole, Will Smith and Forest Whitaker battled it out.
• The SAG Awards are said to be the most reliable prognosticator for the Oscars' acting bids. Over the past 10 years, Best Actor has most closely resembled its SAG counterpart, straying only once, in 2003, when Johnny Depp's "Pirates of the Caribbean" performance topped Sean Penn's Oscar-winning "Mystic River" turn. Each of the other three categories have varied three times throughout the decade.
• Of the repeat nominees in this year's top categories, Dern has waited the longest to see his name return to an Oscar ballot. His last opportunity came when he was up for 1978's "Coming Home."
BEST ACTRESS 1. Cate Blanchett, "Blue Jasmine" (8)
2. Amy Adams, "American Hustle" (1)
3. Sandra Bullock, "Gravity" / Judi Dench, "Philomena" / Meryl Streep, "August: Osage County" (0)
• This has been one of the most straightforward Best Actress races in years. Pundits began predicting a win for Blanchett way back in July, when "Blue Jasmine" first opened. Recent contests have often pitted two ladies with similar odds against each other, including Jennifer Lawrence and Jessica Chastain (2013), Meryl Streep and Viola Davis (2012), Sandra Bullock and Meryl Streep (2010), and Marion Cotillard and Julie Christie (2008).
• This is the first time in 20 years that all five Best Actress contenders are previous nominees. In 1994, Jessica Lange, Jodie Foster, Miranda Richardson, Winona Ryder and Susan Sarandon all earned repeat nods.
• If Dench wins, it will be the first time the eldest Best Actress nominee doesn't go home empty-handed since 1995. That year, Susan Sarandon beat Elisabeth Shue, Sharon Stone, Meryl Streep and Emma Thompson.
• Who says there's no great film work for women older than 40? The median age of this year's Best Actress nominees -- 55 -- is higher than any of the other four acting categories. (Best Actor's is 47, Best Supporting Actor comes to 35 and Best Supporting Actress is 44.)
• Meryl Streep's 18th Oscar nomination comes with her 50th movie. That means she's been nominated for nearly two-fifths of her entire resume.
BEST SUPPORTING ACTOR 1. Jared Leto, "Dallas Buyers Club" (6)
2. Barkhad Abdi, "Captain Phillips" (1)
3. Bradley Cooper, "American Hustle" / Michael Fassbender, "12 Years a Slave" / Jonah Hill, "The Wolf of Wall Street" (0)
• Best Supporting Actor is the category with the fewest collective nominations among its contenders. The five stars have a total of seven Oscar nods among them, compared to Best Actor's 10, Best Supporting Actress' 10 and Best Actress' 38.
• If we include Cooper and Hill, who both play characters loosely based on real-life individuals, then all five Best Supporting Actor candidates are portraying characters based on factual events. Best Actor features four true-life replicas, while the female categories both include two.
• Hill now has two Oscar nominations, which means he has two more than all of the following actors: Steve Buscemi, Billy Crystal, John Barrymore, Edward G. Robinson, Danny Glover, Dennis Quaid, John Goodman, Alfred Molina, Richard Gere, Oliver Platt, Steve Martin, Sam Rockwell and Kevin Bacon.
• If last year's nominees represented the golden boys of Hollywood longevity, this year is all about the talent of the moment. Compare these five men to 2013's Alan Arkin, Robert De Niro, Philip Seymour Hoffman, Tommy Lee Jones and Christoph Waltz. None of the current bunch were even alive when Arkin received his first Oscar nomination in 1966.
BEST SUPPORTING ACTRESS 1. Jennifer Lawrence, "American Hustle" / Lupita Nyong'o, "12 Years a Slave" (4)
2. Sally Hawkins, "Blue Jasmine" / Julia Roberts, "August: Osage County" / June Squibb, "Nebraska" (0)
• Lawrence is the youngest actress in Oscar history to accrue three nominations. If she wins, she'll be the youngest person to have two statuettes on her mantlepiece. She'd also be the first performer ever to garner consecutive Oscars in two different categories.
• In contrast to Best Actress, this category presents a two-pronged race, unlike some recent years' bouts. Many of the recent Best Supporting Actress winners dominated the precursor awards as well, including Anne Hathaway ("Les Misérables"), Octavia Spencer ("The Help"), Mo'Nique ("Precious") and Jennifer Hudson ("Dreamgirls").
• Like her "Nebraska" co-star, Squibb, 84, will be the oldest winner in her category if she walks away with a little gold man. She's not the most senior nominee, however -- that's Gloria Stuart, whose "Titanic" acknowledgement came at age 87.
• If Nyong'o wins, she'll continue to advance Best Supporting Actress' dominance in terms of minority achievements. The category has seen five black winners throughout the Oscars' history: Hattie McDaniel, Whoopi Goldberg, Hudson, Mo'Nique and Spencer. (Best Actor and Best Supporting Actor have both had four, while Halle Berry remains the sole black Best Actress champion.)
• Label 2013 the year of the dramedy. Nyong'o excepted, each Supporting Actress nominee hails from what many label comedy-drama hybrids. That's more than the other three acting races, which center more heavily on dramatic fare.
BEST DIRECTOR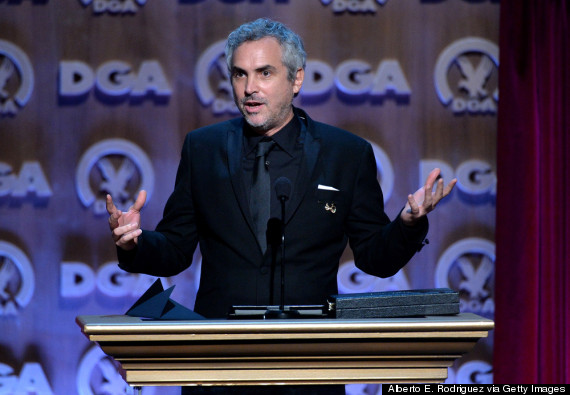 1. Alfonso Cuarón, "Gravity" (5)
2. Steve McQueen, "12 Years a Slave" (2)
3. Alexander Payne, "Nebraska" / David O. Russell, "American Hustle" / Martin Scorsese, "The Wolf of Wall Street" (0)
• This marks the 82nd time the Best Director shortlist has contained no women.
• If he wins, Cuarón will be the first Mexican director to grab Oscar gold.
• This must be the year of the auteurs. It's common for Best Director nominees to earn Best Screenplay recognition for having also written their movies, but not this year: Only one who penned the respective script (Russell) is in the running. Cuarón wrote "Gravity" with his son, Jonás, but they are not among the screenplay nominees.
• All five directors made movies that recouped their budgets and then some, but Cuarón's was technically the most lucrative. Not only was it the highest-grossing of the five, but it also brought in $168 million above its $100 million budget. Payne's film is the most economical but the least lucrative. He made "Nebraska" for only $12 million, and it went on to collect $16 million.
• Of the guild awards, the directors are the most faithful of the precursor groups. Only seven have won the DGA Award without going on to nab the Oscar. That means Payne is especially unlikely to win, considering he was snubbed for a DGA nomination in favor of Paul Greengrass ("Captain Phillips").
REAL LIFE. REAL NEWS. REAL VOICES.
Help us tell more of the stories that matter from voices that too often remain unheard.
BEFORE YOU GO
PHOTO GALLERY
2014 Oscar Snubs & Surprises