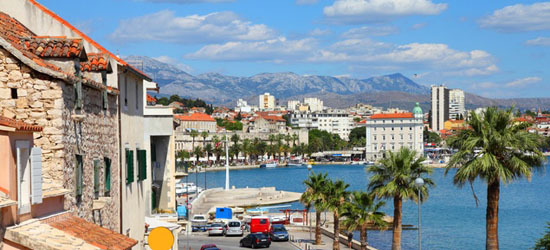 Photo Courtesy of Dreamstime. Article by Robert Firpo-Cappiello Budget Travel.
BIRMINGHAM, U.K.: A foodie destination in England's heartland
Anybody visiting a city from which both J.R.R. Tolkien and Ozzy Osbourne sprang should be prepared for a dose of cognitive dissonance, and Birmingham (or "Brum," as it's affectionately known in the U.K.) delivers, with canals (yup, they surprised us, too), more contemporary architecture than you might expect from a sixth-century city, and a foodie scene that has earned more Michelin stars than any U.K. city other than London.
WHY BIRMINGHAM IS SECOND TO NONE. In a word, food. But we don't mean nearby Cadbury World (though we have a fondness for any tour that hands out free chocolate!) or that justifiably popular Birmingham fixture, the Custard Factory. These days, this town is more about innovative cuisine and locally sourced ingredients. The Balti style of cooking Kashmiri curries--in small, artisanal batches rather than in one enormous pot -- was developed here in the 1970s, and an entire district, the Balti Triangle, serves up tasty varieties at bargain prices at restaurants such as Al Frash. Celeb chef Jamie Oliver's Jamie's Italian dishes out heaping plates of wild-rabbit tagliolini and crab spaghettini. And for contemporary riffs on classic English dishes, there's a lot to love about, well, Loves; Steve and Claire Love's waterfront restaurant has been wowing U.K. food critics with dishes like (vegetarians, avert your eyes) Warwickshire venison and Gloucestershire pig's head.
MUST-SEE SIGHTS. The Birmingham Museum & Art Gallery offers one of the world's most acclaimed collections of pre-Raphaelite paintings, including the iconic, otherworldly work of 19th-century Birmingham native Edward Burne Jones. Speaking of other worlds, Lord of the Rings fans must spend time at Sarehole Mill, said to have inspired the locale of Tolkien's trilogy. And no trip to Brum is complete without dropping by the Bull Ring Open Market, which is at once a throwback to England's agrarian past and a forward-looking source of local fruits and vegetables at great prices. The nabe is also known for its Rag Market (not as dismal as it sounds -- think eye-popping fabrics, vintage clothing, household goods, and treats like mince pie and pickled chile peppers for a song).
WHERE TO EAT. Al Frash is a great place to try some award-winning Balti-style curries (186 Ladypool Rd., alfrash.com).
WHERE TO STAY. The Bloc Hotel is located near Birmingham's historic Jewellery District (Caroline St., blochotels.com).
GET THERE. Birmingham is 117 miles northwest of London, a two-hour drive or a three-hour bus ride.
ANTWERP, BELGIUM: An inland port with a world-class sense of style
Antwerp's playfulness is evident everywhere you look -- whether it's the quirkily dressed local in a public square, a fashion model in the city's historic district, or the mind-blowing design of its Museum Aan de Stroom. Located on the docks that have made Antwerp Europe's second biggest port (after Rotterdam), the museum's exterior mimics giant packing crates stacked on one another.
WHY ANTWERP IS SECOND TO NONE. Stroll down any Antwerp street and you'll see it -- style. Whether you're looking for imaginative architecture, the most inspiring new art galleries, or a great selection of vintage and second-hand clothing, Antwerp will pleasantly shake up your expectations and likely send you home with something surprising.
MUST-SEE SIGHTS. The Zuid ("south") district is the place for art lovers; here, you'll find the Royal Museum of Fine Arts (featuring an exquisite collection of paintings by Baroque-era Flemish artist Peter Paul Rubens, such as "The Adoration of the Magi"), galleries of contemporary art, and a thriving cafe culture. Running north from the square in front of the museum, Kloosterstraat offers a stretch of cool antique shops that often boast mid-century design finds alongside older pieces. (On Sundays, the shops open for business at 2 p.m., so plan to visit after, not before, the museum.) Ready to cleanse your palate of modernism? Het Steen ("old fort") was originally built in the early Middle Ages to defend against -- wait for it -- marauding Vikings; it has been made over many times since those days and basically looks like a child's fantasy of a castle.
WHERE TO EAT. Fiskebar is an outstanding seafood joint in a port that knows from seafood (Marnixplaats 12, fiskebar.be).
WHERE TO STAY. Crowne Plaza Antwerp is a 10-minute bus ride from the city center, (Gerard le Grellelaan 10, crowneplaza.com).
GET THERE. Antwerp is 28 miles north of Brussels, a 40-minute drive or a 40-minute train ride.
SPLIT, CROATIA: History comes alive on the Mediterranean
You don't have to remember the name Diocletian to have a blast in Split, a city of more than 250,000, but you can thank him for pioneering the notion of Split as a lesser-known Mediterranean getaway. A Roman emperor who abdicated his position in the face of rival claims, Diocletian built an amazing palace here, completed in A.D. 305, and to this day the city has one of Europe's finest collections of Roman ruins.
WHY SPLIT IS SECOND TO NONE. From Diocletian's day to the present, Split has done an exceptional job of preserving its past, making it a first-rate destination for immersing yourself in living history -- even in the face of the civil war that rocked Croatia in the 1990s. This UNESCO World Heritage Site invites you to balance your beach-going and nightlife with visits to its Roman ruins, medieval forts, Romanesque churches dating back to the 12th and 13th centuries, plus Gothic, Renaissance, and Baroque palaces and other noteworthy buildings; a historic district, archeological museum, and of course the ruins of Diocletian's palace round out the historical offerings.
MUST-SEE SIGHTS. When you yearn to return to the land of the living, drop yourself on Bacvice beach, a crescent-shaped stretch of sand that rivals any of the tonier -- and pricier -- Mediterranean beaches. We won't tell if all you want to do is stretch out on a blanket and soak up some rays. But when the sun goes down, dip a toe into Split's lively bar scene, with popular "crawls" around the neighborhood of the Roman palace ruins. In the morning, get classy again with a trip to the Metrovic Gallery, spotlighting the work of Croatia's best-known sculpture, Ivan Mestrovic.
WHERE TO EAT. Buffet Fife serves big portions of grilled local meats and fish (Trumbiceva Obala 11, 385/21-345-223).
WHERE TO STAY. Hotel Globo is a 10-minute walk to Split's historic district (Lovretska Ulica 18, hotelglobo.com).
GET THERE. Split is 140 miles northwest of Dubrovnik, Croatia, a three-hour drive.