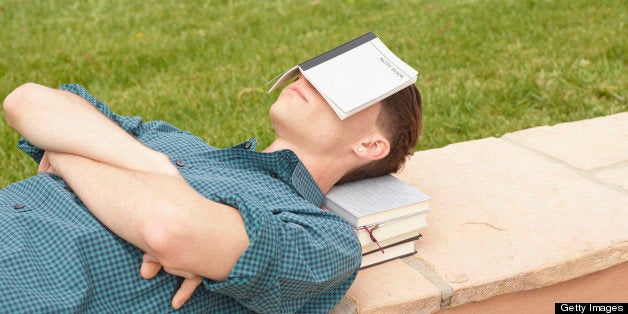 Mornings. Some people dread them and others thrive off of them. As a team comprised entirely of college students and heavy sleepers, we found that it's definitely hard to tackle those early morning wakeups, yet fairly easy to push the snooze button repeatedly. Notorious for hitting snooze, college students, like myself, don't realize the negative side effects that those bittersweet extra 15 minutes, or even an hour, have on them.
With regular alarm clocks, smartphones and even some other creative alarms, there's no guarantee that clever college students won't find a way to shut them off and get back into bed. What did we do to solve this problem? We created a fail-proof alarm without a snooze button to help improve our fellow students' sleep habits - including our own.
We realized that the same thing doesn't work for every person, especially since most college students have hectic and unconventional routines. While developing our business, we did some research on our own college campus and found three commonalities that can be relayed to individuals everywhere and put into practice for healthier, better sleep.
Find a way to wake up naturally
There are several alarm options out there that sense when you're in your lightest sleep stage and will wait to wake you up until then. Some even have to be worn on your body to detect your sleep movements and sleep cycles. We found it's less intrusive to have a sensor underneath your mattress, which is more comfortable than wearing a bulky wristband that you might be tempted to take off in the middle of the night. Waking up during your lightest sleep cycle will feel natural and take away all the grogginess that you usually experience after hitting snooze for the third and final time.
Lock the door and turn the lights down low
Whether you're watching tv, scrolling through Instagram for 30 minutes or you partied so hard you left all the lights on, to get better sleep, you have to knock the phone usage before bed and make sure your room is dark. According to the National Sleep Foundation, too much light right before you hit the sack can prevent you from getting a good night's sleep. As a college student myself, I found that sometimes a little reminder here and there is necessary to stay on track. That's why when we developed the Spritely mobile app, we made tips and suggestions, like letting people know that their room was too bright, a priority. I know how tempting a night of binge-watching Netflix is after a long day, but try to finish up well before you head to bed and the energy you'll have will be awesome.
Having a routine isn't lame, it's healthy
At first, the thought of having a routine, especially a sleep routine as a college kid, sounded kind of lame. Not only is a routine NOT lame, it's actually healthier for you in the long run. I'm not telling you to stop going to Taco Tuesday or go to bed at 9:00 p.m. on Saturday night, but it can be healthy to cut back just a little on those disruptive factors. We took sleep advice from a variety of different experts when developing our mobile app--like maintaining a regular sleep-wake schedule and making your bedroom as comfortable as possible to help you build your routine. While it might sound strange at first, developing a sleep routine during college will definitely help you get to class on time now and help you out in the long run as well.
Sleep is a necessity (and a luxury) for all of us, especially while in college. There's nothing wrong with needing reminders here and there to keep you on the right track, so figure out what works best for you and keep up with it. If nothing else, get your friends in on the movement with us and help others refuse the snooze.