As if you needed any more proof, new data shows that millennial employees won't settle for less than an engaging workplace. A survey to be released this month by Fidelity finds that 25-to 35-year-olds who are looking for a new job prioritize a better quality of life at work over a bigger salary. In fact, young people would rather give up an average of $7,000 in compensation than forfeit engagement goodies like healthier work/life balance and more career development.
It's just another reminder that millennials are different than older employees who have a greater tolerance for soul-crushing jobs. Younger employees demand a more meaningful work experience, and with nearly half looking for a new job while working at their current job -- or at least remaining open to new opportunities -- company leaders have one more reason to build cultures of high and viral engagement.
We know that one of the strongest ways to build a resonant corporate culture is by integrating purpose into the workplace. And leaders of companies with strong CSR programs are noticing the bottom-line results predicted by Project ROI, a study led by Verizon and Campbell's Soup; namely, employee productivity up by as much as 13 percent, reductions in turnover by as much as 50 percent, and workers willing to take up to a fiver percent pay cut to work for a company doing CSR well.
The key word there is "well." It's not enough to give lip service to CSR; your program must be thoughtful in its planning and strong in its execution if you want to engage employees. At Causecast, we know that just because a client signs on to our volunteer and giving platform it doesn't mean that their employees -- even all those purpose-hungry millennials -- will suddenly rush in droves to make the most of this giving-back resource. One step towards a strong CSR program is having the right tools, but it must be accompanied by the right program design, communication and support around these tools.
That's why we advise clients to focus on four key ways to boost engagement on our volunteer and giving platform. Whatever platform your company might be using, the same tips apply:
1. Let your internal communications channels work for you
Send group-specific email reminders about upcoming campaigns/volunteer opportunities in your platform.
Post campaign highlights on your company's intranet to be a 'set it and forget it' reminder for employees to see what's happening on the site.
Send a company-wide email highlighting the great work an employee achieved through the platform.
2. Create an on-site presence
Coordinate small Lunch and Learn tutorials or a large All Hands meeting to make the platform as accessible as possible.
Designate Community Leaders to help you generate excitement on a grassroots level. Your employees are always going to be your best advocates for engagement, so get them involved and give them ownership.
Causecast client Emera, a Canadian-based energy company, does a fantastic job with this by creating a volunteer network of empowered employees through their Community Engagement Council, manned by employees who manage the governance strategy around the company's volunteering program. The council interfaces with Community Engagement Team Leads, who are out in the community acting as liaisons with signature nonprofits and other community organizations with whom employees may volunteer. Meanwhile, the company's community leaders are tasked with overseeing quarterly events around these nonprofits and mobilizing engagement amongst Emera employees. This sort of formal structure sends a message to employees about how seriously Emera treats their community volunteer and giving efforts and how much their peers are leading the way.
Organize a desk drop. This can be as simple as signage explaining how to log into the platform, or something more creative.
Organize a Sign-Up Fair. Employees can sign up in person for the platform and register for volunteer opportunities.
Coordinate a Nonprofit Fair. Connecting with nonprofit leaders in person encourages employees to get involved.
Create a competition among teams or offices to see who can achieve the highest number of active users within a one-month span. The office/team who wins can get a prize (ie. give a donation to the nonprofit of their choice).
Or companies can get the competitive juices flowing through incentives like matching gifts. Global learning company Houghton Mifflin Harcourt, the publisher of A Long Walk to Water and a Causecast client, decided to celebrate the book's one million copies sold milestone by donating $15,000 to Water for South Sudan for the drilling and installation of a new well. Then the organization took its corporate philanthropy one step further by offering a challenge to its employees to raise an additional $15,000, leveraging its matching gift initiative to accelerate this goal and fund the build of a second well. To the surprise of everyone, the employees reached $15,000 in just two weeks, and the effort spiked the levels of program engagement throughout the company.
4. Demonstrate leadership involvement
Above all, company leaders need to roll up their sleeves and volunteer themselves!
There's nothing like volunteering side by side with the CEO to make employees feel more connected to their company. Conversely, the absence of top management at volunteering events can make employees feel like the hired help executing a social mission that's purely cosmetic. If you want to generate real social impact and deepen your corporate culture, it all starts with leadership showing up, and not just for a photo op, either.
Send out a video or emails from the company's CEO promoting the platform.
Get your CEO writing about how excited they are to attend the upcoming day of volunteering (see step #1), or how much fun they had at the recent event, what the cause means to them, congratulating the team on their giving campaign, discussing some creative new fundraising ideas, forwarding a blog about the company's civic activities, writing that blog to begin with - and then continually link that activity back to the volunteering platform. Whatever the communication, just communicate. The troops need to continually hear from their leaders about the company's social mission in order for it to remain relevant, and to inspire them to find out more on the platform.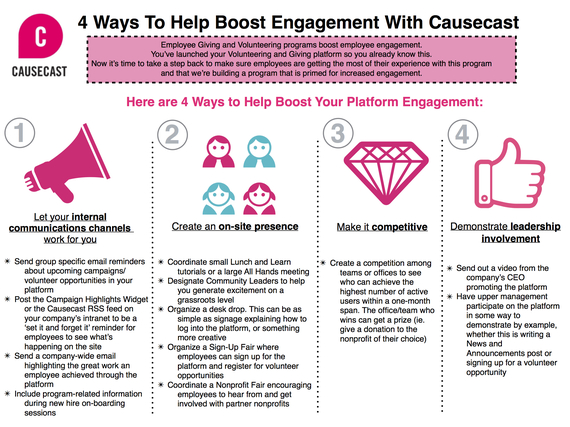 For those companies that have made the commitment to a strong volunteer and giving program by investing in a platform, bravo! You've taken the first critical step towards creating a robust culture of purpose that will reap dividends in engagement. If you follow that investment up with a careful strategy around creating and promoting an ongoing program of cause engagement, your commitment to giving back will redound back to you over and over.
Ryan Scott is the founder and CEO of Causecast, a cause engagement platform that powers employee volunteer and giving programs.
Calling all HuffPost superfans!
Sign up for membership to become a founding member and help shape HuffPost's next chapter