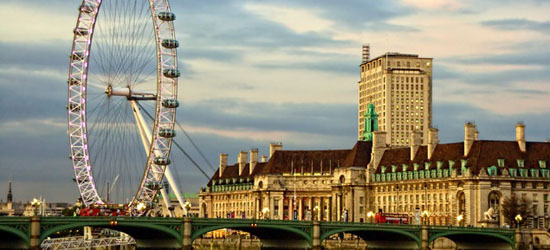 Photo Courtesy of Dreamstime. Article by Kaeli Conforti of Budget Travel.
Most people traveling to a new place will find themselves seeking out the highest point in the city at some point during their trip, whether it's the observation deck at the Willis Tower (formerly known as the Sears Tower) when visiting Chicago, or the top of the Empire State Building when they're in New York City. But there are other, fun, family-friendly ways to get great views around town: Ferris wheels! Climb onboard any of these 13 and you'll be treated to a different view and in some cases, a unique and memorable ride you can write home about. All you have to do is sit back, relax, and enjoy. And don't forget your camera!
The London Eye in London, United Kingdom
A visit to London nowadays just isn't complete without a scenic ride on The London Eye. Joining the London skyline in 2000 and originally called The Millennium Wheel, this 443-foot tall Ferris wheel is London's fourth highest structure, carrying up to 800 passengers in its 32 capsules (meant to represent London's 32 boroughs) on a 30-minute nice-and-easy ride with 360-degree views of the city -- on a clear day, you can even see as far as Windsor Castle 25 miles away!
How to ride: Tickets cost about $30 for adults and $20 for children ages 4-15; children under age four ride free; save 10 percent by ordering online. Take the London Underground (aka. The Tube) to the Waterloo Station and walk five minutes in the direction of South Bank to reach the Ferris wheel.
Deno's Wonder Wheel in Brooklyn, New York
Located on the historic Coney Island Boardwalk in Brooklyn, New York, Deno's Wonder Wheel Amusement Park is home to classic carnival rides as well as one of the most terrifying Ferris wheel experiences you'll ever encounter. While you do have the option to board stationary cars and take in views of the Atlantic, the moving cars offer a much more memorable ride. Choose one of the red or blue swinging cars and hold on tight -- as the 150-foot tall wheel turns, the cars sway back and forth until the point where they slide down diagonally back to earth, making your stomach drop and leaving you wondering if you'll actually slide right off the Ferris wheel onto the Boardwalk below.
How to ride: Admission to Deno's Wonder Wheel Amusement Park is free, however you will need to pay for each ride -- expect to pay $7 per ride on the Wonder Wheel; packs of four tickets can be purchased for adult rides (including the Wonder Wheel) for $25. From Manhattan, take the N, D, F, or Q subway to Stillwell Ave. and walk towards the Beach; Deno's Wonder Wheel is on the Boardwalk at West 12th Street.
The Niagara Sky Wheel in Clifton Hill, Canada
What's the best way to catch a glimpse of majestic Niagara Falls? By Ferris wheel of course! Take a ride on the Niagara SkyWheel, located just across the Canadian border in Clifton Hill, for a rare look at the famous Falls from 175 feet above in a comfortable, climate-controlled gondola. American citizens will need a U.S. Passport or Passport Card to clear the border, but it's well worth it for an 8-12 minute ride on Canada's largest observation wheel.
How to ride: Visitors age 12 and above pay $10.99 while children ages 3-12 pay $6.99 to ride the Niagara SkyWheel.
Navy Pier Ferris Wheel in Chicago, Illinois
One of Budget Travel's favorite American Boardwalks is also home to the Navy Pier Ferris Wheel at Pier Park. Become one with the Chicago skyline as you climb 150-feet in one of the ride's 40 gondolas, and take in views of Willis Tower (formerly known as Sears Tower), the John Hancock Center, and Lake Michigan -- visit this attraction after dark for a chance to see the Chicago city lights really sparkle.
How to ride: Admission to Pier Park is free, however you must pay $6 per person to ride the Navy Pier Ferris Wheel. Ride combo packs and family packages are also available onsite. Navy Pier is located at 600 East Grand Avenue, within walking distance of most downtown Chicago hotels.
Skyview Atlanta in Atlanta, Georgia
Located at the southern end of Centennial Park, SkyView Atlanta takes guests on a 15-minute joyride, making four full revolutions and offering views of downtown Atlanta from 20 stories up. Take a spin on one of 42 fully enclosed gondolas any time of year -- the Ferris wheel is only closed two days of the year on Thanksgiving Day and Christmas Day, and in cases of inclement weather where high winds and lightning have been spotted in the area.
How to ride: Adults pay $13.50 plus tax; seniors ages 65 and up and members of the military pay $12.15 plus tax; children ages 3-12 pay $8.50 and must ride with a paying adult; children ages two and under ride free. SkyView Atlanta is easily reachable by MARTA (several bus stops are nearby) and by train via the Peachtree Center Station.