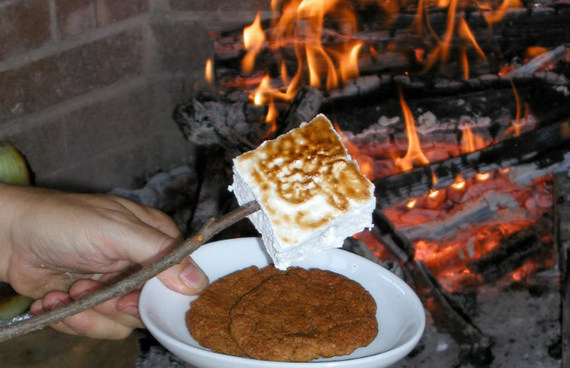 Remember the s'more? That smoky gooey combination of marshmallows, chocolate, and graham crackers you grilled (make that burned) around the campfire? Well, guess what--since the last time you were a Boy Scout or Girl Scout, the rustic s'more has gone haute.
The origins of s'mores are unclear. We do know that the recipe for this campfire treat first appeared in a 1927 scouting handbook called Tramping and Trailing with the Girl Scouts. Yes, this portmanteau word--a combination of "some" and "more"--has been on the lips of North American outdoor cooks for nearly a century. (As have dabs of gooey fire-roasted marshmallows, smears of chocolate, and graham cracker crumbs. S'mores are gloriously messy to eat--they're supposed to be gloriously messy to eat.)
When it comes to fire-roasting your s'more, you have several options. The best is the classic: on a sharpened stick over blazing wood campfire. In your backyard, I'd opt for a fire pit or a charcoal grill without the grill grate.
This year, we've re-imagined the s'more: upgrading ingredients, like subbing super-premium chocolate for ho-hum brands. Using homemade or artisanal marshmallows. Even allowing s'mores to jump line by crafting savory versions as appetizers.
The constant--as always--is live-fire cooking.
Replace the traditional graham crackers with homemade chocolate chip cookies. Spread the bottom of one cookie with hazelnut spread, then top with a flame-roasted marshmallow. Put the second cookie, bottom side down, on top of the marshmallow.
Place squares of premium Mexican chocolate on a cinnamon graham cracker, then sprinkle with pure chile powder. Add a roasted marshmallow, then top with another cinnamon graham cracker.
Spread the bottom of a sugar cookie with lime or lemon curd, top with a roasted marshmallow, then place the second sugar cookie (bottom side down) on top.
Brush thin-cut slices of bacon with maple syrup, then coat in brown sugar. Indirect grill at 350 degrees until the bacon is crisp, about 25 minutes. Transfer to a wire rack to cool. Break each slice in two. Sandwich candied bacon with roasted marshmallows and premium caramel-filled chocolate with sea salt between graham crackers. YUM!
You could call this "The Elvis." Spread the bottoms of peanut butter cookies with peanut butter. Nestle sliced bananas into the peanut butter on one cookie. Top with candied bacon (see above). Add a roasted marshmallow, then top with the second cookie, peanut butter side down.
SIGN UP for Steven Raichlen's UP IN SMOKE newsletter to learn more about barbecue!
Steven Raichlen is the author of the Barbecue! Bible cookbook series and the host of Project Smoke on public television. His web site is BarbecueBible.com.