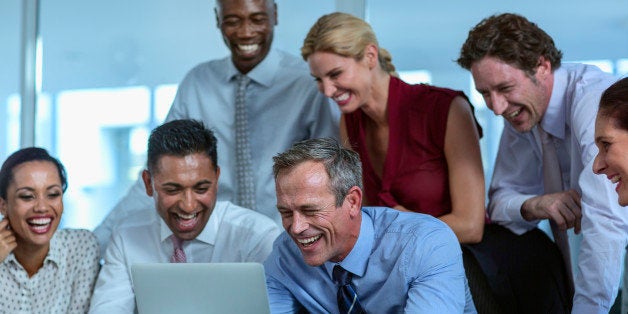 When people see me, they can't believe I'm an introvert.
Yes, I'm generally enthusiastic about everything in life. But I prefer to spend most of my time doing my work alone. My ideal business times are when I'm alone and sitting with my thoughts.
So when the waves of marketing shifted to favor live streaming, I thought I could never ride that wave.
I struggle with putting myself out there as it is. So the idea of pressing LIVE on a camera and having people see me unscripted terrified me.
By the way, for those of you who don't know, when I do public speaking that I've practiced over and over again, I ROCK it. But when I speak completely off the cuff, I'm a mess. I still have nightmares about the time I spoke at a debate about the use of bombs, and I gave an unscripted speech about heads exploding.
I tried Periscope and Blab. They still intimidate me.
But then, Facebook Live entered the scene. The moment I first pressed "GO LIVE", something crazy happened.
I wasn't nervous. In fact, it felt completely natural for me.
For those of you who think Facebook Live is just like Periscope, Blab, and other live streaming platforms out there, you're wrong.
Facebook Live is good news for marketers who don't like putting themselves out there.
Why? Because of one glorious tweak Facebook Live recently rolled out.

Facebook Live for Groups.
Just recently, Facebook made it possible for you to do live broadcasts within groups. The moment I saw this and tried it, I thought it was completely revolutionary.
There are 5 key benefits to Facebook Live for Groups that helps business owners (especially those who don't like putting themselves out there) engage with their audience in a quality way.
But before we go into those benefits, check out my special mastermind where I give awesome trainings and tips on how to use Facebook Live in Groups.
Here are 5 benefits I see and utilize for my own business:
1. With Facebook Live for Groups, you know who you're talking to.
When I was first getting started with Periscope, I kept having random people show up on my broadcast who asked weird questions. Then to block them, I had to do this awkward action of reaching for my phone and pressing a few buttons to block the person.
I wish I could've blocked weird people from showing up in my broadcast without getting sidetracked on what I was saying!
But alas, I don't have swift blocking actions. One weird comment has the power to derail me.
The beauty of Facebook Live for Groups is that you know who you're talking to.
Your audience knows who you are, and they're invested in you. They're not random people looking to poke fun at you or ask you weird, invasive questions.
Now, for many marketers, this is not helpful. Many marketers do live streaming with the hopes of building their audience. They present a call to action at the end of their broadcast, and somehow, the random person ends up on their email list.
But here's the dirty truth about building an audience online: if you think your work is done once you get someone on your list, you're wrong.
To build a quality, profitable audience, you need to engage with the people on your list.
And what better way to build a relationship than speaking to your subscribers directly--on live video rather than scripted words on a screen!
If you want to make friends and make your email subscribers more quality, then send them to a Facebook Group where you engage with them personally through live video.
It's the perfect way to engage with your audience!
2. With Facebook Live for Groups, you can do webinars on demand.
On average, webinars have a much higher conversion rate than most mediums you use to get your audience to take action.
Why? Because it's personal!
People have a hard time with trusting you if the only time you're engaging them is through words on a screen.
But webinars can be intimidating. First off, you have to make sure you get the tech just right. You don't want to hop on a webinar and struggle to get your microphone working.
You also have to create an awesome slide deck to sell your point.
Yet, with Facebook Live for Groups, you can hold webinars on demand without the hassle of tech and slides.
All you have to do is announce to your audience that you'll be holding a special training inside the group at a certain time, and that's it! People will tune into your live video in the Facebook Group.
Now, if you're like me and use webinars for list-building efforts, all you have to do is create a barrier to entry for your Facebook Group by having people join your email list to get access to it.
This brings me to my next benefit.
3. With Facebook Live for Groups, you can easily host challenges to build your email list.
If you're a super legit Internet marketer, to host a video challenge (or three part video series), you would get set up with LeadPages, use one of their templates, and assemble a bunch of tech and professional editing to create your challenge.
But if you're a business owner/internet marketer who's just getting started, then you should host a challenge inside a Facebook Group.
Here's all that you need to do:
Announce to your audience that you're holding a challenge inside the Facebook Group where you'll be live at certain times.
Create an email opt-in where people have to subscribe to your list in order to get inside the group.
Give the link to your email opt-in page to your audience and ask them to share.
Show up in your group during your specified times, do the trainings, and give value to your audience!
With this method, you have massive growth with little hassle over tech. You can actually spend a majority of your time creating the content for your challenge!
4. With Facebook Live for Groups, you can validate your ideas and get feedback.
My Facebook group is a great place to validate my business ideas and get feedback. Why? Because it's a highly targeted group that knows you.
I once tried validating a business idea with people I didn't know. It didn't go so well. In fact, I still have daydreams where those people throw tomatoes at me.
But when you're in a group where you know people, you can easily validate your business ideas, and most importantly, listen to what your audience needs.
This is quite possibly the best use of Facebook Live for me.
To give you an example of what I did, I created a group specifically for people who want to learn more about Facebook Groups. I do trainings and tips inside this group using Facebook Live. And then, I listen to what people want and ask for.
When you truly connect with your audience, you don't have trouble coming up with content. Instead, they tell you what to create.
And this intimacy and connection is made possible with Facebook groups!
5. With Facebook Live for Groups, you own your space.
What I have always loved about Facebook Groups is that it makes me feel like I have my own tiny space in the large world of Facebook. If my audience really wants to interact with me, they can find me in my Facebook Group. That's where I hang out on Facebook!
But with Facebook Live for Groups, I can take my little slice of Facebook to a whole other level.
I can really give value to my audience without having to direct them somewhere else off of Facebook.
Here's what I mean: when I wanted to add value to my audience before, I posted a blog post in my group, and had them go to my blog to receive value. To me, it felt like I was just marketing my stuff on Facebook, guiding people to my own space away from Facebook.
With Facebook Live, I can just teach using video, and not guide them somewhere else to receive valuable information.
It makes me feel like I can own my space on Facebook more.
This might not be a big deal to many Internet marketers who only use social media to direct back to their business. But for me, Facebook Live allows me to really give back while I'm on social media. To me, this feels more genuine and personal, and does a lot more to engage my audience.
Overall, Facebook Live helps me engage with my audience on a quality level. And if you are looking to build a quality list of people who actually buy from you, then you need to prioritize engagement.
Online business is not just a selling act to people. Online business is about trust and engagement.
So if you are trying to navigate the waters of Facebook Live, and are trying to figure out how it can help your business, then do a broadcast inside your group. Increase engagement in your business by showing up to your audience.
And if you do this, I promise your business will benefit.
Now, I get that the idea of doing an awesome Facebook Live broadcast inside of a group is intimidating. I mean, how do you master Facebook Live for Groups?
There are a bunch of swirling elements surrounding Facebook Live for Groups.
If you're introverted like me, I bet you'll instantly fall in love with the awesomeness of Facebook Live in Groups. It's the perfect solution for business owners who are uncomfortable with putting themselves out there.
So press live and show up to the people you know and love--your audience. Give them value and grow your business.

This article was originally published on EssentialHustle.com.
REAL LIFE. REAL NEWS. REAL VOICES.
Help us tell more of the stories that matter from voices that too often remain unheard.