Wanting to be more productive in the morning is a buzz term on everyone's lips, because research is revealing that having a productive day starts with the habits you implore at the start of your day. If mornings are not your forte, don't be alarmed, productivity is something a lot people struggle with. The morning is a hectic time for women, but especially if you're a mom or busy professional, and have people in your home needing you to help them prepare for the day (making school lunches, helping a spouse get ready for a big day, or just making sure everyone gets a good breakfast!).
What changed my idea of morning was two fold: first, when I was in chemo as a teen, realizing that the morning was the only time of my day before treatment that was my own. It was the precious time that I had to get all my supplies, priorities and intentions in order so that my physical and mental health were at their optimal levels for the taxing work of chemo. I had to have my head right, my heart right, and my backpack of supplies right! From inspirational reading materials to snacks that would boost my mood. For me, to be more productive in the morning meant to help myself create the kind of mindset that could stay motivated and positive.
Second was at an ashram in India realizing how beautiful the morning is. It's not just the time that we wake up, its the time our aspirations and ambitions can wake up too. It's the time of beginning, of newness, of a clean mental state. But to be more productive in the morning, we have to prepare for it, and like anything else, make a routine of it.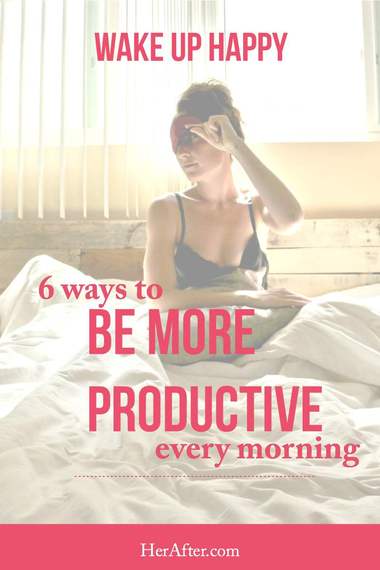 6 Ways to Be More Productive in the Morning
(And set yourself up for a great day!)
Snoozing actually makes you feel groggier during the day, according to the medical director at the Sleep Disorder Centers of Prescott Valley. This is because it starts your mind off into a new sleep cycle, one that you can't actually complete. (via) So no matter how hard, get up. If you find you're always tired in the morning, try going to bed earlier or adopting better practices before bedtime to get more restful sleep.
If you have a hard time finding motivation to get up, then start with an intention. The moment your alarm goes off, take a moment to choose an intention, and try to make it one word if possible. It doesn't have to be an end result or project, like getting a presentation ready; instead go for a feeling or emotion. Things like: Peace, Gratitude, Openness, Detachment; any word that helps you create a mindset for the kind of day you want to have.It can also be helpful to get out of bed, write that intention down on a post-it, and pin the post it to your front door. That way not only have you written it down, you've placed in in a spot you'll have to see right before you face the day.
Meditation is a great tool to clear your head and give you a feeling of centeredness and gratitude. I have a new series of meditation audio guides on iTunes and Podomatic to try if you're new to meditation! And check out these beginner tips too! Meditation can help you be more productive in the morning by helping you create a mindset for cool, calm ambition.
Or an apple. Or a granola bar. Any healthy snack you can have around 11 a.m. at the office when you start to feel peckish. What you might not realize is that your morning coffee run might actually be harming your health and productivity. Not only because the sugar in popular coffee drinks will perk you up but then make you crash, but because drinks can't replace food (via); in other words, when your body needs fuel, you can't replace food with drinks to make it feel energized. So save the time and the money, give yourself more energy and focus with a brought-from-home snack instead.
If there's something that always stresses you out in the morning, get it out of the way! For instance, if picking your outfit sends you in a half-hour body shaming rant in front of the mirror, take the guess work out and pick the night before. If you tend to get agitated waiting for coffee, set the timer to brew before you even get up. If the kids like to wait till it's time to leave to look for school supplies, implement a routine the night before.The point is this: you have to be in control of your morning to make it work for you. If you know, without doubt, something will bring you anxiety, do what you need to do to get it out of the way.
6) Take a "Contrast Shower"
Contrast showers are a term fitness professionals and gym buffs like to use for taking a hot shower, interspersed with periods of cold water. It's used to alleviate muscle soreness, but also because the hot water followed by cold water increases blood flow, it's sure to give you a morning burst. (via) Different people like different intervals of hot and cold, but I typically go for a minute of hot, followed by 10-30 seconds of cold. While in the cold water, try to keep the breath steady and not avoid the cold; it's a great practice in mindfulness, keeping calm, and controlling your emotions (which will definitely help you in the board room later!).
Rachael Yahne is an award winning blogger, writer and cancer survivor. After years in the fashion industry, she now writes lifestyle articles about purpose, passion, well-being and asking life's biggest questions. You can read more of her work at HerAfter.com
Get copies of HerAfter's Healthy Living Ebooks for Kindle Here.