"There is no such thing as Israeli cuisine," said Chef Roy Sofer at the hip Italian Bindela Restaurant in Tel Aviv. Over the next ten days, every person I spoke to in Israel gave me a similar answer. Just like the U.S., Israel is a melting pot of cultures and cuisines. Everyone here is from someplace else, and they have brought along traditional ingredients, spices and cooking methods that have become part of the new Israeli gastronomy.
There are a few dishes that you can say are true to Israel, but most bear some resemblance to something you may have tasted in Italy, France, Spain, Russia, Poland, Lebanon, Saudi Arabia, Morocco, Iraq, or Bulgaria. Israel's immigrant population has given way to a multinational restaurant scene. There is a wide range of sophisticated French and Italian bistros, casual American bars, as well as more sushi restaurants per capita (in Tel Aviv) than in any city in the world, including Tokyo.
Although half of this small country is a dessert, Israel produces 95% of its food. With the availability of the finest quality of olives, dates, nuts, pomegranates, avocados, citrus fruits, high-yielding dairy, and a variety of fish from the Mediterranean Sea, eating has become the national pastime.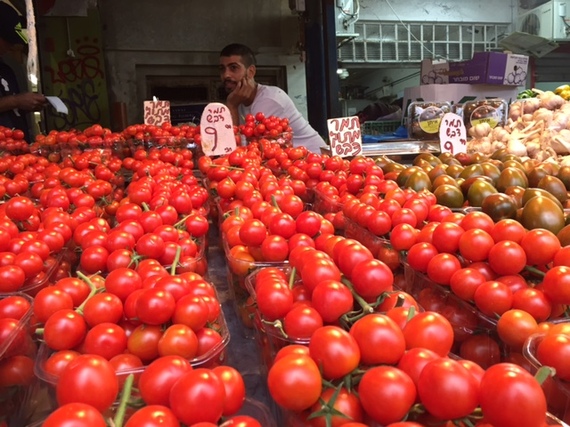 Israel is developing as a vital culinary destination. Here are the top eight culinary experiences to have while traveling in this cosmopolitan country...
1. Go Around the World in Tel Aviv - This vibrant city is packed with students and entrepreneurs who love to eat, drink and party. The international restaurant scene in Tel Aviv is comparable to most major cities of the world. There is also a new trend of chef-owned restaurants where experimentation is encouraged, perhaps led by the popularity of cooking shows and top chef competitions.
At Bindella, we see a play on Israeli cuisine with Italian dishes, such as the Tuscan cauliflower salad which resembles tabbouleh. Messa suggests a South Beach style ambiance, serving complicated European dishes that look like works of art. Chef Yuval Ben Neriah of Taizu Asian restaurant has put Asian-Mediterranean on the map introducing diners to tandoori calamari and hummus rissoles.
Vegan and vegetarian restaurants have also grown in popularity. Nana Schreier of the vegan restaurant Nanuchka features food from the Republic of Georgia, who is famous for her khinkali (Georgian stuffed dumplings).
You could easily spend your entire trip visiting amazing restaurants in Tel Aviv alone, but you might make the most of your tour by attending the annual Taste of Tel Aviv Food Festivalin the spring.
2. Shop at Carmel Market or Shuk HaCarmel in Tel Aviv - One of the oldest areas in the city, this is where the locals go shopping for fresh baked bread, cheeses, meats, fish, pastries, fruits, and vegetables. You may browse around the market on your own for few hours or ask Delicious Israel founder Moran Broza to take you to some establishments that you may not be able to find on your own.
During my walk, we visited a 100-plus-year-old Syrian bakery that did not have a name or showcase window. You simply walked in and picked up what you needed, such as bourekas out of the oven or Syrian cookies. Broza can also take you to the famous hummus hotspots and show you the proper way to eat this popular chickpea dip.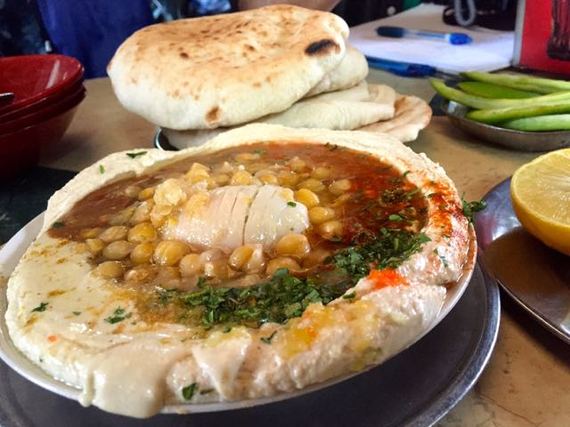 3. Wine Tasting in Upper Galilee - For 3,000 years, wine has been a part of the celebration of Jewish holidays and the Sabbath. The industry was given a boost by France's Baron Edmond de Rothschild and in a few decades, the production and flavor of wine in Israel had reached the highest international levels of quality. In 2008, the influential U.S. magazine Wine Spectator published a wide feature on Israeli wine and summed it up by affirming that "Israel's wines are world class."
Now, there are more than 200 wineries in Israel, producing excellent red and white vintages and sparkling wines. The non-profit organization Western Galilee Now allows you to create a custom day trip to the Western Galilee where you can stop for wine, beer, arak, honey, cheese, and ice cream tastings at your own pace. Routes are also mapped out so you can follow different historic and scenic trails.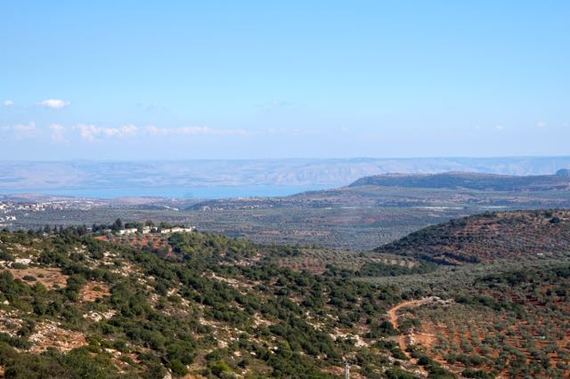 4. Cheese Tasting in Rosh Pinah - Taste farm-fresh milk, cream, yogurt, and 26 varieties of handmade boutique sheep, cow or goat cheeses, including Zfatit, Feta, Labneh, Mt. Hermon Goa, Casu, Tomme, Manchego, Emmental, Gruyère and more at Mizpe Hayamim Hotel in Rosh Pina.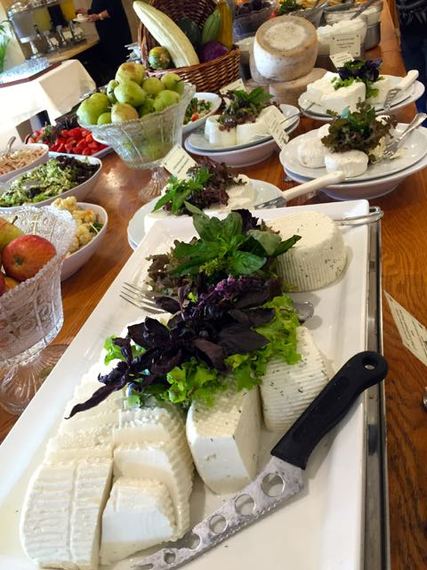 Dairy farms in Israel produce the highest amounts of milk per animal in the world. Sheep milk is used for cheese making and also imported. Mizpe Hayamim Hotel is a hotel, spa and organic farm where you can meet the farm animals, feed the baby goats, and taste their products at the hotel's meat and vegetarian restaurants, as well as confectionery and bakery. Overnight guests come here to enjoy the natural surroundings overlooking the Sea of Galilee and stay in luxurious accommodations.
5. Cooking Lesson in the House of a Druze - Before visiting Pnina at her home in Maghar village through GalilEat, I didn't know much about Druze cooking, or even their culture for that matter. During this 3-hour class, Pnina, a home chef, showed me how to make stuffed grape leaves using vines from her garden; majadara - lentils and bulgar pilaf; sinye - meat kebabs cooking in tahini; and a variety of salads. I spent the afternoon frying zalabya, a seeded flour bread, in her kitchen, and then enjoyed a nice dinner with her and her daughters, in her family dining room which overlooked the village. GalilEat helps coordinate authentic Galilean workshops at homes of Arabs and Druze, which helps the women gain employment, as well as share their culture with tourists.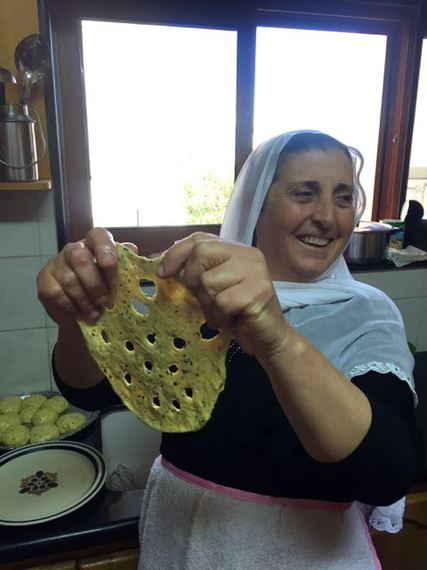 6. Learn the Fishing Ropes in Acco (Acre) - Located on the Mediterranean Sea, 12 miles from the Lebanese border, is the most famous seafood restaurant in Israel. A meal at Uri Buri Fish Restaurant is a must, but you can make it a tour by staying at historic Efendi Hotel in Acco, and indulging in the ancient city experience. From buying and handling seafood, shopping at the markets in Acco, learning about the spices and medicines during the Crusades, and preparing simple yet flavorful recipes, author, chef and proprietor Uri Yirmias shares his experience from over 30 years of cooking through guided tours.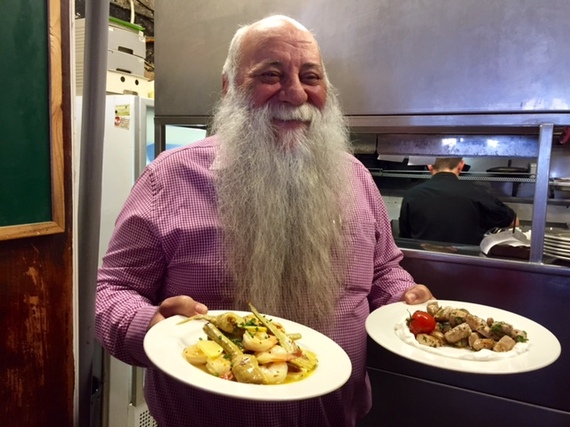 7. Taste the History in the Old City of Jerusalem - This holiest place in the world is also home to the largest diversity that can be found within .35 square miles. Just walking through the different quarters of the Old City, you will find an eclectic mix of people, art, shops, and of course, food! In the Muslim Quarter, taste Middle Eastern and Mediterranean foods such as falafel, shwarma, grilled meats, knafeh, and baklava.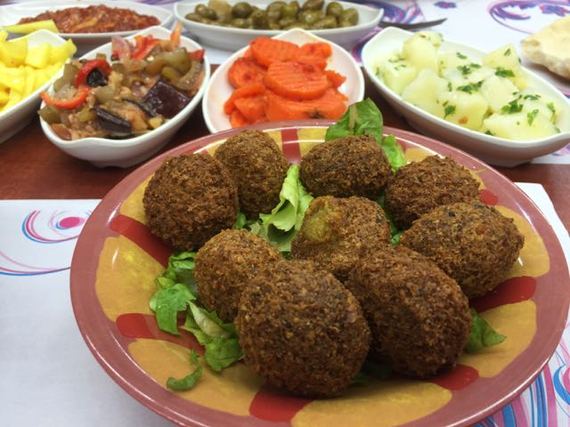 In the Jewish quarter, you will find lots of cafés serving jelly donuts, bagels, salads, and deli sandwiches. This is also a great place to try Kosher steakhouses. Catch a great view of the Old City from The Quarter Café where they serve kosher dairy and seafood. Lina is a famous hummus-only restaurant in the Christian Quarter. The Armenian quarter is lined with hip bars, traditional restaurants, and boutiques. The Armenian Tavern is located inside a 1000-year-old building that was once a part of a Crusader cloister, where you can try lachmanjun (Armenian-style meat pizzas), basturma (dried spiced meat), and Armenian variations on shishlik.
8. Get Shuk Bites at Mahane Yehuda Market aka Shuk Mahane Yehuda - Over 250 vendors sell ingredients as well as cooked foods here. Many of the establishments have been around since the market opened. They serve Moroccan, Yemenite, Russian, Turkish, and Czech recipes passed on through generations.
Purchase the Shuk Bites tasting card for only 99 Shekels ($25), which gives you access to six generous size tastings. You will be full, but there would be a lot more your eyes can feast on. Plan to spend one or two days here if you are a real foodie!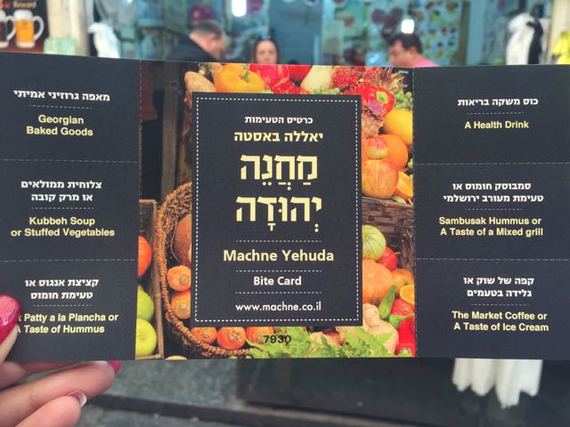 In the evening, "the shuk" becomes a popular hangout spot with restaurants, bars, and live music. Have dinner at the namesake restaurant Mahaneyehuda where the chefs cook while dancing and drinking shots, creating some of the most amazing Israeli food served in a very casual and friendly setting.
Words and pictures by Sucheta Rawal. To read more of Sucheta's stories from Israel and 50+ other countries, visit her blog, Go Eat Give.
Related