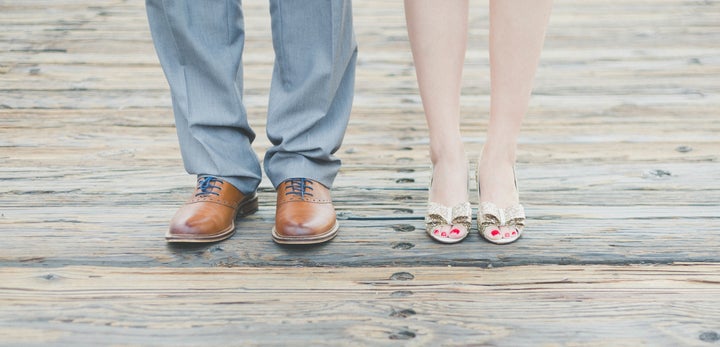 Elopements are increasing in popularity, especially among younger couples. The reasons people choose to elope are extremely diverse, but can include factors such as budget, timing, romance, and nonconformity. Many betrothed couples have at least one moment during wedding planning where they think "wouldn't it be easier to just elope?" Here are eight signs that eloping may actually be the right fit for you and your partner:
1. You hate being the center of attention.
When 50% of the population can be categorized as introverted, you know there must be a lot of couples out there who feel uncomfortable at their own wedding. If the thought of saying "I do" in front of a bunch of guests makes you want to run, you are not alone. Eloping could be the wedding of your dreams, with just you and your significant other celebrating together.
2. You can't stand to spend lots of money.
Financial concerns are a huge factor for many couples during wedding planning. The costs have become ridiculous, and most couples wind up spending way over budget. Even with all the cost-cutting measures you can dream up, DIY crafting, and hard work, a wedding will cost lots of money. If you would rather spend your money on travelling, investing, or even putting a down payment on a house, eloping can keep you out of debt.
3. Thinking about a "big wedding" creates more stress than enjoyment.
Your wedding day is supposed to be the happiest day of your life, so when thinking about it makes you a nervous wreck, something isn't right. You should feel happy, excited, and look forward to the day. If thinking about an elopement brings you relief, eliminates your stress, and actually brings your enthusiasm back to life, you should listen to these feelings. Your gut may be telling you that you don't want a "big wedding" after all.
4. You'd rather spend time alone with your partner.
A wedding involves a lot of time spent with other people – your loved ones, friends and family. This means your time will be divided between your spouse and the rest of your guests. If you like the idea of everyone being together, a wedding will achieve this goal. But if you would rather spend the time with your partner – for example, if you don't get much alone time at home, or if you have family gatherings very frequently – you should consider eloping.
5. You worry that wedding pressures will overwhelm the bond you are making.
There can be so much pressure for couples who spend ages planning the "perfect wedding" – sometimes they feel that if anything goes wrong, the day will be ruined. This means you could end up worrying about whether it's going to rain, whether the guests are enjoying themselves, and whether the food is good. If you fear that this will overshadow your enjoyment of the wedding, it could be time to think about elopement.
6. Superficial wedding details seem incongruous with the purpose of the day.
Some couples simply don't feel that all the miniscule wedding details have anything to do with the vows they are making. It can become almost farcical, trying to think about invitations, centerpieces, and caterers in the same headspace as a lifelong commitment. If this is the way you and your partner feel, you could be much happier if you elope.
7. You are not a traditional bride (or groom).
You and your partner are not the average couple – you don't care so much about societal norms, and you like to do things that others might consider edgy or different. Some couples express their uniqueness within the constraints of a traditional wedding, including the so-called "anti-wedding." But these are often not really as "anti" as they seem to be, usually costing the same as a traditional wedding and buying into all the same wedding paraphernalia. If you truly want to do something different, pick an elopement as unique and adventurous as you are.
8. You love to travel and explore.
One of the amazing things about eloping is that you can choose almost anywhere in the world. If you love to travel, you can even combine your wedding with your honeymoon and go on a round-the-world trip. Whether it's the top of a mountain, in Antarctica, or a sandy beach, the possibilities are truly endless. If you and your partner love to travel, you can make your wedding the once-in-a-lifetime adventure you've always dreamed about.
Each couple if different, so whatever you choose, make sure you are both happy with the decision. With elopements becoming more and more popular, couples can feel less pressure about having a big "wedding" if what they really want is just a simple, private, romantic affair. It's okay to elope!