Fearing what might happen to the public school she attends, a second-grader wrote a note to Secretary of Education Betsy DeVos to tell her how much she loves her school.
On March 18, journalist and current CNN commentator Sally Kohn posted a photo on Instagram of a postcard her daughter, 8-year-old Willa, wrote to DeVos.
Willa got the postcard while visiting a store owned by Kohn's friend, Diana Kane, in Brooklyn, New York. The store was showcasing photographs from the Women's March on Washington and offered postcard versions of the pics and stamps so customers could write to political leaders. Willa told her mom she wanted to write to "the woman in charge of education."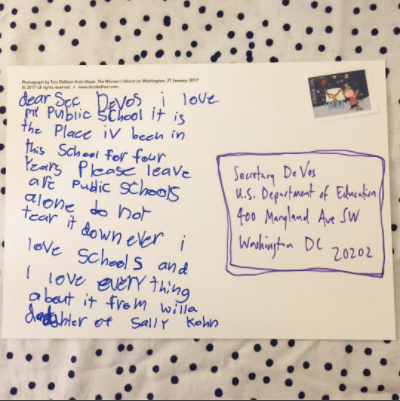 On the postcard, Willa wrote about how much she enjoys her public school. She then asked DeVos to not "tear it down."
"Please leave are [sic] public schools alone," Willa wrote. "Do not tear it down ever."
Though Kohn described the part where her daughter signed the postcard as "Willa, daughter of Sally Kohn" as "ridiculously embarrassing" and wants to make sure her daughter doesn't think that her name "opens doors," she was "so impressed" by the message. She said her family listens to NPR at home in the mornings, and she thinks Willa must have gotten the motivation to write to DeVos from hearing news reports.
Parents and educators across the country denounced DeVos' nomination and her subsequent confirmation as education secretary, often citing her lack of experience with public schools. During her confirmation hearing, DeVos also made headlines with her confusion about the Individuals With Disabilities Education Act and her suggestion that guns should be allowed in some schools to keep students safe from grizzly bears.
Kohn told HuffPost she was proud of her daughter for speaking up to protect her education. She praised the school Willa attends and hopes one day all schools will have the necessary resources to keep kids thriving.
"It's a wonderful place with wonderful teachers and administrators and volunteers who do so very much for so very many kids with incredibly strapped resources," she said. "It's amazing what creative, supportive places of learning our public schools are, even with limited support from policy makers. Imagine if our public schools actually got what they need?"