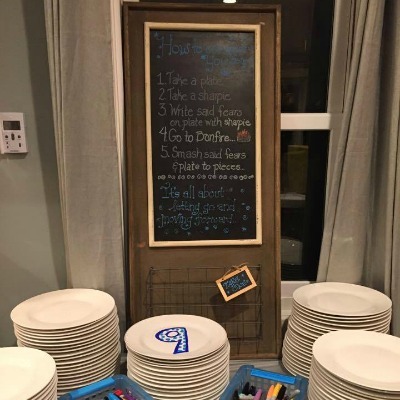 Every year following Lung Leavin' Day, I write a recap of the evening. This year I wanted to do something a little different. I know the event has a huge effect on people, and in the last couple of years people have shared their feelings about the night with me. I thought I would ask a few friends about their thoughts on the tradition and share them with you.
Fear means different things to different people. To some, fear manifests as anger. For others, fear is sorrow. For each person, identifying their fears is an intensely personal part of LungLeavin' Day. To give those fears a voice, share them with others, and then smash them in the fire is often an overwhelming and cathartic experience.
People ask me if I still have any fears left after doing this for nine years and I have to laugh. I think if everyone is honest, they have some fears. My biggest is probably the most obvious -- my cancer coming back. A very close second is my daughter getting sick. My fears mainly revolve around illness -- my husband, my mom, and any of my loved ones getting sick is a fear I can't seem to shake. My fear became a reality last year when my dad was diagnosed with renal carcinoma. I spent his last precious days with him, taking care of him until he passed, and I lived through my biggest fear. But the fear still remains.
Last year, after the night's celebration, I got a very long text from a dear friend. At the time, he was in a transitional period having just left his job, and he was trying to figure out what he wanted and needed to do. I didn't know it at the time, but he was also suffering from an eating disorder. That night, after the LLD party, his text told me that he finally felt he had the courage to get help and get healthy. Smashing his fears in the fire and the celebration helped put things into perspective. I'm so pleased to say he is getting help and doing really well today.
Suzi's Perspective
My dear friend Suzi writes:
I went to my first Lung Leavin' Day party in 2009. I had only known Heather a short time, but was obviously moved by her incredible story. I instantly felt a special bond to Heather as many people do and wanted to share in this incredible celebration of courage, hope and strength. What I didn't realize is how much I would personally gain from attending this event. I came to the event wanting to smash that plate as hard as I could, and I mean SMASH IT! I was in the middle of a very difficult divorce and up against my greatest fear of being alone and raising my then 2-year-old son. I was so angry at that time and thought that smashing a plate in a fire would be just the ticket to getting some of that anger out. When Heather informed me that I needed to smash the plate to eliminate my fears and not my anger, it became harder for me to look into what those fears truly were. It made me really take a look at myself and I realized I was very scared. My future was no longer what I planned it to be and I was lost.

Every year since, I have attended Lung Leavin' Day and every year I became less angry and my strength grew. This party not only is a celebration of my dear friend Heather's life, but also of mine. I gained my strength back and I am happy to say that being a single mom is not so bad, in fact it is the most rewarding thing I have ever done. I am looking forward to many parties to come!
Katelin's Perspective
Katelin, a family friend who I've known for over 15 years, and who was Lily's nanny while I went through treatment, has this to say about the night:
I will never miss Lung Leavin' Day! I have attended every year since Heather and Cams have put this together.

I look forward to meeting new people and visiting with people I literally only see at Lung Leavin' Day. I have built many long standing friendships from LLD.

Heather is family to me, I have known Heather and her family since I was young. Our dads grew up together in the Black Hills. They shared a lot of life passions together and were all part of the manly hunting group "Powder River." Unfortunately, last year Heather's dad passed; he will be missed every single day. He was a huge part of my life and has a strong spot in my heart.

This gathering is more than just a gathering to mingle, meet and greet, etc. This day is exciting, safe, no worries, open arms, loving, and builds incredible memories every year. It is a celebration of life with people from all over. Each of us has a story and the unique thing is we all have different ones. Together we share our life stories while having a wonderful night. A huge part and fun of the evening is writing on a plate and breaking it over the bonfire. By taking a plate you write your fears on your plate and then break free of it over the fire. I take writing on my plate very serious. I put a lot of thought and emotions into it. In a strange way it is like a mini therapy session with myself. From attending Lung Leavin' Day I gradually over the years have learned to accept "fear." It is not so scary after all, and the challenges of fears in everyday life is a blessing.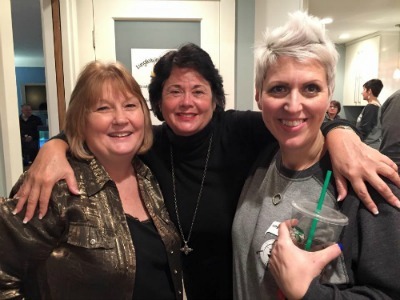 Every year, the crowd grows at Lung Leavin' Day; this year we had over 100 people celebrating with us. Five mesothelioma survivors were present to smash their fears and share experiences with one another. Cancer survivors from the local "Stupid Cancer " meet-up group were in attendance as well.
There were some special guests in attendance, too: Sue Vento, whose husband Bruce Vento was a Minnesota representative and passed away from mesothelioma, was here to support us, Linda Reinstein from the Asbestos Disease Awareness Organization (ADAO), and Melinda Kotzian from the Mesothelioma Applied Research Foundation (MARF) flew in to mark the occasion too!
I also received texts from friends around the country who gathered together with their families and friends to write their fears on their paper plate and burn them in bonfires. From the beginning, my husband said this holiday would be celebrated all over, and this year's event has proven that statement to be true.
Besides serving as therapy for some, Lung Leavin' Day is also a fundraiser for mesothelioma research. The icing on the cake is that we raised over $6,000 for MARF and ADAO this year! We raised money by selling T-shirts and hats along with a raffle. The grand prize for the raffle was an iPad Air 2 that was donated by a family friend through his real estate business. I was fortunate to have sponsorships from a few other generous businesses who were instrumental in helping me reach my goal. Without their support, I wouldn't be able to do this. I'm eternally thankful for the support of the mesothelioma and online community that donated to my cause too. I'm continually humbled by the generosity of people.
Next year is the 10th anniversary of Lung Leavin' Day, and we are already discussing what to do to make it even better.
What I know for certain is someone will gain something wonderful from the night, someone will overcome a fear that has been bothering them, and many fears will lie in the ashes for another year.
This article first appeared on Heather's blog at the Mesothelioma Cancer Alliance.