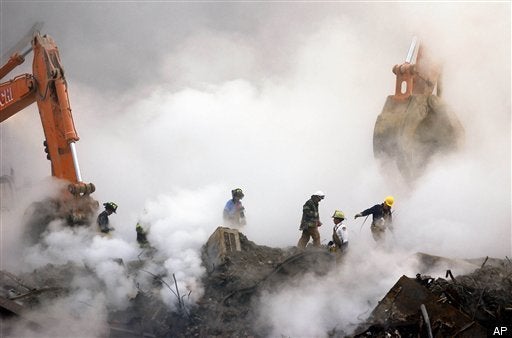 LOWER MANHATTAN — An advisory panel examining which conditions should be covered by the Zadroga Act appeared close Wednesday to recommending that some cancers be included, members said.
"It seems like many [members] are in favor of listing at least some cancers of some systems as World Trade Center-related conditions," Dr. Elizabeth Ward, chairwoman of the World Trade Center Health Program's Scientific/Technical Advisory Committee, said after hours of testimony from experts and rescue workers in a federal building Downtown.
While the fund covers numerous illnesses linked with breathing 9/11 toxins, cancer is currently excluded because of insufficient scientific proof — a decision criticized by first responders and city officials who believe the link is crystal clear.
Evidence that there is a cancer link appears to be mounting.
Dr. Philip Landrigan, a dean at the Mount Sinai School of Medicine, testified Wednesday about the findings of a yet-to-be published study by his team that reveals a 14 percent increase in cancer rates among rescue workers, including significant increases in prostate, thyroid and certain blood cancers.
The increase is especially "striking," he said, because the group had lower rates of common cancers, like lung cancer.
"I think that we've reached a point... [where] we can say with a high degree of certainty that the exposures that the responders experienced down there at Ground Zero and the other World Trade Center sites, we can reasonably anticipate that those exposures are going to cause cancer," Landrigan said.
He said the study is the largest of its kind, involving 20,000 firefighters and police officers as well as sanitation workers, construction workers and others who assisted at Ground Zero after the terror attack.
An earlier study released in September found that firefighters working at the site were 19 percent more likely to develop cancer than those who weren't there, the New York Times reported at the time.
The extent of contamination was also highlighted this week when a police uniform that had been sealed inside a bag after being worn during recovery efforts in the days after Sept. 11, 2001 tested positive in 2012 for numerous chemicals linked with cancer, including heavy metals, asbestos, fine concrete particles and hydrocarbons.
Panel member Valerie Dabas, a human resources analyst at the police Patrolmen's Benevolent Association, said she's seen significant increases in rare blood and kidney cancers as well as incidents of thyroid and prostate cancer that she said are "very uncommon" in men and women so young.
She also dismissed previous studies that may not have shown a clear link between exposure to certain chemicals and cancer.
"We keep saying the dust is different than everything we've seen before, and that's how we have to treat it," she said.
Steve Cassidy, president of the Fire Department's Uniformed Firefighters Association, agreed that he has little doubt that certain blood and other cancers are a direct result of exposure to Ground Zero's "toxic stew."
"I think it's biologically plausible that anyone that was subject to this is going to have increased rate of cancers," he said.
First responders, who rallied at City Hall in advance of the hearing, urged panel members to cover their conditions. They shared emotional stories about how rapidly their health deteriorated after weeks and months working on the mangled pile, breathing toxic dust after 9/11.
John Walcott, 47, a now-retired narcotics officer from Rockland County, rushed to Ground Zero to help with the rescue efforts.
He was diagnosed with leukemia nine years ago, and has since endured numerous rounds of chemotherapy and a stem cell transplant that he said have destroyed his nerve endings and left him in agony.
"There's not a day that goes by I'm not in constant pain," he told the panel. "My daughter will never see me walk her down the aisle."
John Feal, founder of the FealGood Foundation, an advocacy group for 9/11 recovery workers, said that while he understands that not all cancers should be covered by the act, the link with many types of cancer is abundantly clear.
"There are cancers, unequivocally, undoubtedly, that need to be added to this bill yesterday," he said, adding that victims are depending on the panel for their help.
"You're playing God right now," he said. "Our fate is in your hands."
The advisory panel, which will continue to accept public testimony Thursday, is expected to issue its recommendation as soon as March or April about which types of cancer, if any, ought to be covered, members have said.
While the recommendations are non-binding, they are given "serious consideration," according to the HHC.
Related
Popular in the Community