WASHINGTON -- Most people who lobby Congress rely on millions of dollars and connections to well-placed insiders.
Ray Pfeifer needed a new motorized wheelchair to make his way around Capitol Hill this week.
Pfeifer, a retired FDNY firefighter who has cancer in his bones and lymph nodes, had visited Congress before, including during Jon Stewart's daylong push in September to mobilize lawmakers in support of a new 9/11 health bill.
The idea had been that a high-profile visit from the former host of "The Daily Show," along with a cadre of ailing Sept. 11 responders, would help convince lawmakers to pass the new bill before an existing version could expire, leaving in limbo a health program that treats 33,000 responders across the nation.
It didn't work, although more members of Congress did sign on to the bill.
That partial success left Pfeifer exhausted, even with friends pushing the chair that he needs because large sections of his bones have been replaced to combat his stage 4 cancer.
"What happened with the last visit down here, I was struggling getting around. I knew I had a problem with the leg," Pfeifer said between meetings in various Senate offices Tuesday.
"The doctor said, you know, you're not supposed to be walking around," he said.

But the way Pfeifer explains it, he feels lucky to be alive -- and he feels like he owes it to other 9/11 responders who are sicker than him, or who will be, to do what he can to ensure the James Zadroga 9/11 Health and Compensation Act is reauthorized. The authorization for the health part of the bill ended Sept. 30, and treatment will only continue to run on the program's cash reserves until some uncertain time in 2016.
Pfeifer gets his care from the program. When his doctor suggested he get a motorized wheelchair, Pfeifer balked, because even though he's been fighting cancer since 2009, he sees himself as someone who is active, someone who takes walks with his wife and helps others in need. And the cost of a wheelchair would not be insubstantial.
It turned out there was a solution, from a source both sad and touching, in the community of 9/11 responders who are being diagnosed with cancer in greater and greater numbers.
Just a few days before Pfeifer and his comrades trekked down to D.C. with Stewart, another 9/11 responder, John McKee, died from a brain tumor linked to his service at ground zero following the 2001 attacks. McKee's widow decided Pfeifer should have her husband's chair.
"I always say out of bad things, good things happen, and she felt like she should do something, so she donated the wheelchair to me," Pfeifer said. "It was a gift from her heart."
The former firefighter put the device through its paces Tuesday, rolling for miles through the corridors of the Capitol's office buildings. He still insisted on getting out of the chair to talk to staffers of lawmakers, though. He felt he had to leave the chair outside to attend a meeting of the Senate Committee on Health, Education, Labor and Pensions, chaired by Sen. Lamar Alexander (R-Tenn.).
Pfeifer also made sure to to stand when he apologized to staffers in the office of Sen. Deb Fischer (R-Neb.). He told them that he'd felt bad last month when Stewart ran down the hall after Fischer and put her on the spot over the bill, with TV cameras rolling.
"I couldn't sleep, thinking about it," Pfeifer told them. "Our community is very frustrated, and she just happened to be the poor person that was in the hallway that day."
Pfeifer said he was very encouraged by the meeting with Alexander's committee staff, and even by sit-downs in other offices where research assistants and other junior staffers led the meetings with former cops, firefighters and construction workers. Even admissions of ignorance left him unfazed, such as when a staffer owned up to not knowing the Environmental Protection Agency had misled responders about the safety of the air at the World Trade Center site.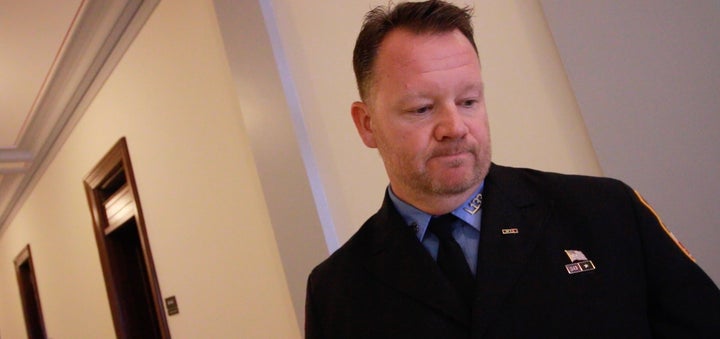 He and a couple dozen other responders and advocates attended numerous meetings where the talk about doing the right thing came mostly from them, while Capitol Hill staffers offered up bureaucratic jargon about caps, pay-fors and the legislative process.
Still, they stayed upbeat, though perhaps none as much as Pfeifer.
"When you talk about Ray, and you talk about bringing him down in a wheelchair -- and it's not props, it's not made up, it's real life -- you hope that somebody is going to be able to see his story as human, and you hope that there's going to be a human connection to the members of Congress," said Kenny Specht, another retired firefighter who won his bout with cancer. "You're disappointed when you leave somebody's office and you brought that human emotion and that human story, and you get a handshake and a thank you for the service, but you don't get the support."
For the most part, the visits went well. Sen. Steve Daines (R-Mont.) signed on to the bill, said John Feal, the head of the Fealgood Foundation, who organized the trip and connected Pfeifer with McKee's widow.
However, there were some moments reminiscent of five years ago, when Congress was more hostile to the Zadroga Act and just barely passed it ahead of Christmas.
In the office of Sen. Jim Risch (R-Idaho), where the responders had been unable to arrange an appointment, they were greeted by an angry staffer who expressed irritation that they asked for five minutes to make a case.
Risch's office said the staffer was not the person who ordinarily deals with such issues, because many of the office personnel were back in Idaho. Still, the staffer ended up giving the responders half an hour, even if the talk grew heated at times. A spokeswoman for Risch, Suzanne Wrasse, said that the men were treated courteously, and that their words were heard.
"The staff on the issue will most definitely get all of the information on the meeting and will give it the due consideration," Wrasse said.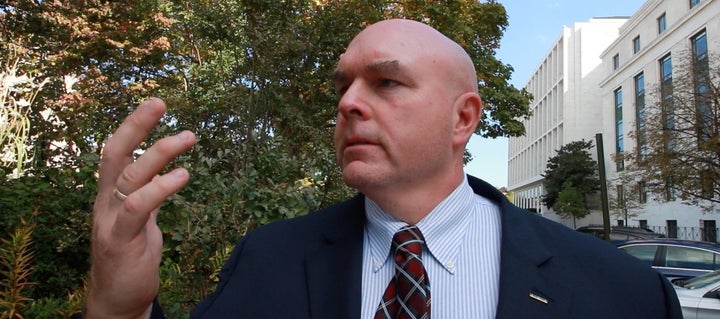 The two sides of the encounter see it differently, but it brought home to former NYPD Sgt. Tom Wilson -- himself a cancer survivor -- why he and people like Pfeifer have to keep making the journey to a place that's often consumed by its own internal battles and concerns.
"I was speaking to one of the staffers from Idaho, and she didn't really understand why we were down here," said Wilson, whose tours after the terrorist attacks included sifting through the debris at the Fresh Kills landfill in Staten Island for victims' belongings and remains.
"There's a saying: 'Never forget.' And you realize the rest of the nation has really forgotten," he said, standing outside the Senate office building while it was evacuated for a fire drill. "The funny thing is, we're on a fire drill, but if something happened in this building right now, I'd go running in there, and that woman who humiliated us before, I'd carry her out on my shoulder in a second to rescue her. Again, never forget."
The responders and advocates hope they can secure a new, permanent 9/11 bill before Christmas, so the treatment program won't have to begin making preparations to shut down, notifying patients and losing staff who won't have assurances of work.
For his part, Pfeifer intends to get lots more use out of that wheelchair, whether it's to keep cajoling politicians in Washington or just keep up with his wife when they walk the dogs. And it's also all too likely the chair will eventually do someone else some good.
"When I pass on, if it's in good shape -- I hope it's not, [because] if it's not, then that means I used it a long time -- it'll go to somebody in need," he said.
It's an attitude he hopes Congress can embrace.
"This affects the people who are the good people in America. We rushed in and tried to do the right thing," Pfeifer said. "When you talk about the World Trade Center and the cleanup afterwards, who was going to do that? There was no one specialized to do that. So they put cops, firemen and construction workers to do that. So we did it, and we got sick. We just need a little help, you know? That's it. We just need a little help."
Michael McAuliff covers Congress and politics for The Huffington Post. Talk to him on Facebook.
Popular in the Community