Frances Chung has danced with San Francisco Ballet since 2001. She was promoted to soloist in 2005 and raised to principal dancer in 2009. During the past decade, whenever Frances has appeared in the company's grand Galas or in first performance casts throughout the season, I have been taken by her determined spirit - what I suggested to her as Warrior Energy. "At the end of the day," said Frances, "it's all about the music. I want to see the music infused into the dancer."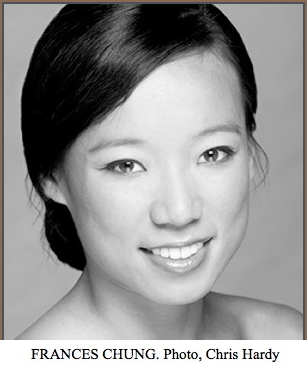 "A couple of years ago I saw Justin Peck's Everywhere We Go at New York City Ballet. It was in combination with some other ballets. Very American. It opened my eyes. I know the company is different now than it was ten years ago. Between the dancers and what I observed in terms of dynamic dancing - I'd never seen anything like it. Every Balanchine ballet I approach now is so different than the way I would have even just several years ago. I go on YouTube, I try to do as much research as possible before I dance something. I used to look waist-down a lot more than I do now. For me, what's more important is waist-up. Generally, we work in class everyday on waist-down - and granted, co-ordination and port de bras [carriage of the arms] is very important. But after class and before going into rehearsals and performances - by the time I'm onstage, I only think about waist-up."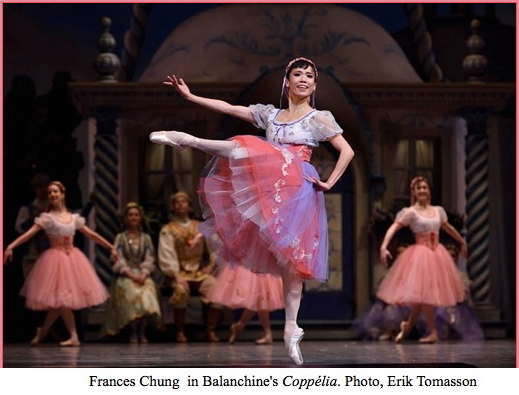 I met with Frances shortly after the run of Program 4 - Balanchine's Coppélia. As the love interest, "Swanilda", she was teamed with Vitor Luiz as "Franz" and Pascal Molat as "Dr. Coppélius". She had just been rehearsing Alexei Ratmansky's Seven Sonatas (music by Domenico Scarlatti) - a part of Program 6 and a premier for SF Ballet. She was also in preparation for the three ballets of Program 7 - Balanchine's Theme and Variations, Christopher Wheeldon's Continuum© and the premiere of Justin Peck's first work created for the company, In the Countenance of Kings. It's a short time between the first rehearsal and first performance. The dancer will not only absorb the separate visions and styles of these wildly diverse choreographers, but undergo a crash course in musical styles as well. Whether played by a pianist or cued from a recording, this group of scores stretches over two-and-a-half centuries. The music and the muscle memory will become One. Like - Frances' relationship with "Swanilda" in Léo Delibes' Coppélia. It goes way-back to her early training. A native of Vancouver, Frances was enrolled at the Goh Ballet School. Did she want to go? Had she been inspired by another dancer, perhaps a production?
"My older sister was in ballet before me. I remember being forced to practice piano, which I quit three times, but I don't remember any struggle with ballet class. I was super shy! But I was energetic and I think I was very physical. I'm sure my parents did not have a ballet career in mind for me."
"You must have had some finished product in mind," I said. "Something that linked what you were doing at the bar and by the mirror to an end. Were you competitive?"
"I was very short-sighted. My end was probably the show we were doing that month or that weekend, a competition, or one of the local festivals in Vancouver. I got my first plastic trophy when I was twelve! That was exciting. As a school, we toured to China several times to perform. I got to travel a lot as a child - specifically, for dance. It was very enticing - having this thing that would take me around the world, that would take me out of school. And, yeah! - I am competitive. I love the very technical stuff. I did the Gamzatti variation from La Bayadère, also Paquita and the Don Quixote variations. I did a Coppélia solo at my Genée Awards - not the Balanchine version. I want pieces that are technical, virtuosic. I enjoy the more dramatic roles - because they come to me as a challenge. In the latter years, my teachers took me to the international competitions and I got a little taste of the world. The only thing I was lacking was some American ballet. So, in terms of rep, coming to San Francisco Ballet was a little bit of a shock. Among my first few ballets was Symphony In C. I'd never seen anything so fast in my life. Before coming here, I would say I was more of a European dancer. But now I feel like I've become an American dancer."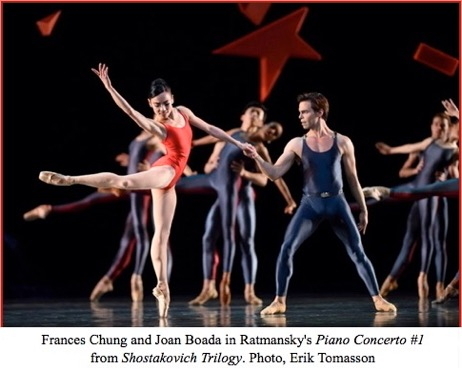 "Since I wasn't in Swan Lake this year, I had a lot of time to focus on Swanilda. I almost had a little grieving period after it was all over because I spent a lot of time in the studio with Vitor and our balletmaster. All the hard work we put into building a strong connection with the ballet and with each other. I was sad afterwards. But - there's no time to grieve! Even after we opened Coppélia we were already rehearsing for the next two programs. Those first rehearsals in the studio are about going through the steps and you're not yet as emotionally invested in everything. I try not to overthink it too much and to just stay focused on the piece itself. And Coppélia is over! That being said, I love all the abstract works. Maybe because you are yourself in these ballets - which could be about anybody and anything - and will differ from one performer to another."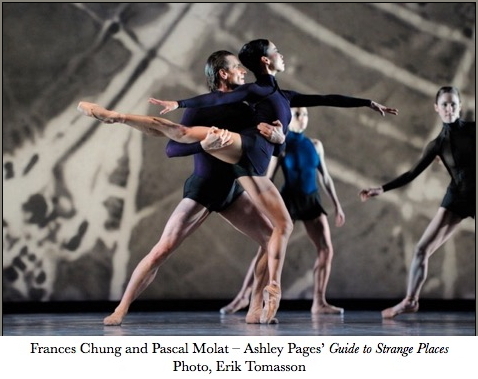 I asked Frances about the advice she would give an aspiring ballerina today. The hidden challenges that go with 'you have to give up this if you want to be that'. Or learning how to negotiate with various people if you want to stay on stage and how to deal with a whole lot of temperament.
"You just said it all! I think I'd have advice for one day and something else the next. These days, because I'm here from 9:30 in the morning until 9:30 at night - I have to remind myself 'it's just ballet' and there are a lot of frustrations that come with putting something onstage. Other days, I see young dancers and I see myself when I was young. I specifically remember seeing balletmasters or choreographers at the front of the room telling me I had to get out of my skin and dance as though my life were depending on it. Those things come with experience. But seeing the kids now - it's that thing of wishing you knew then what you know now."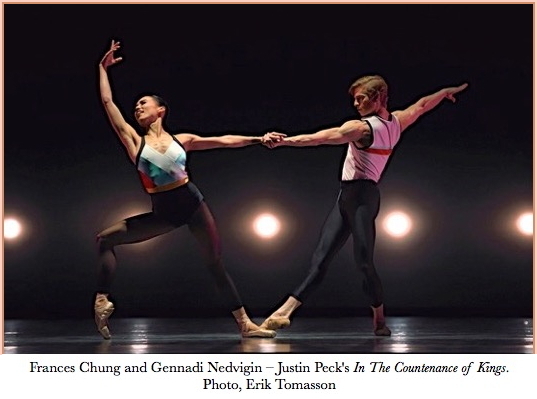 "At this point in my career, it's not too hard to see the end. I think the idea that I can't do this forever and that I should really enjoy each moment - because I know I'm going to miss it. Helgi came to class one morning and announced that Gennadi was leaving. It was such a shock, I just started balling. Another factor is just knowing that people I'm dancing with, that I have special connections with onstage - that's not going to last forever either."
NOTE: A Farewell Performance has been scheduled for three of San Francisco Ballet's beloved principal dancers: Joan Boada, Pascal Molat, and Gennadi Nedvigin. This will be Joan's and Pascal's final performance with the Company, Gennadi will perform in Program 8 - John Cranko's Onegin - opening April 30.
Popular in the Community