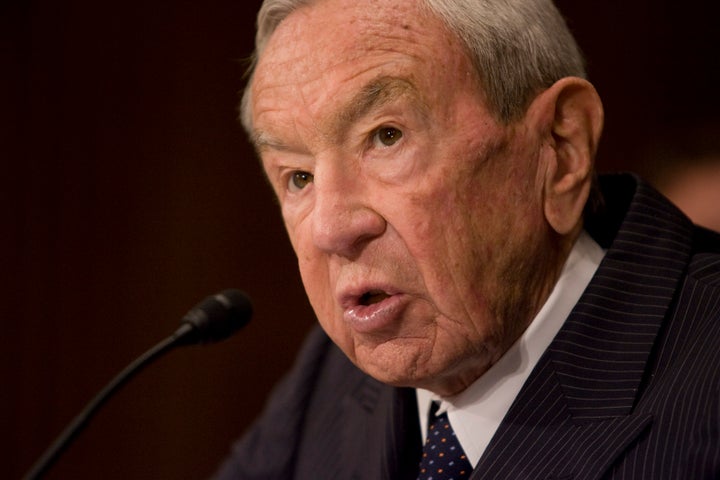 I'm going to miss Chris. I miss him already.
He was much more than my friend and mentor. He was one of a diminishing breed of Americans who believe that public service is more than a resume builder. They see it -- he saw it -- as a trust, a stewardship. Warren Christopher was not a man of Washington. On completing his service -- as Deputy Attorney General in the Johnson Administration; as Deputy Secretary of State in the Carter Administration; as Secretary of State in the Clinton Administration -- he came home to Los Angeles, the true center of his universe.
Watching Chris work was a lesson in discipline. First and foremost, he was someone who thought before he acted. To paraphrase a Dutch saying, he was a man who did not go out on the first night's ice. But once he decided on his course, he skated circles around the rest of us.
Perhaps the best-known example of how Warren Christopher attacked seemingly intractable problems was his negotiation of the release of 52 American hostages held by Iran for 444 days. Under unrelenting pressure from the White House, news media and the hostage families, he encamped in Algiers and became, in essence, a diplomatic monk. Working through an Algerian intermediary, for months he conducted excruciating two-steps-forward-one-step-back negotiations. On several occasions he believed the deal was closed, only to find that the Iranians wanted something different or something more. The tension and frustration lasted until the penultimate moment. And when the hostages were finally freed on January 20, 1981, the cameras turned not to the person who had won their freedom, but to the front of the U.S. Capitol, where Ronald Reagan was being sworn in as the 40th president of the United States.
Chris was fine with that. His interest was in solving problems, not in leaving footprints. He didn't lust for attention or credit. In his writing he went to pains to avoid excessive use of the personal pronoun, a practice he referred to as an "I" infection. He was also extraordinarily generous in crediting or sharing credit with others for accomplishments he could rightly have claimed solely for himself. A notable example was his handling of what many regarded as an impossible task he undertook at the request of the mayor of Los Angeles, the late Tom Bradley.
In the wake of Rodney King's beating at the hands of LAPD officers, Bradley knew he had little time to begin reweaving the fabric of Los Angeles. He decided to form The Independent Commission on the Los Angeles Police Department, defining as its charter the investigation of the events surrounding the King incident and the assessment of whether there were systemic problems in the LAPD that may have given rise to it.
Bradley asked a group of prominent, politically diverse citizens to sit on the Commission, then asked Chris to lead it. The press quickly began to refer to the group as the "Christopher Commission," a shorthand he found aggrandizing and embarrassing.
He convened the group immediately. Three months later the Commission issued a 297-page unanimous report calling for the resignation of the chief of police and setting out extensive recommendations for reforming the LAPD. With quiet patience and determination, Christopher had managed to forge a consensus that astonished every politician and activist in the city.
Characteristically, he resisted any suggestion that he'd been the one who made it all happen, never revealing the ego massaging and gentle arm-twisting that he'd employed to bring every member on board. At a press conference on the day the Commission's report was released, a reporter asked him how he had managed to convince the entire Christopher Commission to sign on to the findings. His response was quintessential Chris: he reminded the reporter that the name of the group was the Independent Commission on the Los Angeles Police Department, not the Christopher Commission, and that each of its members had independently concluded that the evidence was clear and compelling.
Chris' iconic status as a public servant prompted local and national leaders to call upon him again and again for counsel on difficult questions. When in 2009 it fell to Mayor Villaraigosa to appoint a new Chief of the LAPD, he asked Chris to lead a body of distinguished citizens to advise him. When a commission was formed in 2007 to recommend a way that the president and Congress might work more effectively when faced with the question of whether to commit the nation to conflict, Warren Christopher joined former Secretary of State James Baker in co-chairing the group.
Working with Chris, whether on a legal or a diplomatic problem, was a singular experience. As both a lawyer and diplomat, his ability to predict what was coming around the next corner was extraordinary. In both roles he believed that the key to success was listening, listening very carefully, to the person across the table. His strategy was to maximize opportunities for an opponent to reveal gaps in his reasoning or subtle changes in position. When he found such opportunities, he exploited them deftly and quietly to the advantage of his client, or his country.
He was a news connoisseur, and he knew which journalists were the best at what they did. His typical question was not whether you'd seen a story or column on a particular subject, but whether you'd seen the piece by reporter X or columnist Y. He respected expertise in every discipline, and he knew the real thing when he saw it.
The press, in general, didn't get beneath the surface of the man. They quickly decided that he was dry, humorless and impenetrable. Perhaps it was the fact that he didn't talk in sound bites. Perhaps it was because he was less interested in stirring banquet audience than in attacking the next problem.
More likely, I think, it was the fact that Chris was not someone who kissed and told. When powerful people sought his counsel, what they wanted and got in Warren Christopher was someone with extraordinary judgment who could be trusted to hold close their problems and decisions. It was a character trait that insured the press would devote little time or attention to fleshing out the second and third dimensions of the man.
During his lifetime, scores of people sought help from Chris, ranging from young people wanting career advice, to movers and shakers looking for someone to resolve Byzantine, high stakes disputes. He was generous with his help, more generous than many of the beneficiaries knew.
But he took special pleasure in giving his help to those who would never have thought to ask for it. His law firm's decision to honor his retirement in 1994 by establishing a scholarship in his name presented such an opportunity, and he seized it with relish.
The people Chris wanted to help with the scholarships were talented kids in Los Angeles public high schools who, due to tough financial or family circumstances, were at risk of dropping out or ending their education after twelfth grade. After consultation with Los Angeles school district counselors and others in the community, the scholarship was framed as an annual promise to ten Los Angeles public high school sophomores that they would receive $5,000 for each of their four years in college.
To date, not a single Christopher Scholar has failed to graduate from high school, and virtually all have gone on to some of the finest undergraduate institutions in the country. Chris always said he was "gratified" by the success of the program. Anyone else would have used the word, "proud."
At a moment like this, the custom is to ask for a brief silence. But I'm pretty sure that's not what Chris would have wanted. Rather, he would have counseled us that a moment of silence is far too valuable a commodity to devote to a remembrance of things past. Instead, I think he'd tell us to use the moment to get on with solving the next problem that life places in our path.
Calling all HuffPost superfans!
Sign up for membership to become a founding member and help shape HuffPost's next chapter