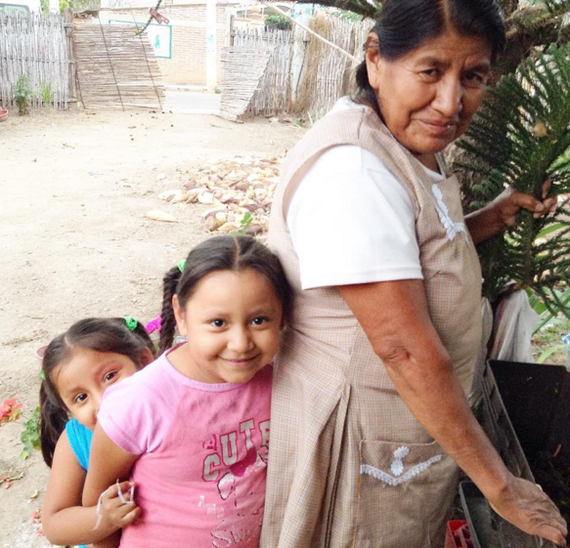 Blankets and wall-hangings exemplify the meaning of "homemade" at Isabel Martínez Mendoza's tapestry studio in Teotitlán, a small indigenous town in the southern Mexican state of Oaxaca. The colorful dyes are made of hand-crushed nutshells and fruits; wool is shorn directly from the sheep farm across the road and brushed flat before Mendoza's daughters spin it into yarn and weave it into their giant wooden looms.
I am sitting cross-legged on the floor of Mendoza's modest show-room, a cement shack painted yellow and stacked with blankets and tapestries for sale. About a dozen tourists from around the world sit in clusters around me, watching Mendoza's 80-year-old mother prepare the wool for spinning. She's dressed in a traditional Zapotec smock, her hair hanging in long white braids, and she's getting quite the bicep workout.
She holds up a handful of wool and the wire paddle brush she uses to smooth it. "Does anyone else want to give this a try?" she asks in Spanish with a warm chuckle. We pass the wool around and mimic her motions. It's harder than it looks. No wonder she's in such good shape.
I'm spending time in Mendoza's studio as part of a day trip with En Vía, a groundbreaking Oaxaca-based social impact organization that uses the money it collects in tourism fees to provide small loans to women in the surrounding areas with little access to resources. The women then use those loans to invest in their own businesses, and En Vía holds weekly training sessions on management and financial literacy in order to ensure each client makes the most of her loan.
Six days a week, En Vía volunteers bring groups of tourists who pay $50 each for a guided day trip to meet some of the women who receive those loans. The tours involve in-depth conversations with the women and their families, food tasting, product demonstrations, and the chance to learn about their lives. In addition to Mendoza, today we're visiting a tortilla maker, a chef, a dairy farmer and a bodega owner.
As a Kiva fellow based in Mexico City, I spent much of the past year studying the impact microfinance has had on some of the country's most rural, isolated communities. As a newcomer in Mexico, I've also spent much of the past year feeling like a tourist, an outsider looking in who's eager to learn but hesitant to disrupt. My experience as a tourist working with underserved populations taught me two things: how microfinance can succeed or fail in a developing country, and that it's possible to be a gracious traveler or a disrespectful, selfish tourist when interacting with the residents of said country.
The concept of microfinance -- providing affordable financial services such as small business loans to individuals who normally don't have easy access to the banking system -- is nothing new in Mexico, a country where nearly half its residents live in poverty. But Mexico also suffers from some of the highest interest rates on these loans, and often times, microfinance can create more problems than solutions for these communities.
A host of factors, such as a handful of bad players and the risk associated with lending to people with no credit history, can force rates as high as 200 percent, a phenomenon that often only pushes loan recipients deeper in the red. Moreover, a systemic failure to provide those same clients with a solid foundation of financial education further exacerbates the issue, as they can be prone to invest their loans frivolously and spend outside their means. Yet many of the larger microfinance institutions find it impossible to both scale on a meaningful level and make the impactful, necessary investments in the literacy of each and every person they serve.
My travels through Mexico also revealed the less attractive side of tourism. Visitors talking just a little too loudly in their native language, feeling just a little too lazy to learn some basic phrases in the local tongue, staring just a little too long at people doing unfamiliar things in unfamiliar settings. Assuming that because they're on vacation, the individuals they encounter who are at work -- drivers and hotel receptionists and waiters and tour guides -- only exist to serve them.
"When done irresponsibly, tours can can cause local communities to resent travelers, are grossly self-serving and voyeuristic for the traveler, and move us further from peace and progress through travel," wrote Trip Sweeney, the cofounder of Step Up Travel, in an article that introduces the concept of microfinance tourism. ¨Microfinance tours [are] an alternative model.¨
That's why I was particularly impressed by En Vía, an organization working tirelessly to tackle the uglier sides of both microfinance and tourism in order to bring out the very best of both industries. Because En Vía employees dedicate time to educating and supporting each of their clients, they're able to keep interest rates at zero. Their clients default at a rate of less than one percent; default rates at other microfinance institutions in Mexico can climb to the double digits.
And En Vía tours are designed to foster the most beautiful thing about traveling to an unfamiliar part of the world: genuine, shared human connections across cultures. No gawking, no serving, simply communicating and learning. It's a model that facilitates education on both sides; for the clients because En Vía invests the resources into training them, and for travelers because of their honest interactions with the clients.
"Responsible tourism means striving to improve the well-being of the communities we work with," Carlos Hernandez Topete, a native Oaxacan who founded En Vía after realizing that his hometown, which draws travelers all year round despite being one of the most impoverished regions in Mexico, would be the perfect setting to put microfinance tourism to the test. "Our tours facilitate meaningful connections and genuine exchanges, providing travelers with the chance to learn about the culture and livelihoods of the individuals they meet."
These types of human connections were front and center during my own En Vía tour, when Lorenza showed one of my fellow travelers how to pound corn masa flat into tortillas, Rosa excitedly explained her process for making sheep cheese, and Cristina joined us at the table as we devoured her famous chicken mole enchiladas, explaining that these tour groups are a motivating factor for keeping her business in top shape.
Topete says he's unaware of any other organizations out there currently fusing microfinance and tourism in a similar way. And because En Vía's model places such a strong emphasis on a deep investment in each and every client, it´s a tricky one to scale. So for now, Topete is not focusing on any sort of grand expansion plan. He would rather focus on the continued success of their current set of 360 clients and their surrounding communities.
But with the right resources and a team of dedicated, knowledgeable and empathetic players, similarly designed programs can and should expand far beyond southern Mexico. With that sweet-spot combination of carefully-curated travel experiences and business education, En Vía´s system could have a profoundly positive impact on both the tourism industry and marginalized communities of hard working people throughout the rest of the world.
Related
Popular in the Community