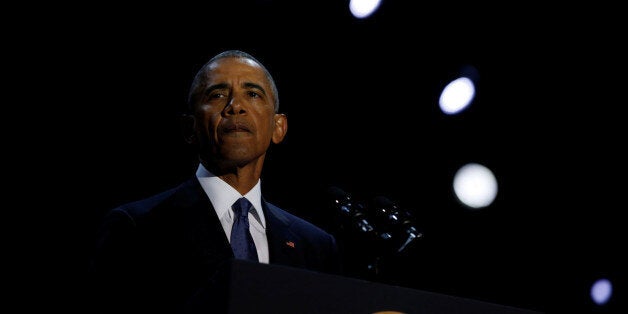 First, I want to offer my highest gratitude and deepest appreciation for your unprecedented service to our country. It seems like a small gesture given all the good you have done for America and the hope you infused into the consciousness of our nation. Lots of times I pray when I am at a loss. I don't know where to begin so I guess I will begin at the beginning.
The first time I met you was when you were still an Illinois State Senator and you joined us at one of our hip-hop summits. Years later, I met you at a rally in Chicago and then again at a friend's house as you were planning your run for the presidency. At the time, in 2008, I was supporting Dennis Kucinich because I felt a lot of his ideas should be brought to the big stage. I remember we spoke about John Edwards, who I had just taken to yoga that day, who explicitly used the words "poor people" when he made his campaign announcement in the poorest section of New Orleans. I asked you why you didn't do the same, perhaps traveling to Mississippi to speak to the poor using that word (that was never politically expedient) thinking it could be an important move. You answered me in a way that showed that you knew instinctively what was right for you and what would resonate with the people.
I never considered myself a politically savvy person, though at that time I had worked for at least seven democratic presidential campaigns. We spoke about the issues surrounding the poor, the under-served and the forgotten and how to help them. Your words were thoughtful and inspiring. Speaking to you I never felt patronized as I had on many other occasions with other politicians who were just hoping to get my help to deliver some votes. With you, I felt I was speaking to someone who was actually listening to the concerns of a fellow American.
Shortly thereafter I realized that your sincerity and honest intention to make America a better country was at a higher caliber than any other politician I had met before you. It was then that I signed on to support your run. It was my pleasure to go on the road for you city to city, college campus to college campus, to lend my voice to the best of my ability to your campaign.
Next thing I knew, I found myself sitting in the cold, choking back tears, watching you being sworn in, feeling waves of pride, inspiration and excitement for the future. Now here we are, eight years later, and we are saying goodbye to our rock, our protector and our hero during a time that has us bracing to accept the reality of the most untested and erratic President-elect in history about to take office.
Who will look after us now? Who will support sanctuary cities for immigrants? Who will make sure every American has access to affordable healthcare? Who will make sure our youth have proper educations? Healthy food at public schools? Who will protect the environment by recognizing and raising awareness about the crisis of climate change as a real and growing threat against our very survival as a species? Who will recognize animal agriculture as a leading contributor to global warming, soil erosion, water pollution, rain forest loss and world hunger? Who will stop the government from giving hundreds of billions of taxpayer dollars to exploit and poison the people and destroy the environment? Who will help dismantle the prison industrial complex? Who stop the militarization of police forces and build bridges between police and community? What's to become of the movement against environmental racism/classism that is being waged against the black, brown and poor white communities around the country (ex. Flint Michigan/ Standing Rock, etc )? Who will heal political, racial, religious and gender divisions in this country?
Speaking on behalf of your beloved Americans, we nominate you. We don't need you to lead the resistance. Fortunately, there are millions of other Americans -- led by the younger generation -- ready to fill that role. I pray we can call on you to take on the roles as a negotiator and bridge-builder. I have to believe at our very core we are ALL the same, with the same aspirations, hopes and desires for ourselves and our children. Your presidency embodied the connection that weaves between all living beings. I am banking on the fact that you are talented and persuasive enough to influence the incoming regime to follow their better angels and choose a path of righteousness wherever it is obvious and clear.
Though we would never imagine you would use your power to do anything else but continue to serve the people, my prayer is for you to to continue to use your influence to bring out the best in all of us. There will always be a need to promote fairness, justice and opportunity for the under-served surrounding issues far too many to list here. As I am sure you agree, are all called to do service and that calling does not end until we die.
Many Americans are afraid of what the future holds. Most of us have collectively -- and loudly -- spoken out on social media, in rallies and marches about our fears. But as terrified as many of us are, we are more terrified to go into our future without you.
G-d willing, see you on the front lines, Mr. President.