LONDON, ENGLAND--At exactly 30 minutes past noon this Friday, the just-married future King and Queen of England will arrive at Buckingham Palace in their 1902 State Landau carriage, richly adorned with gold leaf and upholstered in crimson satin.
At the palace, a Guard of Honour comprising three officers and 101 other ranks from the Number 2 Company 1st Battalion Welsh Guards will be positioned in the forecourt for their jubilant arrival.
Two million visitors will be in London during the royal ceremony and will experience a range of aircraft--a Lancaster, a Spitfire, a Hurricane, two Tornados, and two Typhoons--the last four flying in Windsor formation, honoring the royal couple with the Battle of Britain Memorial Flight.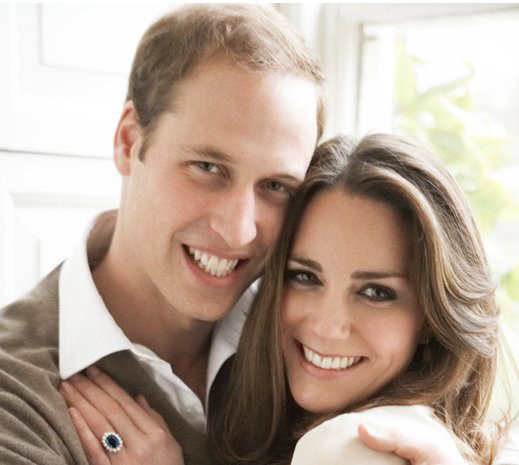 Prince William and Kate Middleton
Several hundred guests will be in attendance at the royal service at Westminster Abbey. According to the official Royal Wedding media briefing, "all Heads of Mission in London representing countries with which the United Kingdom has normal diplomatic relations" have been invited. These include: Prince Mohamed bin Nawaf bin Abdulaziz of Saudi Arabia, the crown prince of Bahrain, the Syrian ambassador representing Bashar al-Assad (update below), the Belarusian ambassador (representing Alexander Lukashenko), the Burmese ambassador (representing Than Shwe), Princess Lalla Salma of Morocco, the ambassador of Equatorial Guinea (representing Teodoro Obiang Nguema), King Mswati III of Swaziland, and Gabriel Machinga, Robert Mugabe's ambassador from Zimbabwe.
Any hope that the future King of England will make his debut on the world stage by communicating that his will be a different kind of monarchy is all but lost. Prince William and Kate Middleton are sending the following message with their list of guests: You can disappear protestors (Bahrain), kill democracy activists (Syria), starve your people (Zimbabwe), allow modern slavery and the total subjection of women (Saudi Arabia), and you will be embraced by the British kingdom in all its grandeur at its most significant event in recent history.
It would be naïve for human rights campaigners to assume that states will not engage in diplomatic talks or even economic relationships with dictatorships and totalitarian monarchies. After all, Western Europe and the United States are appalled by human rights violations in North Korea, yet look the other way when China behaves in a similar manner. A sad and ongoing example of this is the Laogai--slave labor camps for political opponents in China containing more than eight million prisoners.
Realpolitik means that diplomats, presidents, and prime ministers must deal with each other politely and even with pomp and circumstance. Norway's king recently received Vladimir Putin's henchman Dmitri Medvedev in Oslo, even though Medvedev is a sworn enemy of human rights. Medvedev was there to settle a longstanding border dispute. But it is an altogether different thing for the Queen of England to invite a bunch of butchers and their representatives to her grandson's wedding celebration. Who sent these invitations? The Queen? Prince William and Kate? Some unnamed bureaucrat?
Windsor Palace responds that this is all protocol. The Zimbabwean, Bahraini, and Saudi presence is protocol, as is the absence of an invitation to Tony Blair, Gordon Brown, or even Barack Obama.
The British monarchy has undergone change for the last thousand years and its survival as a crucial institution to Britain's unity and well-being depends on its ability to adapt. Chief among these adaptations should be that "protocol" of this sort must be changed. Now.
If Kate Middleton were in Saudi Arabia, she wouldn't be able to travel, drive her car, go to school, or even apply for a job without the permission of her husband, nor would she be able to marry without the permission of her father. In short, she could not have crewed Round the World Challenge boats in the Solent, or even attended St. Andrews, where she met Prince William and studied to become, in due course, the only queen of England to ever to hold a university degree. She and William owe it to their generation to address human rights if Windsor Palace refuses to budge.
Human rights are no longer something that should be on the table in such remarkably public "private" affairs--human rights is the table, and ruthless dictators should not be invited to sit at it. And until that reality comes to pass and despots live in a world of complete isolation, we will continue to see millions of innocent people suffer without their most fundamental freedoms while the world turns away to watch, say, lavish royal weddings.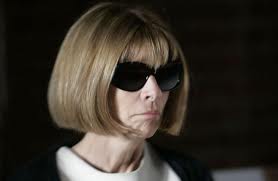 Vogue's Anna Wintour: easily seduced by the Syrian dictatorships ill-gotten wealth and power
Last month, Vogue revealed its pitiable fecklessness by featuring a revoltingly flattering article about the wife of Syrian dictator Bashar al-Assad. Thankfully there was a swift outcry and Vogue's fawning impressionable editor, Anna Wintour, will probably think twice next time she and her cohorts are seduced by power of the dictatorial variety.
Libyan tyrant Muammar Gaddafi and his family have a penchant for Hollywood's entertainers and put millions of dollars in the pockets of Mariah Carey, Usher, Nelly Furtado, 50 Cent, and Beyoncé, revealing that they, too, can be seduced by a criminal gang with coin.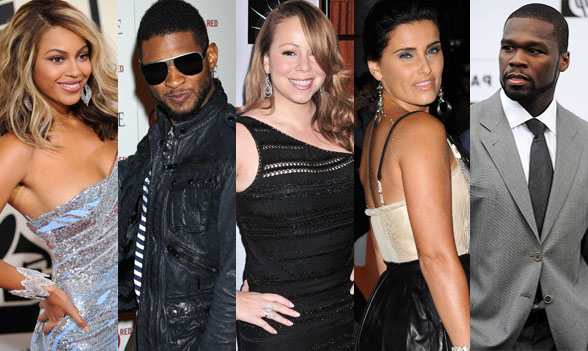 Get rich or die tryin': Beyoncé, Usher, Maria Carey, Nelly Furtado, and 50 cent, who performed for Gaddafi, all have the same motivation to cater to dictators as the British royals: money.
Apparently the embarrassment is such that all of them are giving those performance fees to charity. They likely would never have done this without public disgrace. Mariah Carey claimed that she was "unaware of who I was booked to perform for." Only an idiot (and these performers are hardly idiots--they have well-paid agents, managers, publicists, and entourages) could claim they didn't know what was going on.
Unlike the dictatorial regimes and absolute monarchies mentioned, Britain is a constitutional monarchy with freedom of speech, rule of law, and a system where citizens can choose their leaders in a framework that respects human rights.
It is a shame that Prince William and Kate dishonor these values by toasting with the world's autocrats and their minions, while millions live and die in bondage and despair that the world's glitterati don't give a damn.
Update: As a result of the pressure and outrage involving the invitation list, Syria has just been disinvited. Let's hope they do the same with others.
Calling all HuffPost superfans!
Sign up for membership to become a founding member and help shape HuffPost's next chapter