Note: Ed Levine is off this week; Carey Jones, editor-in-chief of Serious Eats: New York, fills in here.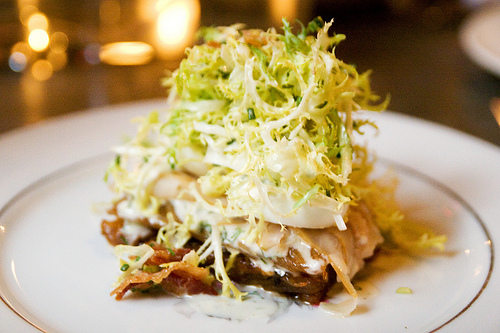 [Photographs by Robyn Lee]
Somewhere in this world is a dog-eared manual inscribed with the title: How To Open A Brooklyn Restaurant: 2008-2009 Edition.
I'd like to get my hands on a copy, though it's probably buried under piles of Liquor Authority paperwork in someone's Fort Greene apartment. But there's really no need to flip through. A few meals around town gives one good idea of what it might say.
Chapter One: The urban-Prohibition aesthetic. Start with a lofty Brooklyn space, exposed brick and/or rafters. Uncover the stamped-tin ceiling, or install one. Frosted glass, ironwork on the windows. Tile floors, bistro tables, and a long mahogany bar.
There will be a wine list, a concession to the dining room traditionalists, but it'll play second fiddle to the cocktail menu. Drinks should be spirit-forward, with housemade syrups and sodas, where used; at least two should have a "muddled" component. Bitters are a plus. So are custom ice cubes. Four to six beers on tap -- at least one Belgian, one stout, and one craft beer produced within a 500-yard radius.
The menu. Eschew traditional classifications -- really, why corral your plates in outdated brackets? -- and let the dishes roam freely: small plates and large, sandwiches and sides, starter-sized meats and entree-portioned salads. The diners can dictate their own experience.
And, of course, the food. Local, seasonal, and fatty. Short rib. Pork belly. The people want fat -- all the better if it comes from a pig, all the better if it comes from a familiar farm.
It goes without saying that Rye, arriving in South Williamsburg several months ago, falls neatly into this mold. Which is not to suggest that it's simply capitalizing on a trend. Owner and chef Cal Elliott has earned his culinary chops, most recently at Dressler and DuMont -- establishments that put Williamsburg on the culinary map and, one could argue, helped sketch the outlines of the very patterns Rye abides by. At their best, the plates emerging from this kitchen are intelligently composed and memorably delicious -- the sort one mulls over on the walk home, imagining how to recreate, plotting when to make a return visit.
But Rye is maddeningly inconsistent. One could drop $20 on a phenomenal sandwich and pint of craft beer and escape, full and happy, with change -- or ring up twice that and walk away unimpressed.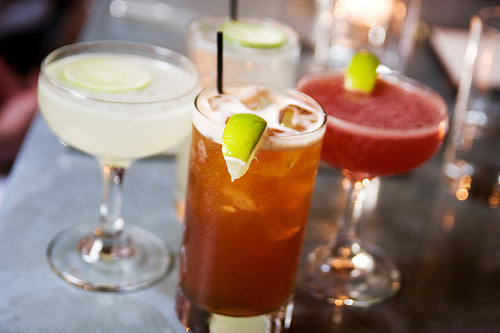 As much bar as a restaurant -- another sign of the times -- Rye mixes a number of impressive cocktails, some of which justify the $10 price tag. It's a rare cocktail bar that doesn't have a gin-and-cucumber concoction on the summer menu, but the Southside is far better (and far less wimpy) than most, with an appealing bite of lime and mint. The grapefruit and white rum Hemingway daiquiri comes off as a rummy lemonade; the Greater Antilles mixes Goslings with a dry housemade ginger beer. Less successful was the Jack Rose, with grenadine and applejack, a bit too reminiscent of a spiked fruit punch.
Rye's menu has few straightforward appetizers and entrees, but the crab croquette ($6), with a spicy charred tomato remoulade, is one of the former. Though as wonderfully crabby as you'd find at a beachside shack, the outside crunch gets a bit in the way.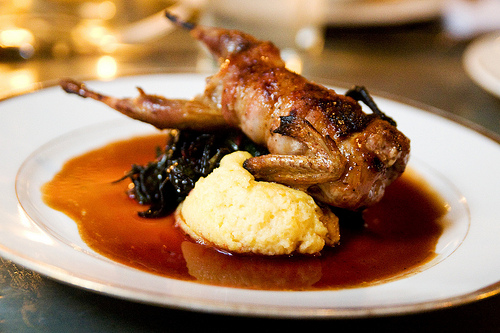 This bacon wrapped quail ($12) didn't look particularly comfortable reclining on the red chard and spoonbread. Though the quail itself was cooked well, its cider vinegar sauce was intensely acidic and a bit cloying. Velvety corn spoonbread, on the other hand: sublime.
Macaroni and cheese has become as pervasive as the pulled pork slider, and Rye's baked mac and cheese ($10) combines mascarpone, Fontina, Pecorino, and parmesan, with chunks of pancetta and a bread crumb crust. That blend adds textural excitement, cheese both stringy and creamy--but the subtle mascarpone flavor is lost and the sharper cheeses, muted.
The glazed meatloaf sandwich ($14) is guilty of the same overcrowding, with duck, veal, pork, and shortrib in a single massive slab. A tasty meatloaf, to be sure, with perfectly fried buttermilk onions; but it seemed a shame for such fine proteins to be relegated to mystery meat. Far better was the braised short rib sandwich ($8), its sultry flavor lightened by a fresh onion jam. Simplicity is not a hallmark of Rye's kitchen, but it's the more focused dishes that come out on top.
That sandwich was easily one of the two best plates on the menu, sharing that title with the sturgeon ($14), house-smoked fish over a delicate bed of potato gratin, enlivened by salty bits of pancetta and a mild horseradish cream. It disappeared from the table in minutes. So quickly, our waiter laughed in surprise.
Why the artichoke fricassee comes in two sizes when no other dish does so, I've no idea, but the smaller version ($12) is another excellent starter -- a tender artichoke heart over an uncommonly sweet roasted tomato, kale, and hearty (if slightly tough) flageolet beans. The French sardine fillets ($14) were also a standout. The substantial, fleshy fish rest over preserved tomatoes and a fragrant, garlicy salsa verde -- soaking into the sizeable crostino until it dissolves in an olive oil-soaked puddle. Just as if you'd grabbed a slice of bread to mop up the sauce.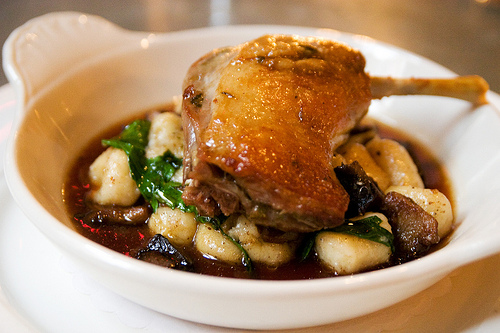 There's a correct way to prepare duck confit ($16), and Rye gets it right -- endered fat, crispy skin, morsels of meat that fall from the bone. But the housemade gnocchi were a total flop, closer to bits of mashed potato than a properly light pasta. The surrounding sauce couldn't drown its woes, though it certainly tried. A sheen of duck drippings and brown butter tastes incredible; a sea, less so.
There's surely a page or two in that restaurant playbook dedicated to roasted chicken ($21), and Rye's is the textbook ideal -- juicy, crisped skin, liberally seasoned. The kitchen is clearly fond of piling meats on wilted greens. It worked better elsewhere, as these were a bit too salty to love. But it's hard not to love a well-cooked hanger steak ($17), left medium-rare and swimming in a dry bordelaise.
Desserts, too, went both ways. What the mac and cheese is to today's appetizer menu, donuts (served here with ice cream, $7) are to the dessert list. It's hard to make a terrible donut, and Rye's are perfectly edible, though dry and somewhat crunchy, almost as if they'd been reheated. Donuts don't usually have crusts. These did. And sadly, a mixed berry shortcake ($7) was a total throwaway -- what could have been a three-day old biscuit with a handful of berries tossed on top.
But I'd count the steamed lemon cake ($9) among the best summer desserts I've had, soft as a souffle, but with a citrusy zing and a cake's pleasant heft. Just as appealing was the not-quite-molten chocolate cake ($9), neither fudgy nor crumbly, but somewhere softly in between.
Thoughtful dishes and obvious afterthoughts, eight-dollar meals and twelve-dollar bites -- Rye is all over the map. This is a kitchen that can turn out faultless duck confit, but whose gnocchi and donuts fall flat. It's frustrating -- in part, because the skill and ambition at play are so apparent.
We couldn't figure out why a meal-sized shortrib sandwich cost only two dollars more than a lonely crab croquette, or why the menu had five sections whose components seemed to have little in common. I'm no three-course stalwart, but headers do serve a purpose -- they give one an idea of size, of preparation, of relative value. At Rye, it's hard to know what you're getting into. The waiters are tremendously well-versed in the dishes, but likely because they have to explain them so often.
Rye ends up with plenty to recommend itself -- its elegance, its cocktails, its often refined dishes. Here's hoping that the rest of the menu catches up. As it stands, it's certainly possible to have an excellent meal. But equally possible to leave disappointed.
Rye
247 South 1st Street, Brooklyn NY 11211
718-218-8047
Service: Welcoming and professional
Compare It To: Dressler, Watty and Meg
Must-Haves: Short rib sandwich, smoked sturgeon, grilled sardines, steamed lemon cake
Cost: $10 cocktails, small plates $6-$14, larger plates $12-$25
Grade: B/B+

Popular in the Community