New Zealand is an amazing country because it's about the size of Colorado, yet you can spend weeks and weeks exploring it and still feel like you've just hit the tip of the iceberg (which, coincidentally, do float up to NZ from Antarctica). I've traveled to NZ about a dozen times from the US and one of my favorite areas is Marlborough, aka wine country (natch), which is found on the North part of the South Island (the country is made up of islands, but the North and South are the main ones). To get to the Marlborough region, you can fly into Blenheim on Air New Zealand, or you can take the ferry from Wellington to Picton (a scenic ride across Cook Strait), take a train up from Christchurch (a gorgeous ride up the coast) or you can drive yourself in.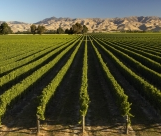 I suggest going into Blenheim for a couple of days, which is noted for having the sunniest weather in the country. From there, you can explore the region and wine taste (there are organized tours, bike tours, or you can go at your own pace). I recommend going sans guide so you can stop at tasting rooms when the mood strikes. Some of the larger wineries have great restaurants with menus that pair beautifully with their wines. Marlborough is known for its crisp, grapefruity Sauvignon Blancs (that even red devotees appreciate), but there are plenty of other varietals worth trying, especially the Rieslings (which tend to be less sweet than most), sparkling wines and Pinot Noirs. Wineries to check out: Wither Hills has bean bag chairs on the lawn to relax in the sun and sip wine. Highfield Estate has stunning views of the area (with information about what you're looking at) and beautiful food made with local ingredients (try the mushroom soup). Forrest Estate has picnic tables, so you can stop at the market or Take Away shop (take out/fast food) and bring your own meal to enjoy with the Doctors' Sauvignon Blanc (the owners are MDs). One of my favorite little finds that I decided to pop into on a trip last year is River Farm Wines, a little boutique winery with beautiful wines. If you want to check out one of the bigger wineries, try Brancott Estate.
Once you're wined-out (as if that could ever happen), check out the Omaka Aviation Centre, which is funded by Lord of the Rings director, Peter Jackson, who is a World War I aircraft enthusiast. For food in Blenheim, I like Akbaba's for inexpensive kebabs, Rocco's for Italian or Bacchus for beautiful seafood, meats and divine desserts. Lodging recommendations in Blenheim: The Shakes Cottage in Renwick, which sits among the grape vines with a creek running alongside, boasts amazing hospitality and has bikes for guest use! Or the Chateau Marlborough, which has clean, modern accommodations in Blenheim.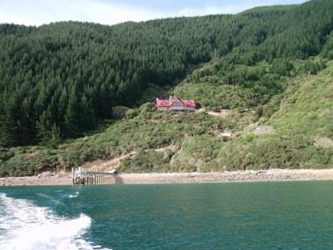 If you want to get away from it all in one of the most beautiful places you'll ever see, head out into the Sounds, the waterways, islands and peninsulas that create the northern boundary of Marlborough. Here you can stay at a luxury lodge, hike the Queen Charlotte track, kayak, fish, go scalloping, see all sorts of wildlife, including dolphins, penguins, rays and more. I stay at the Homewood Bay Lodge (left), which forces me to exhale and find inner peace. (Sounds hokey but it's amazing the calming effect this environment has.) The remote location (you get there via water taxi, mail boat or float plane) is an escape from the buzz of electricity, noises of traffic and hustle and bustle of daily life. This luxurious, American-style lodge features delicious locally grown food (and heaps of the local specialty: green lip mussels!), caters to diets and also has plenty of local wines and alcohol on hand (all included in your stay). Plus, eco-friendly travelers will love how green it is, with solar energy for power, fresh filtered water from the creek and other eco features that you would never notice thanks to the luxe comforts of the place. (And there is free WiFi so you can still get in touch with the outside world when you have a hankering.) I recommend two to three nights there, from which point you can venture back to the mainland and down to Nelson, the artsy town to the southwest of Marlborough, or head on to see the rest of the New Zealand. I do consider this magnificent area my home away from home ... the loveliest thing about Marlborough and the Sounds is that it has plenty of culture to offer (with art, wine, food, music), but is never snooty, never hectic and you can still feel its untainted remoteness from the rest of the world, making it worth the trip ... before everyone gets in on the secret!