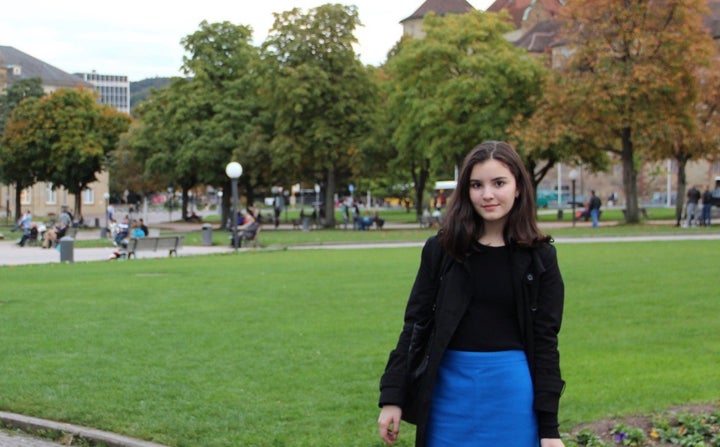 Isabel Ivanescu is a high school senior with a simple idea to achieve an ambitious goal: She wants to end homelessness in Detroit by renovating abandoned houses.
The 16-year-old remembers being a little kid, looking out a car window and seeing a man in Detroit who appeared to be homeless standing just a few feet from an abandoned house.
"I just started to think, why can't he have it?" Isabel recalled. 
Although she knows solving homelessness isn't as simple as giving away houses, that feeling has lingered.

"I drive past someone [who is homeless] and I just feel kind of unsettled and bad, like why isn't anyone doing anything, and why aren't I doing anything?" Isabel said.
This early memory inspired her senior project, a plan to buy one of Detroit's vacant houses and convert it into living quarters for several currently homeless individuals. Isabel launched a crowdfunding campaign Thursday to raise $80,000 for the project.  
She would use this money to buy and renovate a house, then provide services for the people who live in it and help cover some incidental costs. She plans for the house to have communal living areas and three to six private rooms.
Even if she doesn't hit her fundraising goal in the next month, Isabel says she can move forward with at least part of her plan and will continue to raise money.
"If you don't have stable housing, you can't really go to a job interview. You have no way of ensuring you can be there every day," Isabel said.
Earlier in the school year, Isabel formed a nonprofit called houseDetroit, started talking to organizations already addressing homelessness and researched programs around the country that follow the "housing first" model.
A number of organizations already provide shelter to Detroit's homeless, but plenty of people are still in need. The Neighborhood Service Organization uses the housing first model and has about 150 formerly homeless tenants at their building. After clearing an informal tent city last year, the city is strengthening support for its approximately 3,000 chronically homeless individuals. 
Detroit has started an ambitious initiative to demolish blighted buildings, but there are still about 30,000 abandoned houses throughout the city.
Isabel realizes this is a huge project that will extend beyond graduation.
"In all honesty, I'm terrified. I really want this to work," she said.
With the help of the community at her small private high school in the Detroit suburbs, she thinks it might be possible. Isabel plans to partner with other organizations when it's time to select residents for the house. If the houseDetroit model works, she wants to replicate it in other buildings.
"I want to go big," she said. "I think once I have one case study that I can show, look, this works, then I will have a lot more credibility."
Kate Abbey-Lambertz covers sustainable cities, housing and inequality. Tips? Feedback? Send an email or follow her on Twitter.
Calling all HuffPost superfans!
Sign up for membership to become a founding member and help shape HuffPost's next chapter
BEFORE YOU GO
PHOTO GALLERY
U.S. Cities With The Highest Rate Of Vacant Homes