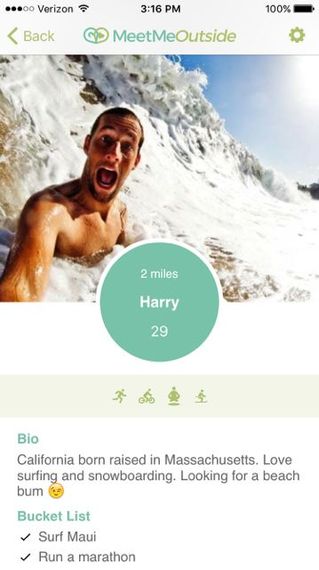 A new dating app is on the market that takes the awkward out of awkward-first-date. MeetMeOutside is a new app that finds potential matches based on your active lifestyle interests. Not only do they want to get you outside, once a match is made they even provide you with active date destinations nearby that you can suggest via chat. Dating can't get any easier than that!
We've all been there: the first date where you know in the first five minutes there won't be a second date, but you still need to be polite and wait out the two hours so wine becomes your best friend. The date where you get invited to his house to watch a movie and you feel like you're 18 again. The date when he doesn't know what to say so he starts talking about how upset he was when his ex-girlfriend got married. I've been on a lot of awkward first dates. But luckily for you, this can be the end of those. Let's put the phones down, put the beers down (for a bit), forget about awkward conversation and let's DO something.
My boyfriend asked me the other day when I knew I really wanted to be with him, and it was definitely on our third date when we went kayaking together. It's so nice to be with someone outside of a bar scene, when you can really get to know them, see their active side and talk about real things. Us twenty-somethings boast about how we like to party and go out, but we all know that's not really what we look for in someone else. No one ever said (hopefully, at least...) "She's awesome, she drinks SO much I really want to be with her." It's time we start showing our true selves in the dating world. There is also something that seems more genuine about going on a fun, healthy, active date: you want to be someone's Sunday, not just their Saturday night.
If you're looking for a new beau, but also looking for a good time and someone who also likes to be active, I'd check out MeetMeOutside. Love to run? How about hike? Want to go indoor rock climbing? Always wanted to try surfing? Great! MeetMeOutside will match you up with someone who will do those things with you. And whether love follows the thrill, that part is up to you, but MeetMeOutside will definitely provide the ease of deciding what to do, and you'll both have a great time.