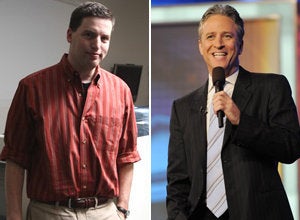 Behind Jon Stewart of "The Daily Show" -- whom The New Yorker's David Remnick has called "our greatest press critic" and whose program is embraced by bloggers frustrated with the mainstream media as well as the MSM itself -- is Adam Chodikoff, a boyish 37-year-old producer with an old-fashioned passion for the old-fashioned media.
Chodikoff reads seven newspapers a day in print, sits through hours of hearings on C-Span on a Saturday and watches Sen. John McCain grilling on Rachael Ray's talk show. But consuming everything is only half the task. The competitive advantage he gives Stewart is having some historical memory in an amnesiac news cycle inherently more invested in the next angle than in context.
"Without credibility," Chodikoff said, "the jokes mean nothing." Perhaps that's why he likes the title The Washington Post gave him: "investigative humorist."
This rigor isn't news to regular viewers of the program, but it should comfort the handwringers who worry about America's youth getting their news from "The Daily Show" alone. In fact, the show gets its news from -- the news. The key difference with the blogosphere, at least when it comes to Chodikoff, is that no matter how much press criticism there is on the show, he sees himself as a "mainstream media defender."
Related
Popular in the Community