Last week, Reuters reported that a company called Art Capital expressed its willingness to loan the city $4 billion if it uses its artwork as collateral.
In fact, the Detroit Institute of Arts' collection may be worth even more.
No wonder its bankruptcy creditors' want the city to sell the art to pay them what they claim the city owes. But Detroit wants to keep the art safe from creditors and is fearful that any deal involving the art might be a violation of the bankruptcy laws. A court will eventually decide how well the city plans to pay its retirees and creditors.
According to the Institute:
In addition to outstanding American, European, Modern and Contemporary, and Graphic art, the museum holds significant works of African, Asian, Native American, Oceanic, Islamic, and Ancient art. Among these are the masterpiece sculpture Nail Figure from Zaire and a rare Korean Head of Buddha... Mexican artist Diego Rivera's Detroit Industry fresco cycle, which Rivera considered his most successful work, and Vincent van Gogh's Self Portrait, the first Van Gogh painting to enter a U.S. museum collection.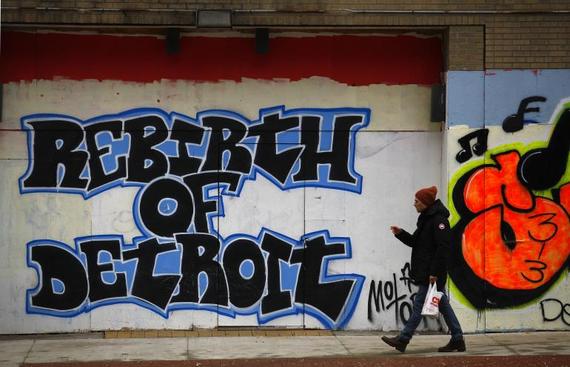 This discussion of the value of the city's collection of some 60,000 pieces of art symbolizes what is happening as the City reinvents itself for the new economy, the creative and innovative economy.
Over the last several decades MOTOWN as it was called, steadily lost its economic position in the world due to global competition. The population declined more than 50 percent and whole neighborhoods atrophied and died. It was the largest municipal case of bankruptcy in the nation.
In the last few years, automakers like General Motors, Ford and Chrysler are profitable and thriving. Is it still a Car Town however? No, it's fast becoming a small art town. Or at least that what seems to be happening as Detroit asks itself what it wants to be as it slowly winds itself out of bankruptcy.
In the last few weeks and months artists, writers, entrepreneurs of all kinds are coming to the city because land is dirt cheap, housing almost free, and there are few restrictions on establishing a business or paying business taxes.
The New Yorker described the work of a new nonprofit organization called Write a House:
Write A House is refurbishing three two-bedroom houses in Detroit and accepting applications this spring for writers to move in, rent-free. Poets, journalists, novelists, and anyone who falls somewhere in between are encouraged to apply. If the writers stay for the required two years and fulfill other obligations, such as engaging with the city's literary community and contributing to the program's blog, they'll even get the deed to the place.

Other good things are happening too. Quicken Loan moved it headquarters to the city and bought two large office buildings downtown. And offered recent graduates up to $100,000 if they base their start-ups in Detroit.
The Kresge Foundation with deep roots in art and culture has created Kresge Arts in Detroit "that focuses on arts and cultural organizations and artists living and working in metro Detroit's Wayne, Oakland and Macomb counties. They have "provided $15 million in operating support to 80 small, mid-size and large organizations.
In June, Mike Duggan, the new mayor announced the formation of an Innovation District" to focus downtown as a place to encourage job development. Before this, according to Amy Haimer writing for Crain's Detroit Business, "was the newly branded innovation district, it was the unofficial "creative corridor," and organizations such as the Detroit Creative Corridor Center have been incubating and growing small creative firms in an attempt to fill its arteries with economic activity...These businesses -- filmmakers, ad agencies, digital media, branding agencies, architects, designers, etc. -- have been moving into downtown and Midtown and slowly and organically clustering into distinct centers of activity."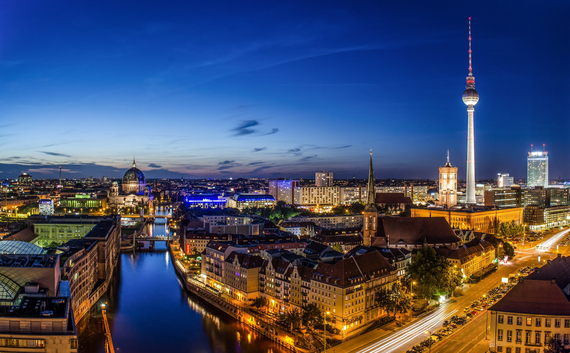 Recently Detroit and Berlin have created an alliance to help cities reinvent themselves. As Wayne State University radio station put it:
As symbols of cultural and economic domination, as well as of collapse, and (potential) rebirth. Detroit and Berlin have ideological similarities that go far beyond industrial power. As beacons of culture, Detroit and Berlin have both been on the cutting edge of arts activities. Berlin is a crossroads of European film, art, music and food; Detroit is a center of African-American culture, with global credibility in jazz, techno, and emerging cultural expressions.
Things are starting to happen in Detroit.
Calling all HuffPost superfans!
Sign up for membership to become a founding member and help shape HuffPost's next chapter