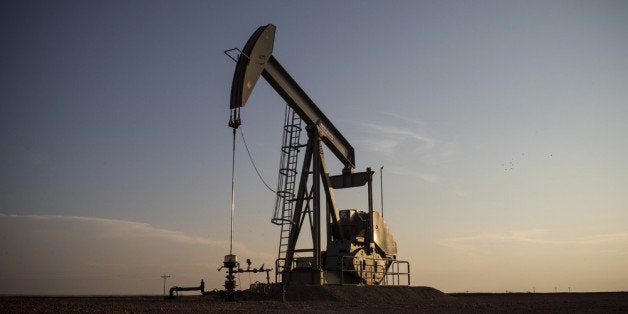 More than 4,600 U.S. workers were killed on the job and an estimated 50,000 died from occupational diseases during 2012, a new report from the AFL-CIO labor federation found.
The federation's annual report, Death on the Job, analyzes the most recent data on workplace deaths and injuries available from the federal Bureau of Labor Statistics. The report released Thursday noted that the death rate among U.S. workers has trended downward long-term, though that progress has recently ebbed.
"Over the years, clearly the United States has made progress in protecting workers," said Peg Seminario, director of safety and health at the AFL-CIO, on a call with reporters Thursday. "But today the numbers of workers being killed and injured is still too high and unacceptable. Over the last several years, the rate for injuries and illnesses has essentially flatlined."
In the AFL-CIO's analysis, North Dakota was by far the country's deadliest state to be working in, with 17.7 workers killed per 100,000. That's compared to a national rate of 3.4 deaths per 100,000. North Dakota was followed by Wyoming, at 12.2 deaths per 100,000, and Alaska, at 8.9 deaths per 100,000.
Seminario attributed the high worker fatality rate in North Dakota to the state's oil-and-gas boom, which has lured young workers from throughout the country with the promise of good-paying jobs.
"North Dakota really stood out as a state that's deadly and dangerous for workers," Seminario said. "Workers who work in oil and gas extraction are at very, very high risk."
So, in general, are Latinos. Consistent with years past, the analysis found that Latino workers were more likely than white workers to get hurt or killed on the job, with a fatality rate of 3.7 per 100,000 -- a factor Seminario attributed in part to the weaker work protections for undocumented immigrants. That death rate, however, has fallen by 38 percent since 2001.
The AFL-CIO praised the administration of President Barack Obama for stepping up enforcement of safety laws and adding more workplace inspectors, but it also criticized the White House for not moving fast enough on occupational health and safety rules. In particular, Seminario urged the White House to enact a final rule tightening standards on silica dust.
For decades silica has been known to cause debilitating lung conditions, including lung cancer, and occupational health experts have long called for regulators to lower the amount of silica dust legally allowed in the air on construction sites. After years of delay, the White House finally issued its proposal for new regulations, but the final rule still hasn't gone into effect. Industry trade groups have been lobbying to water it down.
On Thursday's press call, Sean Barrett, a terrazzo worker from Massachusetts, called on the White House to put the new silica rule on the books. Barrett, who's 41, said his doctor has diagnosed him with industrial asthma brought on by workplace silica exposure. He already suffers from shortness of breath.
"I love my job, and I take a lot of pride in it," Barrett said. "No worker should have to get sick or die to earn an honest day's pay."
Support HuffPost
The Stakes Have Never Been Higher
Related
Popular in the Community