AUSTIN, Texas ― Attorneys for Alex Jones' ex-wife grilled him on the witness stand Thursday in his high-profile custody battle, in an aggressive line of questioning that focused on the conservative radio host's temperament and character.
First on the agenda: whether Jones had eaten chili that morning.
"Is that a serious question?" Jones responded.
Alex Jones and his ex-wife, Kelly, are drawing national media attention for the fight over their three children. Alex Jones' lawyers are arguing that the raging conspiracy theorist and ally of President Donald Trump is a different man when he comes home to his kids than he is on his radio show Infowars. Attorneys for his ex-wife have argued that his show exhibits a spiteful and offensive ideology that he inculcates into his children.
Bobby Newman, one of Kelly Jones' lawyers, tried to give the jury a taste of the combative cult radio star familiar to the public by prodding him into a state of frustration. It took more than an hour of cross-examination before Jones finally blew his fuse.
Newman noted that during depositions Alex Jones once said he had trouble remembering the names of his children's teachers because he had eaten a large bowl of chili. Insisting the meal was relevant, Newman had Alex Jones read from a transcript of the deposition, in which he had said the teachers' names would "pop in my head, I ate too much chili." Jones then read a question from the transcript from an attorney asking if chili clouds his memory, followed by his response: "Big old bowl of chili. Sure does, yeah."
The food questions stopped after Randall Wilhite, one of Alex Jones' lawyers, called it "argumentative and silly."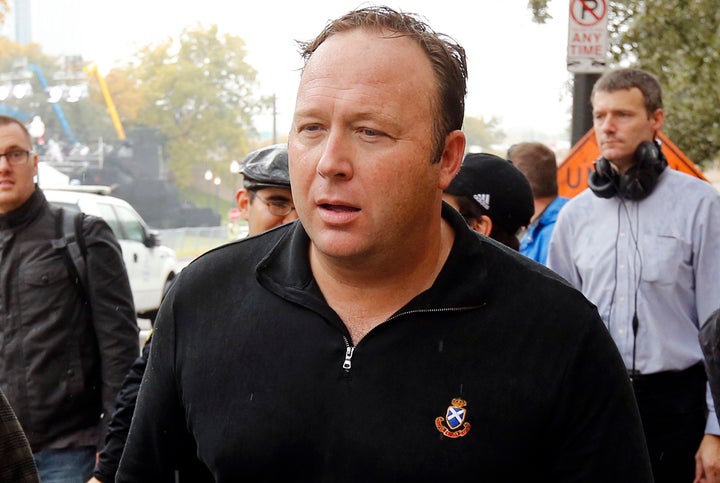 But the chili questions set the tone for an interrogation that proceeded like a foul-a-minute soccer match ― slow, tedious and painful to watch. Newman would ask clear yes-or-no questions to which Jones tried to add context, leading to repeated objections from the lawyer. The judge reprimanded Jones repeatedly for speaking over both Newman and his own attorney.
The crux of Alex Jones' case is that he's not the same guy on air as he is with his children. Lawyers for his ex-wife tried to counter that by repeatedly offering as evidence events from his Infowars shows that they viewed as poor examples for a father to give to his children.
Travis County Judge Orlinda Naranjo said early on that she wouldn't make the case about politics, and routinely refused to allow the jury to consider Jones' antics on Infowars. When that evidence was presented, lawyers for Jones would ask the judge to hear their objections at the bench, away from the ears of the press.
One piece of evidence Naranjo refused to allow was an image of a T-shirt Jones allegedly paid fans to wear featuring some variation of the word "rape." Because the objections were heard at the bench, it was unclear what Newman referred to, but last year Infowars offered monetary rewards of up to $5,000 to anyone who could photobomb local or national TV while wearing a shirt that said "Bill Clinton is a rapist!" or could be heard shouting that slogan on TV, according to Jones' website.
Newman's cross-examination also brought up where and when Jones has smoked weed. Jones said he takes a few puffs every year to gauge how strong it has become since his high school days, arguing that law enforcement tests the potency of weed the same way he does. Jones' experiments have led him to conclude that marijuana today is too strong, he said, and therefore should be decriminalized rather than legalized entirely.
"George Soros has basically brain-damaged a lot of people," Jones said of the liberal billionaire, who has helped fund efforts to legalize the drug.
While known for his bluster on air, Jones largely maintained his composure under an interrogation that clearly needled him. At times he sighed in exasperation, threw up his hands, rolled his eyes, or did all three things at once. Newman, who has expressed frustration with Jones over the last days for gesturing at him or shaking his head during proceedings, badgered Jones when his answers veered off track.
"If you're not high, why can't you just answer my questions?" Newman asked Jones at one point.
Newman's cross-examination continued in this vein. He accused Jones of carrying on a sexual relationship with a woman other than his new wife, whom he married in 2015. Jones said his current wife was aware of the infidelity, but he denied that he continued having sex with the other woman after he became engaged. His lawyer challenged the relevance of the questioning, without success.
After that, Newman moved on to Jones' drinking, rolling a clip of an allegedly inebriated Jones saying he was going to go "piss" on a tree. Jones said he wasn't drunk and his comment was just a joke; he actually urinated in a nearby port-a-potty after the segment cut off air, he said.
Jones offered perhaps his least sympathetic comment to the jury when asked to describe his ex-wife's greatest qualities as a mother. He hesitated, asking if Newman meant the woman she was when they were together or the woman she is now. He finally said: "I just can't perjure myself. She doesn't have any good qualities [as a mother]."
He tried to amend his comment later, but failed to override objections from Newman.
Jones began to lose his cool when Newman pressed him about his current wife's past, in which she allegedly worked six years ago as a masseuse under the name "Enya" advertising private, discreet services to men in hotel rooms. Jones said Newman mischaracterized her profession and that she worked as a yoga instructor, but Newman responded that she had testified herself in depositions that she advertised the private services.
Unable to contain himself, Jones insisted he had ordered a "forensic investigation," which he said revealed that her home had been robbed. He also questioned the authenticity of an advertisement for the "sensuous" private massages that flashed on a screen for the jurors to see. Jones continued to speak even as his own lawyer objected to the relevance of the evidence and as Newman said his wife had already verified the language of the ad as accurate during depositions.
But Jones finally lost it when Newman walked him through a series of yes-or-no questions, trying to get Jones to say he attempted to keep his teenage son from seeing his mother. Newman was referring to an episode Jones mentioned in the previous day's testimony, in which he tried to drop his son off for a visit with his mother and she refused to see him, and the son returned depressed for several days.
"You sit here and twist it!" Jones said, launching into a diatribe against the attorney, his voice quivering and appearing on the verge of tears. "You have won the award. You have no decency!"
It was the moment Newman had been waiting for. "Is that how you treat your children?" he asked. Then, twisting the knife: "Is that how you treat Enya?"
The questioning stopped when a juror asked the judge to take a break.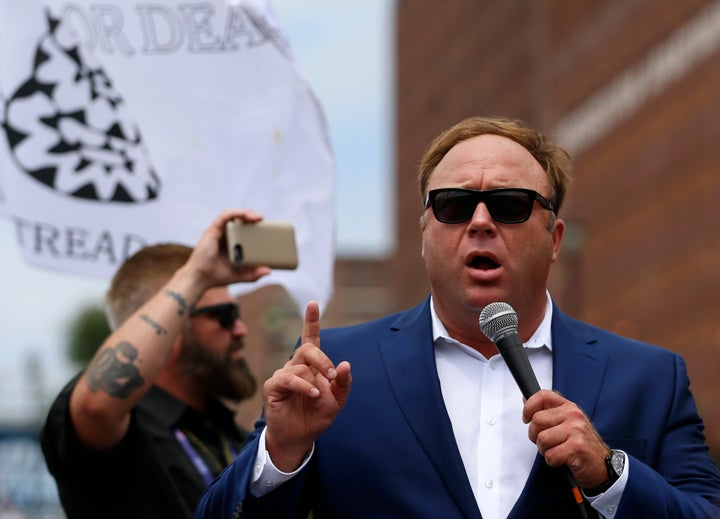 Before the cross-examination, Jones had taken questions from his own attorney, in which he tried to communicate to the jury that the enraged character he plays on his show is a different man from the sensitive father he says he is at home.
"You have a certain sort of delivery," Wilhite said. "Do you take that home with you?"
Other than talking politics with his kids when they express an interest, he said, he didn't.
"No. None of the bombasity, when I rage," Jones said. "Stephen Colbert made fun of me the other day. I'm sure his kids see him get angry on TV."
His lawyer likened Jones' performance on Infowars to comedian Jon Stewart or conservative radio personality Rush Limbaugh, saying their work ― like his ― is inflected with satire. Jones agreed, describing 90 percent of what he does on Infowars as "hard news," with a mix of satire and humor making up the balance.
"They play characters to illustrate who they are," Jones said of the celebrities he was compared to, adding that he doesn't think they take it home to their families. "I know I don't," he said. "I don't want to think about work when I go home."
It remained unclear how much of Jones' testimony would affect the jury members, who have also heard therapists describe his ex-wife Kelly's treatment of their children as "abusive." Jones has held primary custody of all three kids for the last 30 months.
"It's one of the saddest things in my life that has happened," he said of the custody battle. "I worked as hard as I could to keep it out of the news."
Popular in the Community