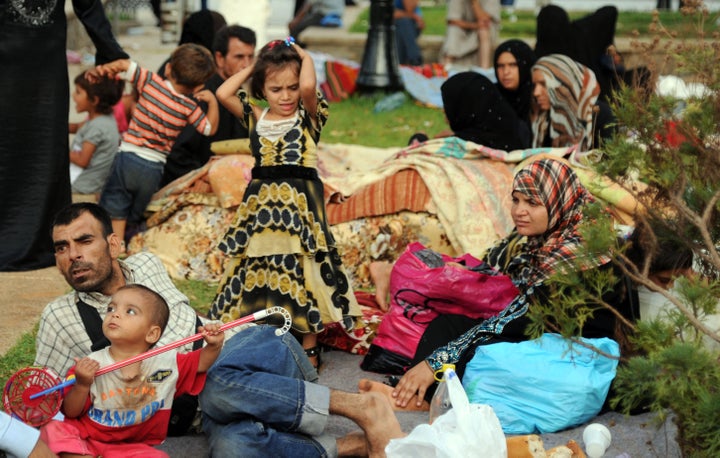 Restaurant owners in Algeria are offering free or discounted meals to Syrian refugees.
This initiative adds to a growing collection of fundraising initiatives directed at helping those who have fled the war in Syria. Middle East Eye reports that Muslim and Christian organizations have organized campaigns to support asylum-seekers during religious holidays.
According to reports from the UN refugee agency, thousands of refugees fled from Syria into the North African country of Algeria as the Syrian crisis unfolded. By December 2013, there were 15,000 asylum-seekers residing in the country. Many Syrians flew to Algeria with the purpose of crossing the border into Morocco, a popular gateway to Europe. In March 2015, however, Algeria imposed visa restrictions on Syrians, curbing the number of arrivals. By January 2015, there were only 2,200 Syrians in Algeria. 
With the tightening of asylum polices in the European Union, the number of asylum seekers in Algeria is starting to grow once more, albeit slowly. There were 3,000 Syrian asylum-seekers in Algeria by the end of 2015, according to the UN.
Even though refugees and asylum-seekers receive free access to education and public health from the government of Algeria, they are not given access to work, according to UNHCR, hindering their ability to care for themselves and their families.
For their part, restaurant owners throughout various Algerian cities have taken it upon themselves to support asylum-seekers the best way they know how: with food.
In Algeria's capital, Algiers, Newark Bakai opens the doors of his restaurant on Mohamed Blouzdad street to refugees from 2 p.m. to 4.30 p.m, and offers free meals.
"The initiative has been well-received by Syrian families," Bakai tells HuffPost Arabi. Bakai believes its his duty to be "at the service of refugees."
"At the end of the day, they are in their country, among their people," he says.
Bakai says he has also hired Syrians to work at his restaurants.
I wish I could feed all the helpless refugees.
Fateh Ben Sobyan and Abdul Jalil Ben Sobyan run a fast food restaurant in the Emir Abdelkader plaza in downtown Algiers, and they've pledged to offer free meals at all times to Syrian refugees.
Abdul Jalil describes this initiative as being "a natural reaction stemming from the spirit of humanity," and says it has little to do with the shared language and religion. He adds that the restaurant also offers free meals to African refugees in the Algerian capital. 
Fateh said he wished the eatery could offer more than just fast food to refugees. "I wish I could feed all the helpless refugees," he said.
In the eastern city of Setif, Zeeno Kadadrah runs a small restaurant that also offers free meals to refugees. Kadadrah distributes fliers promoting the initiative across the city, particularly on streets frequented by refugees.
Our Syrian brothers have escaped the hell of suffering and death, and we should help them forget what they've gone through.
He tells HuffPost Arabi that serving Syrian refugees is a duty, and that Syrian refugees in Algeria must be treated like "royalty."
"Our Syrian brothers have escaped the hell of suffering and death, and we should help them forget what they've gone through," Kadadrah says. "We need to show that Algeria is hospitable and generous with the blessings God has given it."
Kadadrah says that he regularly offers free meals to refugees from Mali, as well as to elders and pregnant women.
Abu Walid, a Syrian refugee currently residing in Setif, says that he often goes to a restaurant named Aleppo Grill that offers Syrian cuisine. He explains that Syrian refugees are often given a 60 percent discount on meals, and in some cases, they are fed for free.
From the familiar cuisine to the affordable prices, Algerian restaurants are making Syrians feel at home, says Abu Walid. 
This post first appeared on HuffPost Arabi. It has been translated into English and edited for clarity.
Calling all HuffPost superfans!
Sign up for membership to become a founding member and help shape HuffPost's next chapter