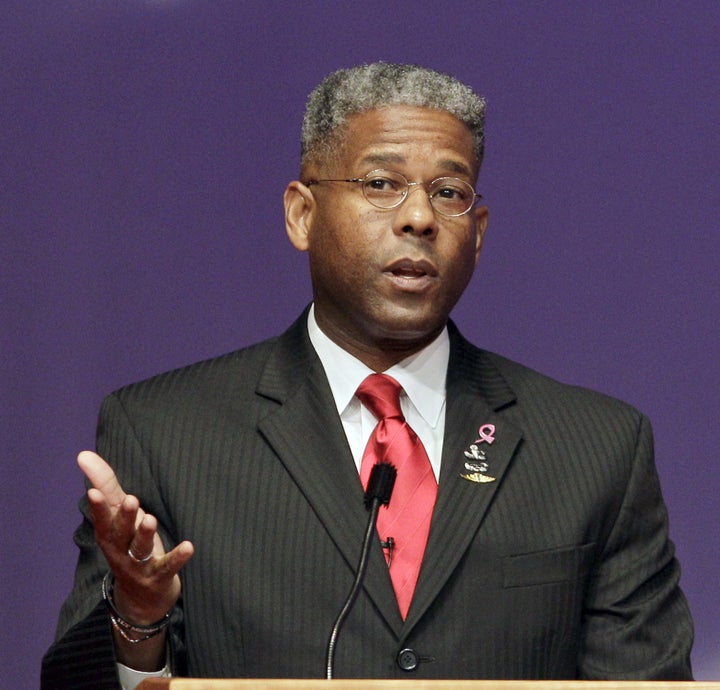 Allen West, a Tea Party-backed Republican running in Florida's 22nd Congressional District, is fighting a tough battle to put a damper on reports that he has connections to the Outlaws Motorcycle Club, a group that both the Department of Justice and the FBI have deemed "criminal."
According to recent NBC News report, West recently defended the organization, asking a supporter to limit references to the group as "criminal." He then reportedly wrote, "I was never more amazed at how members of the Outlaws guarded me during an interview." West also appeared at an August Constitutional rights rally that featured motorcycle clubs that were supposedly affiliated with the Outlaws.
West has denied NBC News's reports of his involvement with the gang, and recently told Hotline On Call that the story can't be true because the Outlaws do not "not accept blacks, Jews or gays" into their ranks.
The West campaign has responded to the reports, denying their veracity and accusing NBC of a biased reporting:
In what can only be described as a political hatchet job by the liberal mainstream media, NBC News - through reporter Lisa Myers - made an outrageous claim that LTC(R) Allen West condones criminal activity. Myers clearly has an agenda to try and stop good people like Allen who oppose the far left policies that are wreaking havoc upon our country.
The DCCC shot back, however, noting West's plans to participate in an event put on by a motorcycle magazine that the Tea Party candidate has written for:
One day following news that Allen West (FL-22) is tied to the infamous motorcycle gang the Outlaws - which has been described as "organized crime" - West is scheduled to appear at a Wheels on the Road biker rally at 7 p.m. [Saturday] in Pompano Beach, FL.

Allen West is a monthly contributor to "Wheels on the Road," a south Florida motorcycle magazine that frequently promotes the Outlaws and denigrates women. The Justice Department has said that the Outlaws produce and distribute methamphetamine, and engage in other criminal activities including arson, homicide, and prostitution.
According to Hotline, however, West has denied any direct connection between the motorcycle group and the magazine, and says that his piece (.PDF link, mildly-NSFW) was distributed to other blogs and magazines. West also did not appear at the rally for the publication over the weekend.
West, who is running in a rematch of the 2008 election in which he lost to Democrat Ron Klein, has also been plagued by reports of a controversial military past. In 2003, West was fined after a military investigator found that his treatment of an Iraqi prisoner violated the military's codes of conduct. West had fired his pistol near the head of an uncooperative detainee in an effort to obtain information about a supposed ambush on his troops.
West, also an NRCC "Young Gun" who has the backing of former Alaska Governor Sarah Palin, is looking to be a strong contender in the race, hauling in $1.6 million in the third-quarter. He is scheduled to debate Klein on Monday.
Popular in the Community