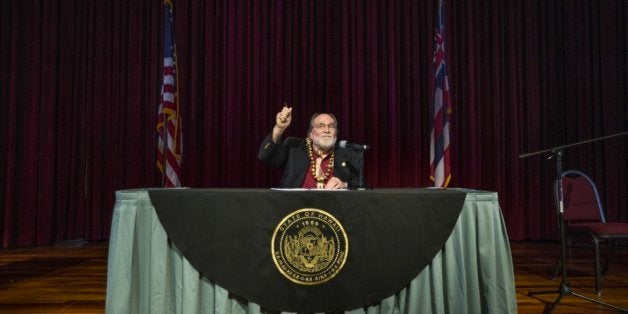 HONOLULU, HAWAII -- In December 1990, three couples went to the Hawaii Department of Health and asked for something thousands of people in love had requested and received before them — marriage licenses.
But Ninia Baehr and Genora Dancel, Tammy Rodriquez and Antoinette Pregil, and Pat Lagon and Joseph Melilio were told no. The reason? It wasn't because they were close relatives or minors, which the law explicitly forbids from marrying.
They were just of the same sex.
Starting Dec. 2, gay couples will be able to wed in the Aloha State. Gov. Neil Abercrombie signed the Hawaii Marriage Equality Act into law Wednesday during an invitation-only ceremony at the Honolulu Convention Center.
Dancel watched the moment unfold from her seat in the intimate theater. She sat with Kathryn Dennis, who she plans to marry soon, saying afterward that it's been an incredible journey.
"I wish we could've been the first state but this is the way it turned out and I can't complain," said Dancel, who remains in close touch with Baehr. "Everyone just fought this with a passion and we're all here today just sharing that success."
It was an emotional morning. Individuals and couples — gay and straight — exchanged kisses as they wiped away tears, listening to Willie K and Amy Hanaialii set the mood with their rendition of John Lennon's "Imagine."
With a dignified smile and misty eyes, Sen. Clayton Hee approached the podium to speak on behalf of the Senate. He paused for some time to compose himself before delivering his remarks — long enough that the crowd of a couple hundred people applauded, acknowledging the gravity of the moment.
"I could never have imagined I would have played a role in such a profound, yet in my mind, a really simple thing to do: bring justice and equality to all of us," said Hee, who shepherded the legislation through a critical Judiciary Committee hearing en route to its final passage Tuesday.
Rep. Chris Lee, a young, outspoken advocate for marriage equality, spoke on behalf of the House.
"It's been hard, but let it never be said that a group of committed people together can't change the world because today, we did," Lee said after recognizing the lawmakers before him who "put their careers on the line" for gay marriage.
"It is never the wrong time to do the right thing," he said.
The Legislature passed Senate Bill 1 after hearing hours of testimony and reading thousands of letters on both sides of the issue during a special session over the past two weeks.
People yelled. People cried. But by the beginning of this week, the message turned toward healing a divided community. Abercrombie told reporters after the ceremony that common ground can be found in our shared humanity.
"It's time to dial back some of the rhetorical excesses, time to let the legislative dust settle a bit, and take a couple of deep breaths and recognize that all of this was done with good will and motivation," he said.
Over the past two weeks, thousands of people surrounded the Capitol on both sides of the issue. They lined Beretania Street waving "united for marriage" signs. They packed the Capitol Rotunda chanting "let the people vote." They filled the House and Senate chambers to testify in support and opposition to SB 1 since its first hearing Oct. 28.
But it was three couples 23 years ago who spurred a national gay-rights movement that eventually circled back to Hawaii.
In 1991, some 18 months after the health department rejected their initial request, the couples filed a lawsuit claiming it was unconstitutional for the state to deny them marriage licenses on the sole basis of their sexual orientation.
The case, Baehr v. Lewin, went all the way to the Hawaii Supreme Court. On May 5, 1993, Justice Steven Levinson wrote in the majority opinion that the Hawaii Constitution clearly "prohibits state-sanctioned discrimination against any person in the exercise of his or her civil rights on the basis of sex."
He put the burden on John Lewin, the health director at the time, to show why there was a compelling state interest to deny the couples marriage licenses. Until he could do that, the court would consider it unconstitutional.
The landmark decision stood, but in 1996 Congress passed the Defense of Marriage Act, which banned federal recognition of gay marriage. And two years later, Hawaii voters passed a constitutional amendment giving the Legislature the authority to limit marriage between a man and a woman.
It took 15 years for state lawmakers to exercise the power invested in them by the people to effectively define marriage. It followed a shift in public opinion polls showing a surge in support for equal marriage rights.
But the primary reason for the special session, which Abercrombie ordered, was prompted by action at the federal level. The governor said the state must act swiftly in response to the U.S. Supreme Court ruling in June that struck down Section 3 of DOMA because it unlawfully discriminated against same-sex couples and denied them equal rights and benefits.
Hawaii's marriage equality law is expected to end up in court too — and soon.
Rep. Bob McDermott, a staunch critic of SB 1, has promised to challenge the legislation in court as soon as it became law. He maintains that voters thought they were reserving marriage to heterosexual couples when they passed the constitutional amendment in 1998 and deserve the right to vote on the issue today.
Circuit Court Judge Karl Sakamoto denied McDermott's earlier request for a restraining order to ban the governor from signing the bill, but has said he would hear the case after it became law.
A court hearing has been set for Thursday morning, but Attorney General David Louie told reporters Wednesday that he has no doubt the state will prevail.
"They're wrong on the facts. They're wrong on the law," he said. Earlier, serving as master of ceremonies, he said the signing of SB 1 marked "a new era of aloha."
The House amended SB 1 to provide for broader religious exemptions, modeled after Connecticut's gay marriage law. Religious organizations, or even nonprofits run by such, don't have to solemnize a gay marriage or rent their facilities for a ceremony.
The Senate version tied the exemption to the state public accommodations law, which prohibits for-profit entities from discriminating based on sexual orientation. The governor and Senate leaders have said they prefer the Senate version, but agreed to the House draft in the spirit of compromise for the greater public good.
From a Queen to a President
Fourteen other states plus the District of Columbia have allowed gay marriage since the Hawaii Supreme Court's historic 1993 ruling. Illinois is on deck, set to become the 16th state — Hawaii being the 15th — when Gov. Pat Quinn signs legislation next Wednesday.
Maine, Maryland and Washington states legalized gay marriage by popular vote in November 2012.
Even President Barack Obama, who celebrated the Hawaii Senate vote Tuesday, had changed his views by May 2012 when he became the first sitting U.S. president to support gay marriage.
The oft-professorial Abercrombie spoke at length Wednesday about the meaning of aloha and the history that served as the foundation for his "risk-taking leadership," as Hee called it. The governor recited speeches from Thomas Jefferson, Edmund Burke, Queen Liliuokalani and others who addressed the need to set aside personal convications for the greater good.
Quoting Burke's acceptance speech upon being elected the English Parliament in 1774, Abercrombie said:
Your representative owes you not his industry only, but his judgment. And he betrays, instead of serving you, if he sacrifices it to your opinion. Parliament is not a congress of ambassadors from different and hostile interests, which interests each must maintain as an agent and an advocate against other agents and advocates. But Parliament is a deliberative assembly of one nation with one interest, that of the whole.
What happened in this Legislature, Abercrombie said, is members set aside individual views and listened to what their role was in terms of upholding the constitution and moving forward SB 1.
"It's not a question of whether it's a special interest," the governor said. "It's whether it's a special interest that manifests the public interest and not a private interest."
Setting history aside, Abercrombie also touched on the human dimension of the debate over gay marriage.
He reflected on an exploratory walk through Washington Place with his wife, Nancy Caraway, in which they came across a picture of the late Queen Liliuokalani, whose home it once was.
Affixed to the painting was a note that read: "If we could but see our likenesses, could we not learn to be tolerant of our differences?"
That's the queen speaking, Abercrombie said. "That's the legacy of aloha."
REAL LIFE. REAL NEWS. REAL VOICES.
Help us tell more of the stories that matter from voices that too often remain unheard.
BEFORE YOU GO
PHOTO GALLERY
Gay Marriage In The United States