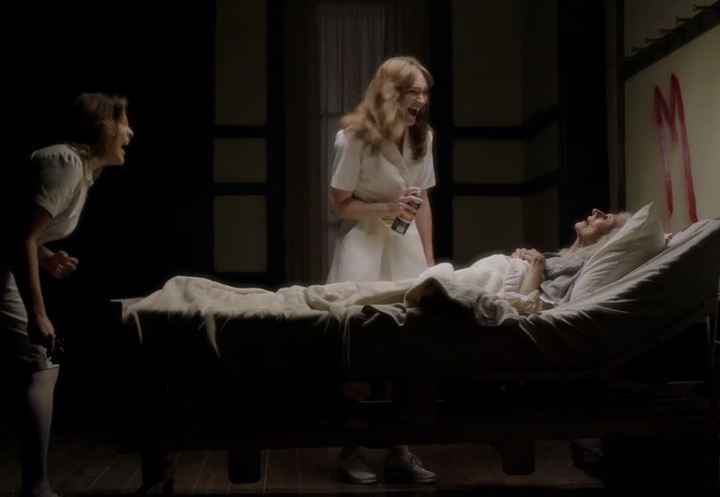 Caution: Mild spoilers ahead for "American Horror Story: Roanoke."
Welcome to "American Horror Story: M-U-R-D-E House."
You laugh, I laugh, but the frightening tale of murderess nurses in the second episode of "AHS: Roanoke" Season 6 corresponds with real, heartbreaking events. Except the real nurses were lovers, not the sisters described by the doomed professor who inhabited Matt and Shelby's haunted home in 1997. And they were simply nursing home employees, not its proprietors. 
Otherwise, the series' storyline has a lot in common with the Alpine Manor Nursing Home killings. 
In 1986, Texas native Gwendolyn Graham took a job at Alpine Manor, a 200-bed facility in Walker, Michigan, where Catherine Wood had started working the year before. Wood was recently divorced, and the two women, both in their early 20s, eventually began a sexual relationship. 
"Both had very good reviews. Both were well-liked by the patients," a spokesperson for the nursing home said at the time of the women's arrests. Co-workers, though, claimed that the women were known among colleagues for their dark sense of humor. 
Wood later admitted to serving as a lookout while Graham smothered patients with washcloths. Allegedly, the women had attempted to spell out the word "murder" with the first initials of their victims but found it too difficult after some of their targets fought back. 
In "AHS," the pair of nurses nearly completed the word "murder" ― stopping one letter short. They were caught by something in the house "more evil than them," according to the professor. 
Between January and April of 1987, around 40 total patients died at Alpine Manor. Graham and Wood were connected to the deaths of five women: Edith Cole, 89, Marguerite Chambers, 60, Myrtle Luce, 95, Mae Mason, 79, and Belle Burkhard, 74. Many of the patients suffered from Alzheimer's disease, according to a report from the Orlando Sentinel. One former employee allegedly witnessed some of the deaths but, for some reason, did not intervene.
In December 1988, the women were arrested after Woods confessed the crimes to her ex-husband, who then rightfully went to police. Graham had already moved back to Texas with her new girlfriend, so, according to Graham, Wood had merely invented the crimes out of revenge. 
In their trials, Wood pled guilty and became the prosecution's key witness; she testified against Graham by claiming her former parter said the killings would "relieve tension" and cement their love. Graham, meanwhile, maintained her claim of innocence, stating that talk of murder with employees at the facility was all a joke.
Wood was sentenced to 20 to 40 years in prison in 1989 for one count of murder and one count of conspiracy to commit murder. Graham was convicted on five counts of murder and one count of conspiracy to commit murder and sentenced to life in prison the same year.
Now that you're seriously bummed out, have a look at these six crazy "AHS" fan theories. And here's hoping we finally see where Evan Peters fits into the puzzle next week.
"American Horror Story: Roanoke" airs on FX at 10 p.m. ET Wednesdays.
Calling all HuffPost superfans!
Sign up for membership to become a founding member and help shape HuffPost's next chapter
BEFORE YOU GO
PHOTO GALLERY
12 Highest-Rated Movies on Netflix