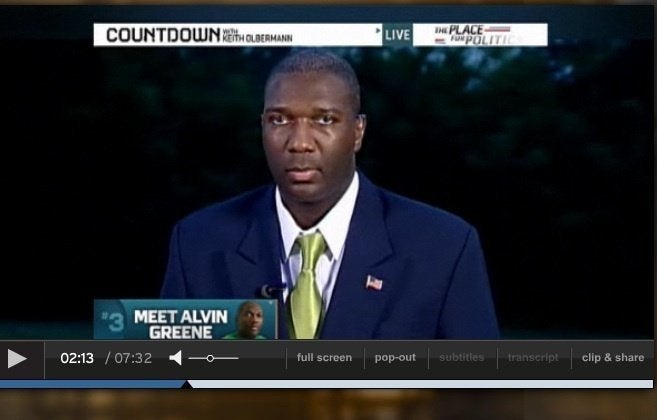 Keith Olbermann has played several roles over his long media career, but on Thursday he may have had his closest brush with being a dentist.
Interviewing Alvin Greene was like pulling teeth.
Greene, the upset winner of South Carolina's Democratic Senate primary, appeared on Olbermann's 'Countdown' to discuss his surprising campaign. His brief answers reinforced the image that Greene is not a traditional candidate.
But is he a legitimate candidate? Asked about speculation that he may be a Republican plant, Greene insisted he has always been a Democrat and will continue to be one in the future.
The other thing that Greene made clear during the stilted and somewhat awkward interview was that he intends to see the race through, despite the wishes of his own party. Among Democrats' concerns is a pending felony charge involving obscenity.
In his sharpest moment of the show, the newly minted politician made it clear that he feels his brief record stands on its own merits. "I had sixty percent of the vote. Sixty percent of the vote is not luck. That's a decisive win."
The Root: Your campaign was a bit unorthodox. Why didn't you invest in even simple things like signs or a Web site?

Alvin Greene: All of my campaign has been funded out of my personal money, money out of my pockets. So it's been a low-budget campaign. I haven't spent too much money. I just kept a simple, ordinary, simple, old-fashioned campaign. Nothing fancy.

The Root: What do you estimate you spent on your campaign in total?

Alvin Greene: Not much. I didn't spend much. But that's not the issue. The issue is getting South Carolina back to work, getting our economy and state back to work, and our country.

(and, later)

The Root: Including the $10,400 filing fee to become a candidate, would you say you spent less than $12,000 on your campaign?

Alvin Greene: A whole lot less.
The New York Times tried to answer the obvious question, "Who Is Alvin Greene?" They didn't get much further. In fact, one answer about his past military service may have raised even more questions. The candidate would only say that he received an honorable discharge, but insisted that it was not voluntary. You can watch the ten minute interview, but you may not learn much:
Calling all HuffPost superfans!
Sign up for membership to become a founding member and help shape HuffPost's next chapter