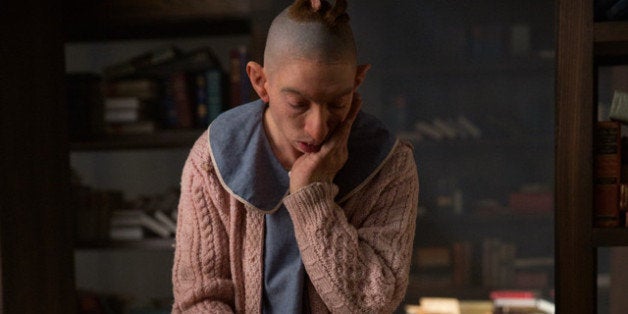 *** WARNING: Contains spoilers! Please do not read on unless you've seen Episode 10 of "American Horror Story: Freak Show," titled "Orphans." Or if you don't mind spoilers, go right ahead! ***
"Orphans" is, above all, an episode for "American Horror Story" fans. Like a Christmas present. Featuring a few tiny subplots that barely move the main plot along, the majority of the hour-or-so is spent on fan favourite Pepper. Any true "AHS" fan remembers the wonderfulness of "Asylum" Pepper, and this glorious, lengthy backstory is like candy. Mind you, it's a sometimes bitter, hard-to-swallow candy.
It's too bad "AHS" doesn't get more credit. It features some outstanding acting, and it's interesting that we get our finest performances not from the seasoned veterans with multiple awards, but from the relative newcomers. Just as Finn Wittrock nailed it last week with Dandy's lunacy, this week Naomi Grossman takes it home -- and then some -- as the maligned, abandoned Pepper. I couldn't take my eyes off the screen whenever Grossman stared wistfully at whatever face was barking orders or leaving her behind.
From beginning to end, Pepper's journey is spellbinding. It's a testament to Grossman's acting and the tactful writing (never thought I'd say that here) that this can hold an audience's interest for over an hour. (I'm sure some of you were bored -- again, it deviates pretty heavily from the main current of the show. But I, for one, was thoroughly entertained. I actually got upset when they went back to Stanley again.)
Scene after scene broke my heart: Pepper at the orphanage in the corner by herself, Pepper leaving the orphanage, Pepper meeting Ma Petite for the first time, Pepper meeting Salty for the first time, their marriage, their first kiss, Pepper lying on his dead body, Pepper being read to by Desiree, Pepper parting ways with Elsa, Pepper being framed for infanticide, Pepper in a straitjacket being led out of her sister's house... OK, so that last one was more terrifying than anything else. It was pure rage dancing in Pepper's eyeballs there. Wonder if she'll ever get revenge on her sister? I would pay good money to see that go down. In any case, Pepper is now officially the poster child for this show. It should be Ryan Murphy's personal goal to somehow inject her character into every "AHS" iteration going forward.
As for the rest of the episode, we get some water treading -- enter the sexy, baritone-voiced Malcolm-Jamal Warner again, this time outright eye-f**king Desiree whenever they're together. The couple wastes their time (and money) visiting a depressed Maggie to have their fortune read, and she ends up telling them it's all going to eventually crumble into nothingness. Desiree and Angus super-flirt and then ... nothing. They're really dragging out this "romance."
Speaking of "romance," Jimmy and Maggie. I literally forgot that Jimmy was in prison with the way Maggie behaves. When Bette and Dot offer her all of their savings to get Jimmy a decent lawyer, or when Desiree brings up Jimmy being in jail, I was like oh yeah! "AHS" is really good at moving on to something new, sometimes to its detriment. We had no Dandy and barely any movement on Jimmy, so thank goodness Pepper carried it.
Maggie brings Desiree to the Museum, so in case things turn out badly for her, someone else has seen it. We come just in time to see the latest item on display -- Jimmy's Lobster Boy hands. Maggie faints on the spot (this is all your fault anyway!) and we're left to ponder: did Jimmy die when his hands were removed (no way)? Was this all just for lawyer money, or is it another of Stanley's lies? Is the show going to deal with the biggest question of all: what to do when you lose the one quality that you've focused on your entire life? Going from lobster hands to no hands at all will be a drastic shock for Jimmy.
Oh, and don't worry, I'm not going anywhere without talking about the return of Lily Rabe, a.k.a. Sister Mary Eunice (pre-devil possession, natch). It was like a dip in a warm, comforting pool to see Mary Eunice in her habit, with her gigantic eyes blinking slowly at Pepper's sister. A few quibbles/questions: are we supposed to ignore the fact that Elsa Mars looks exactly like Sister Jude, who's soon to make her own appearance at the orphanage? Wouldn't Pepper immediately take to Jude, strictly based on looks alone? If Elsa Mars truly "owned Friday night" as LIFE Magazine said she did, then wouldn't every single person -- Sister Mary Eunice included -- gush over her and at least mention it? I wouldn't be surprised if "AHS' somehow manages to link Jude and Elsa. If that's the plan, I can't wait to see how they do it. Otherwise this crossover seems kind of ill-fitting and contrived. But hey, this is "AHS."
Freak Of The Week: Pepper. Pepper. Pepper.
Random Thoughts:
Proof that the Hollywood Foreign Press nominates only "established" actors with histories for Golden Globe Awards: Jessica Lange and Kathy Bates nominated for this show. I'm not saying they're bad people or bad actors -- though neither are super-strong on "Freak Show" -- people like Wittrock, Grossman and Sarah Paulson should be commended in trophy form for their work here.
I'd like to coin it "The Dell Dump." That was quick and painless for Desiree. Then a hug and it's so long, pal!
Would love to sit down for schnapps with Elsa and Desiree. Oh, the stories they'd tell.
Maggie dressed up as a newspaper boy was laughably bad. Did anyone, anywhere really think she looked like a boy in the slightest? It's borderline impossible with Emma Roberts.
"Triple tits."
The juxtaposition of Salty's dead body with Elsa stacking bologna on white bread almost made me gag.
Was Pepper's sister just a drunk, or was she also a bit mentally unstable? She said "piped clogs" instead of "clogged pipes" and was always muttering to herself. Would love to hear your opinions!
"AHS: Freak Show" wont' be back until January. Until 2015!
"American Horror Story: Freak Show" airs on Wednesday nights at 10 p.m. EST on FX and FX Canada.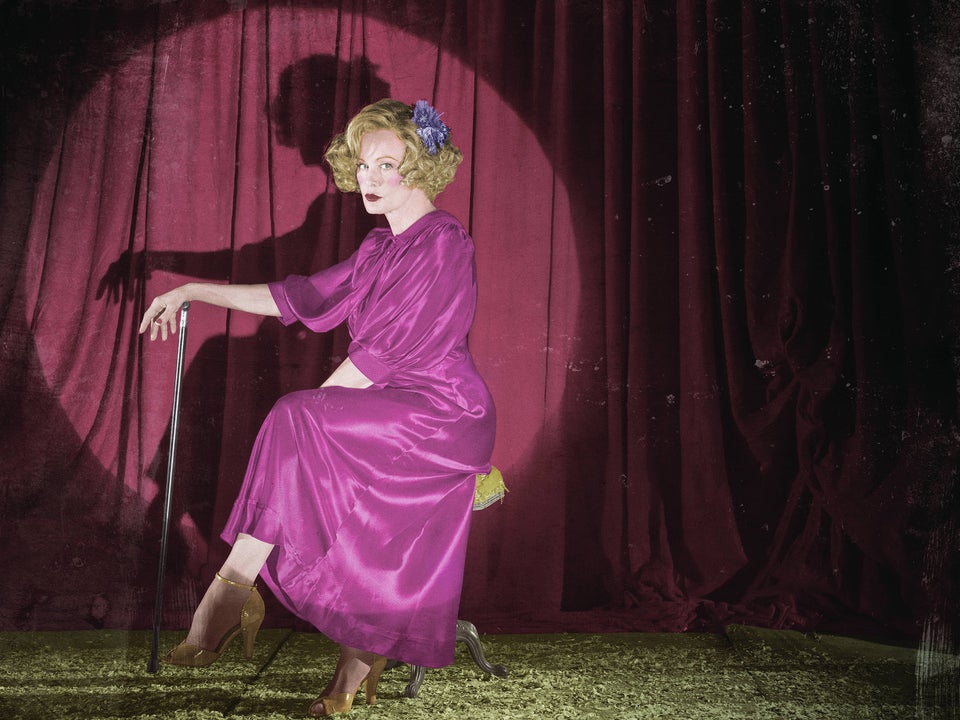 "American Horror Story: Freak Show" Cast Photos