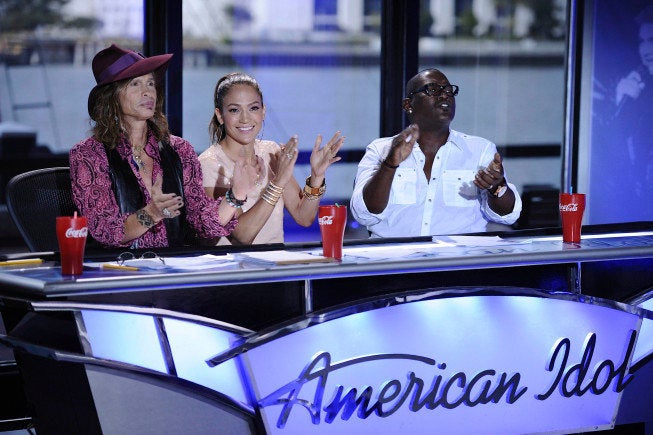 Just when you thought it was safe to pack away your earplugs, the "American Idol" juggernaut rolls back into town. The confetti from "The X Factor" finale has barely been swept from Fox's primetime schedule, but if there's one thing Steve Jones was good at during its stint, it was making us miss Ryan Seacrest. (Who could've predicted that?) Jennifer Lopez, Steven Tyler and long-suffering Randy Jackson were back behind the judges' table, and no one seemed to be missing Simon Cowell's snark this time around.
The reality hit kicked off Season 11 in Savannah, GA. It seemed that -- despite "Idol's" protestations that they're not at all threatened by NBC's upstart talent show "The Voice" -- they were taking a page out of the star-studded singing contest's playbook by not subjecting us to half as many terrible auditions as we've come to expect. Sure, it wouldn't be "Idol" without a few self-deluding stinkers, but overall, the quality was high and the meltdowns were relegated to embarrassing montages, where they belong.
Still, as with all audition episodes, there was far too much filler (i.e. too many embarrassing segments about the heat in Georgia, too many generally underage contestants that Steven inappropriately hit on, and too much focus on how late the judges were on the second day).
So I sat through the bloated two-hour premiere to save you the trouble. And if you sat through it already, I share your pain. Here are my five most memorable auditions from the "Idol" premiere, with a couple of honorable mentions thrown in.
1. Schyler Dixon (and Colton Dixon)
Sure, "Idol" was doing its darndest to make country boy Phillip Phillips their breakout star of the night. But I was far more impressed by 16-year-old Schyler, whose older brother, Colton, auditioned last year. Sadly for Schyler, her big brother made quite an impression, because as soon as the judges figured out that they were related, they made her bring him into the judging room and goaded him into auditioning again -- even though he hadn't planned to this year. Schyler went first with a haunting, bluesy rendition of "Breakeven," which impressed me far more than Colton's raspy performance. But apparently the judges were drinking Colton's Kool-Aid and gushed over him incessantly from the moment he entered the room until the moment he left. The siblings both got three yeses, but Colton got a hug from Steven and Schyler looked distinctly grumpy about having her thunder stolen. I'm betting they had a super awkward car ride home.
2. Phillip Phillips
After the two-hour build up for an audition that Ryan predicted everyone would be talking about, I was expecting more from the twice-named Phillip. (Chris Rene, he ain't -- and that's from someone who didn't find Chris Rene particularly vocally talented.) He seemed to be trying too hard to do a raspy Casey Abrams/Josh Krajcik thing when I'm not sure that his voice has that natural gravel. But his second song, Michael Jackson's "Thriller," was undeniably interesting to listen to -- he seemed far more comfortable once he whipped out his guitar, and I'd say that he's a more natural musician than a singer. Jennifer gushed that he sang like he had electricity going through his body, which is the strangest compliment I've ever heard; but Phillip got three yeses and a ticket to Hollywood nonetheless.
3. Gabby Carrubba
Another talented 16-year-old, Gabby was a champion tap dancer who was more starstruck by Nigel Lythgoe than the judges -- maybe she should've tried out for "So You Think You Can Dance" instead? Apparently, she's a multi-talented teen, because her rendition of "Sunday Morning" was a breath of fresh air. She has a sultry, bluesy tone in her voice that had all the judges bobbing their heads, and Steven Tyler gave her his patented eyes-closed, music-gasm face, which was exactly what she'd been aiming for. Randy told her that she was "born to do this," while Steven told her she "nailed it," and she was sent off with a golden ticket.
4. Jessica Whitely
Into every life, a little rain must fall, and by the same logic, into every audition show, a little tone-deaf insanity must fall, too. One such contestant was Jessica, a 19-year-old who clearly thought she sounded like Celine Dion, but she actually sounded more like Celine Dion would if she had a head injury and laryngitis and, well, didn't sound anything like Celine Dion. Jessica attempted "In This Song," warbling happily along with squinted eyes and diva hand raised, right up until Randy proclaimed it "awful -- I don't know if I would even call this 'singing.'" Her excuse was that she was a little dehydrated, and then threatened that she would see the judges again at the Texas auditions. Someone put up roadblocks, stat.
5. Mawuena Kodjo
West African Mawuena was undoubtedly the worst singer of the night. But while his terrible rendition of Rascal Flatts' "I Won't Let Go" was played for laughs, I don't think that openly mocking a guy who struggles to speak English is particularly amusing. Sure, he was incredibly misguided in terms of his singing ability, but the judges didn't humor him with the sympathetic responses they ordinarily give the deluded masses who insist that they're the next Mariah. Instead, Randy challenged him to go out and find someone who didn't think he was awful. Naturally, Ryan and the camera crew were there to document Mawuena's embarrassing attempts to find random bystanders who would say he's a good singer. He found a gaggle of cute kids willing to humor him, but the judges did not. Cry political correctness all you want, but it felt mean-spirited, as many of these "point and laugh at the freaks" segments do.
Amy Brumfeld
If she makes it through Hollywood week, Amy will be forever labeled "Tent Girl," since the 24-year-old is currently camping in the woods with her gigantic boyfriend and their dog, since they couldn't afford a hotel room. Her story was more memorable than her singing, and I think she'll get lost in the shuffle of Hollywood Week opposite the more showy competitors, but her take on Alicia Keys' "Superwoman" had a smooth, soulful tone when she got into the chorus. Jennifer liked her because Amy inspired her to make up a new word: "Hipsy." (A hippie gypsy, duh.) Steven said that the spirits of the children in the woods had gotten into her (gee, thanks?) and she earned three yeses.
Sean Kraisman
If "American Idol" was a search for the next great Ryan Seacrest impersonator, Sean would've won by a country mile. I'm not sure that he looked as similar to the ubiquitous host as everyone was insisting, but his voice was pitch perfect when it came to stealing Ryan's lines. Too bad his pitch wasn't perfect when it came to actually singing. His take on "Oh Girl" was terrible, but he was amiable about it, and I suspect he just wanted to get on TV to show off his Seacrest skills.
Erica Novak
Another of the few terrible singers we saw in full, Erica's audition was memorable not for her vocals, but for her gigantic crush on Steven Tyler. She sang "Super Duper Love," but really stood out for hugging Steven -- and then shamelessly groping his ass. Her lackluster performance gave Steven the perfect opportunity to zing her with, "The best note you hit was when you grabbed my ass." Randy got one too, although bootilicious Jennifer escaped ungroped.
Who gave your favorite audition of the night? Weigh in below.
"American Idol" airs Wednesdays and Thursdays at 8 p.m. EST on Fox.
Related
Popular in the Community